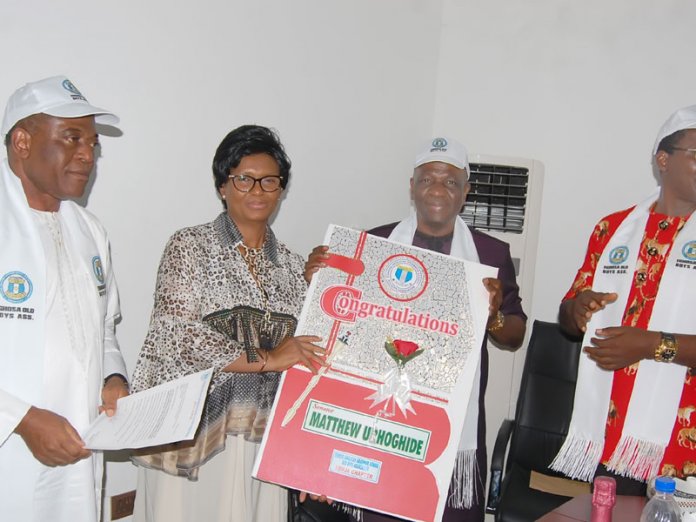 By Okpuzor Ezekiel
The atmosphere around Zeus Paradise Hotel, an upscale Hospitality centre in Utako district of Abuja, Federal Capital Territory (FCT), over the week end was affectionately filled with nostalgia.
A refreshing moment that bespoke the convergence of great 'Eghobaites' in honour of an eminent lawmaker and an old boy whose time has come.
The outburst of camaraderie, handshakes and conviviality fueled by the large turnout of the old boys which later cascaded into the wind-down, clinging of glasses coupled with the gulping of the sumptuous meals as over 28 members of the Abuja branch of Eghosa Anglican Grammar School Old Boys' Association, Benin City-Edo State (EGHOBA), rolled out the drums for Senator Mathew Urhoghide, who is rolling into his second term at the Senate courtesy of a well rounded deserved victory as Edo South Senator-elect. The Senator came handy at the meeting with his adorable wife Mrs. Oby Urhoghide.
The Senator's re-election into the red chamber for second term swells the burgeoning roll call of Eghosa old boys who are stamping their foot prints in Nigeria's political history.
With Governor Godwin Obaseki and Urhoghide at the Senate, there is no gain saying the fact that the old boys are blazing the trail across sectors as they set pace within and outside the shores of Nigeria actively contributing to Nigeria's political space and overall development.
The EGHOBA hall of fame though not an exhaustive list includes: The Executive Governor of Edo State, Mr. Godwin Obaseki, the Senator representing Edo South, Senator Mathew Urhoghide, the Secretary to the State Government (SSG) and former Vice President, EGHOBA, Lagos Chapter, Barr. Ogie Osarodion, PDP Chieftain, Senator Ben Obi, former DG, NIA, Amb. Emma Imohe, Dr. Toni Ogunbor (NOSAK Ventures), the Chairman Governing Board, Federal Polytechnic, Nekede, Imo State/also a Chieftain of APC, Mr. Edwin Ogunbor, Prof. Eghosa Osaghae, Chief Charles Uwensuyi SAN, Dr. Osagie Osadiaye, the Executive Secretary, Maritime Academy of Nigeria (MAN), Oron, Akwa- Ibom State, Mr. Emmanuel Efedua, Air Vice Marshall (AVM), Charles Oghomwen, Air Vice Marshall (AVM) Christopher Umolu, Lt.Gen. Bolaji Laguda, Deputy Inspector General of Police (DIG) Mohammed Yesufu (rtd), Maj. Gen Charles Airhiabvere (rtd), a Chieftain of APC, Global President, EGHOBA, Col Paul Ihianle (rtd), former President, EGHOBA Lagos Chapter, Mr. Ben Eboreime, Dr. Emma Enabulele, Mr. Micheal Imagbenikhai, Dr. Osagie Osadiaye, Mr. Osaro Ekomwerenren, Peter Obaseki and Victor Ohonba…list is however not in particular order.
In thumbs up for the Senator, Yusufu, while grabbing the momentum, took the floor, saying: "The old boys were indeed not disappointed at Urhoghide's outstanding performance at the Senate in his first term because his desire and passion to serve his people didn't come by accident."
According to him, the law maker had long sowed the seed of service when he served as President of the Student Union, University of Benin.
While also realigning with the former Police boss with applause was Ogunbor, who acknowledged that the association has indeed brought together what politics seems to have 'divided'.
In a reflective mood, he said: "It is true that some of us belong to different political parties, but we are here today celebrating one another because, Eghosa Anglican Grammar School, brought all of us together.
"I'm happy that EGHOBA is a unifying factor and bond, when we meet at old boys meeting, we sink our party differences, which is in attestation of the school motto: Ex Unitate Vires, he added.
In his remark, Airhiavbere, admitted that Urhoghide as an old boy stood with him then when he contested with Comrade Adams Oshiomhole for the number position in the state under the PDP flag then.
Arc. Johnson Imatt Oke, President of the Abuja Chapter, in a remark while decorating the Senator with the old boys' regalia, badge and hat admonished the young ones aspiring into political offices to go through the "Urhoghide School' of tenacity, selflessness, resilience and hard work.
For Amb. Emma Imohe (1966 set), the oldest in the pack who was a former Director General of the Nigeria Intelligence Agency (NIA), it was a potpourri of commendation and at the same time agenda-setting agenda for the Senator to more the people especially at the grass-root level.
In his response, Urhoghide who came with his adorable wife, Mrs. Oby Urhoghide, commended the Abuja chapter for keeping the flag of the school flying, that he will contribute his quota towards revamping the school's infrastructure which has become dilapidated.
While underscoring the import of good quality education which he got at the school until becoming a Pharmacist, he added: "God has blessed me with an adorable wife and children.
"I have attained the highest pinnacle in my pharmaceutical career. The reason why I went into politics honestly is to give back to the society, the under and less privileged amongst us even quality representation at the Senate means you must constantly be in touch with your people.
On life's triumphs, he acknowledges: "I have practiced pharmacy for more than 35 years with two Fellowships, and so there is nothing more to add.
"I place very high premium on education, in 2015, I told everybody that if I was elected I was going to use my allowances to pay school fees for the children of the poor and that I did.
"Many thought it was one of those stories, but by the time I was campaigning for re-election, I have concrete evidence to show that I have given out 263 scholarships (89) at the University level, I have attracted about over 200 projects to my constituency, built schools, hospitals and roads.
As for his alma-mater, the Senator promised that very soon upgrade of dilapidated structures and infrastructure will commence.
He thanked Ambassador Imohe, 1966 set, Mr. Edwin Ogunbor, 1969 set, Mohammed Yesufu (DIG) (rtd), 1973 set, Hon Steve Omoruyi, 1973 set and Maj. Gen Airhiavbere, who are all members of Board of Trustees (BoTs) of the chapter, for providing quality leadership in Abuja Chapter.