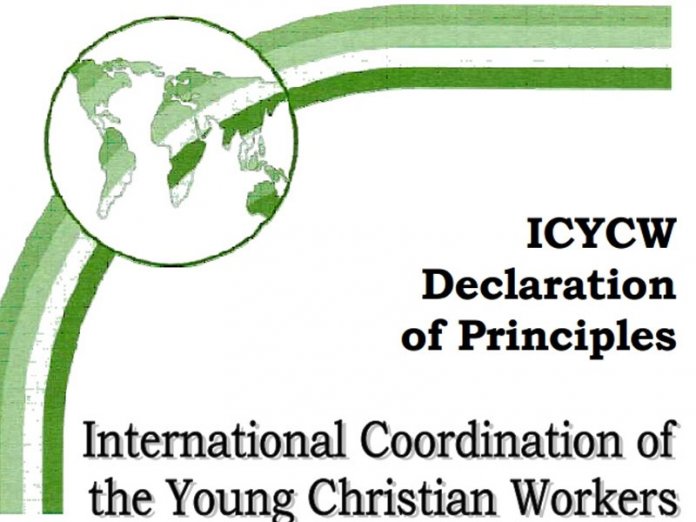 Oluchi Chibuzor
The International President of International Coordination of Young Christian Workers (ICYCW), Berhanu Deboch, has called on the Nigerian Government, civil society organisations, religious bodies and families to join forces to tackle pressing issues threatening the peace and progress of the country, mostly youth restiveness.
He made this known yesterday at a media conference held in Lagos when he paid a courtesy visit to the Archbishop of Holy Cross Cathedral Lagos, His Grace, Most Rev Dr. Alfred Adewale Martin.
Deboch, who is on an international tour, said the movement is out to lend its voice against societal ills in countries, especially on labour welfare, youth and leadership development.
Fielding questions from journalists, the Ethiopian maintained that the government must show quality leadership by respecting the yearnings of the labour unions and youths, adding that ICYCW, which is a non- denominational organisation, seeks to keep private and government bodies on their toes.
"If the government, religious organisations, families and civil societies do what they ought to do duly, all these illegal migrations and other evils ravaging our society would have been avoided," he stated.
On his part, Archbishop Martins said churches must begin to pay adequate attention to issues affecting youths and bring them in Godly way.
He called on Nigerians to forget the past and begin again in the way of righteousness, caring, love and sharing "even as we approach the Easter period."
The cleric added that the federal government should restructure its security apparatus to curb the incessant killings, insurgency and other security challenges in the country.
According to the Archbishop, "If the government cannot protect lives and property, then it has failed woefully."
In his remark, the acting National President of ICYCW, Mr. Paul Mary Williams, said the movement was out to address social injustice and other abnormalities in every country it operates, adding: "ICYCW seeks to identify the missing links and gaps responsible for disorderliness in the society, and try to curb them.
"The onus does not solely rest on the shoulders of the government; it's a collective responsibility, and we (the group) have plans for youth empowerment, health, finance, but the government must play its role first by respecting the dignity of labour and keep to its promises to avoid more calamities resulting from social injustice and poverty."
Williams also called on the government to ensure quality education as well as establish intellectual institutes where graduates can explore and do exploits after graduation instead of leaving the country only to suffer or end up in jail in foreign countries.