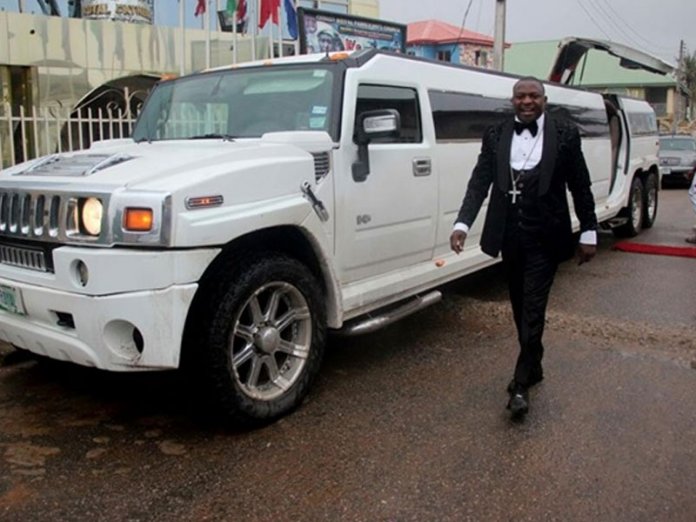 Except you know him too well, you may take him either for a hip-hop act or a Hollywood movie star owing largely to his dress sense.
In some sense, he loves everything of the world and flaunts it without caring a hoot.
Bishop Tom Samson, the General Overseer of Christ Royal Church, is indeed a flamboyant man who loves everything money can buy.
He has the money and never blinks when spending it. At least, money is meant to be spent.
He has a collection of world's most expensive cars such as Rolls Royce Phantom that was worth over N200m.
Though the Delta State-born pastor claimed it was a birthday gift from an admirer, a source who knew better countered that he was only being economical with the truth to stave off criticisms.
He also acquired. N80m luxurious Hummer Limousine, Bentley among others state-of the art cars.
A source stated that the flamboyant man of God would soon join the league of other top Nigerians who have the latest Rolls Royce Cullinan in their garages.
It was gathered that he made the order shortly before his birthday and was supposed to arrive for his 52nd birthday on March 28. But this was not so.
Our source further revealed that the pastor is not minding the Bible verse in Matthew 6 : 19-21: "Do not store up for yourselves treasures on earth, where moths and verm in destroy, and where thieves break in and steal. But store up for yourself treasures in heaven, where moths and vermin do not destroy, and where thieves do not break in and steal. For where your treasure is, there your heart will be also."
The fiery preacher, who has a fleet of exotic cars in his garage, was said to be planning to acquire a private jet to mark his 55th birthday in a couple of years.