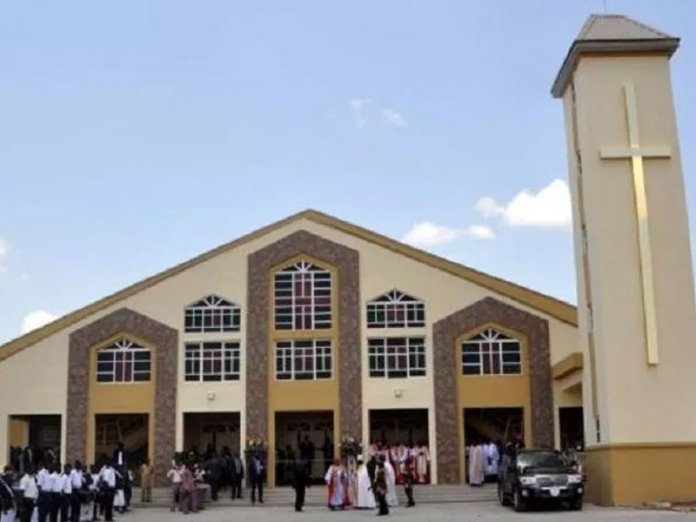 James Sowole in Akure
Armed robbers Thursday killed the Bursar of the Anglican Church, Akure Diocese, Ondo State, Mr. Gabriel Kolawole Abiodun, and carted away with the money belonging to the church.
Abiodun, 58, was killed by the robbers who trailed him to his office within the premises of diocesan office complex at Alagbaka, Akure, from the bank where he had gone to withdraw the money.
It was also learnt that the three man gang came in a Toyota Corolla car with grey colour.
When THISDAY visited the scene, there was a pool of blood in the bursar's office and at the entrance into the office.
An eye witness in the office, who spoke on the condition of anonymity, said he and others were in the office when the bursar returned from the bank.
According to him, "I was sitting down opposite the main entrance to the bishop's office. As the bursar entered, two men with guns followed him. I thought the people following him were security men.
"We suddenly heard gun shots while the man made a shout. The men, after shooting him, left the office and left in their waiting vehicle."
Speaking to journalists on the incident, Venerable Blessing Aregbesola, the Administrative Assistant to the Bishop of the Akure Diocese, Simeon Borokini, described the incident as shocking and very unfortunate.
"The issue of insecurity in Nigeria is becoming embarrassing. Someone went to bank around 8:30 and within just 30 minutes, he was gunned down, that means nobody is safe. It's very unfortunate.
"We have reported to the police, DSS and I think we should allow them to do their work, but to us, it's unacceptable.
"They followed him with a corolla car down to the compound; they were three in number, two followed him to the office with gun and they shot him and made away with the money.
"We rushed him to the hospital but died before on the way.
"He has been working with us for the past eight years," Aregbesola said.
Speaking on the matter, the state Police Public Relations Officer (PPRO), Mr. Femi Joseph, said officers of the command have visited the place.
Joseph said the command had launched a man-hunt for the fleeing robbers, expressing optimism that they would be arrested.
The PPRO, however, enjoined members of the public to always seek assistance of the police whenever they want to move large sum of money.
He said though the exact amount was not known to the police but it was over N500, 000.