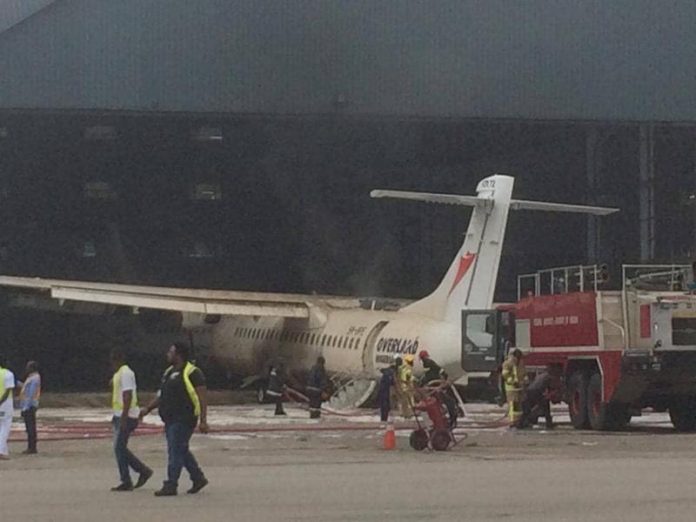 Chinedu Eze
The Federal Airports Authority of Nigeria (FAAN) has appealed to airline operators to move out all aircraft currently not operating from the Murtala Muhammed International Airport (MMIA), to ease congestion at the nation's busiest airport.
Speaking during a media briefing at the airport, the Regional and Terminal Manager, MMIA, Lagos, Victoria Shina-Aba, said the airport was built 40 years ago and since then, there has been no major structural change in midst of rapid growth in passenger and aircraft movement.
Shina-Aba, said the airport now has space and capacity constraint, making it almost impossible to continue accommodating unserviceable aircraft and others not currently in use.
"Currently, there are 32 international airlines operating in MMIA, while eight passenger and cargo aircraft operate from the General Aviation Terminal (GAT). There is only one airside and we use the same manual.
"From MMIA alone, there are currently 272 aircraft movement (departure and arrival) every day, as against eight international flights that operated at the airport in 1979, when the airport commenced operations. Also in 1979, MMIA operated just two cargo flights a week but today the airport processes 30 cargo flights in one week," she explained.
She noted that operators may refuse to take out their aircraft-on-ground and unserviceable ones because they do not pay for parking space, and that FAAN may not be able to remove these airplanes by themselves without the approval of the operators.
She said FAAN had consistently appealed to the operators to move these aircraft to airports that have less traffic such as Port Harcourt airport, Ilorin and Akure, amongst others at no cost for parking.
She disclosed that while some operators are already in talks with FAAN to move the aircraft out, some others have raised fears concerning the security of their aircraft when they are moved outside the airport.
She said while FAAN was making plans to expand MMIA airport, airline operators would be required to comply with the rules and make parking space available for operational aircraft.
"We will need to review our byelaws to ensure operators don't park aircraft endlessly. We are working on the expansion of the apron. An expansion work was going on at the cargo section of the airport but the contractors stopped work at some point.
"When we finish expanding the airport, we will be able to accommodate additional eight aircraft at MMIA, including wide and medium bodied aircraft," Aba disclosed.