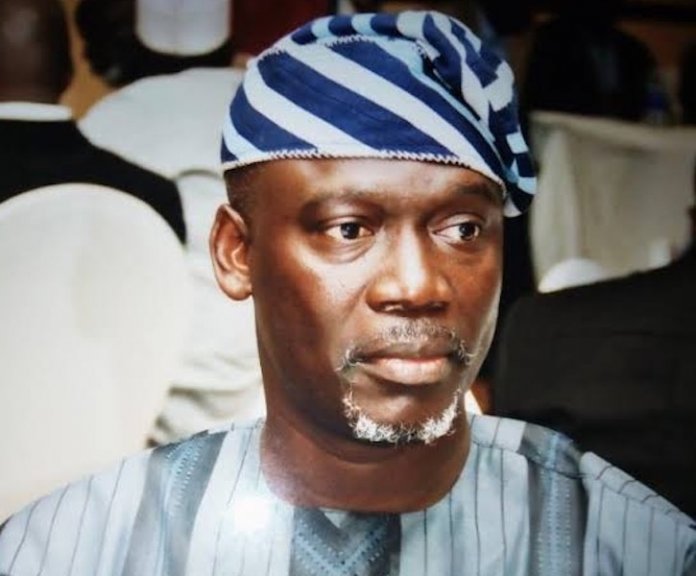 Kayode Fasua in this report, examines the ordeal of Kunle Adebayo, Chairman of Ondo State Radiovision Corporation, who claims to be a reform agent, whereas his accusers see him otherwise
At pubs, and elsewhere in Akure, the Ondo State capital, the event of about five years ago remains a veritable pun for revelers and sundry cheer-givers. Though a laughable incident, it also reeked of bad governance in the management of a media outfit, more so as the Ondo State Radiovision Corporation (OSRC) is owned by the state government.
Ondo State, experts contend, is far from being distressed if its resources are well managed; bearing in mind that it is one of the oil-producing states that collect monthly oil-derivation subvention from the federation account.
On the fateful day as was recalled with corroborations, five years ago, the TV arm of the broadcast station was beaming a programme for an on-air personality, when an unwanted guest suddenly arrived in the studio. A big, long snake, widely proclaimed as python, reportedly crept in. And in a jiffy, the anchor of the programme shouted, 'Ejo, ejo! (snake, snake!), to the consternation of viewers at home.
The guest, who was rudely shocked while in the heat of his high-sounding grammatical rendition, along with his anchor, impulsively took to his heels. And then, the viewing shuttered.
This correspondent learnt then that the station was a natural habitat for dangerous reptiles because its surrounding was overgrown with weeds.
Around the same period too, the station's obsolete generating set reportedly claimed the life of a clerical assistant while trying to manually switch it on, at a time technology was far away from that realm.
But two years ago when Governor Rotimi Akeredolu came on board, he was buffeted with a lot of petitions on the need to revive the comatose OSRC, which was set up 39 years ago by the administration of the first executive governor of the state, Chief Adekunle Ajasin, now deceased.
Akeredolu, in an attempt to do a turnaround maintenance and re-organisation of the TV cum radio station, shut down the outfit for a longish six months, during which he engaged the services of experts to counsel government on the way forward.
The OSRC which comprises a radio and TV station was not alone. The governor extended the review and re-organisation to the Orange Frequency Modulation (FM) station, set up by his immediate predecessor, Dr. Olusegun Mimiko.
While the re-organisation exercise lasted, retired broadcast media experts who include Mr. Soji Alakuro, Mr. Steve Alabi, and Mr. Ayo Ogedengbe, among others, were invited to come and assist in bringing sanity to the wonky scenario.
Also brought on board was Mr. Kunle Adebayo, a media and public relations expert, and an educationist, who eventually emerged as the Chairman of the hitherto OSRC/Orange FM stations. Adebayo was not only appointed a mega-chairman for the state's broadcast stations, he was also made Senior Special Assistant to Governor Akeredolu on Research and Documentation.
Agitations
But less than two years after his appointment, Adebayo is now in the eye of a storm, as some forces within and outside the OSRC have coalesced, pestering the governor to sack him.
The rallying point for Adebayo's traducers, however, appears to be a group known as Sunshine Grassroots Network (SGN). In a petition to Governor Akeredolu by this group, signed by one Joel Ilemobade, the call for the immediate sack of the OSRC boss was ceaselessly amplified.
First, the group described Adebayo as a peacock, one who conducts himself in a rude manner, wondering why such a person should head a media outfit that is designed for friendly dispositions. The group averred that it wondered "why the entire state must be at the mercy of such a rude figure in the administration of its media houses."
Beyond its grievance that Adebayo "is rude and proud", the SGN also accused him of profligacy and illegal wealth acquisition.
It stated thus in its petition to Akeredolu, a copy of which THISDAY obtained, "You may not be aware, Your Excellency, that Mr. Kunle Adebayo is the richest appointee of government today.
"No thanks to his several acquisitions that are scattered across the highbrow areas of the state. Is that also a function of his reforms at Orange FM? You just need to visit Mr. Adebayo's properties to see what a common SSA who had nothing before you became governor had acquired. He was a tenant!"
The group, further to its complaints, alleged that Adebayo was fond of collecting money from the coffers of the OSRC/Orange FM Corporation, to attend "non-existent workshops outside the state". But still to its grouse, the SGN is unhappy that Adebayo who is not an indigene of Ondo State, is now looming large in the state. It complained to the governor in its petition, saying, "People are just tired of this oppression and intimidation by a non-indigene in our father's land, largely because of his closeness to you." Adebayo is from Osun State.
Defence
But Adebayo, while not willing to join issues with his attackers, in the media, has nonetheless put up his defence in a private missive, a copy of which THISDAY obtained at the weekend. The Campaign for Democracy (CD) was also petitioned by the SGN, leveraging on the opportunity that its National Secretary, Pastor Ifeanyi Odili, lives in Akure.
When asked to defend himself by Odili's CD, Adebayo explained that he was a victim of vendetta by those who were opposed to his reform programmes at the OSRC-in line with the mandate given to him by Akeredolu.
He explained his ordeal thus: "One of the highlights was the obvious travesty committed by (the past administration) in staff recruitment, whereby fresh graduates were arbitrarily appointed into the radio service at Level 12 instead of eight that is officially stipulated by government standards.
"Secretaries, based on whom you know, even without any qualification, were employed at Level 13. A director, (was also) appointed freshly, at 50 years of age, without any public service experience and put on Level 15.
"In our panel days, our management hired two reputable management consultants to study the integrity of the personnel recruitment process earlier done. We got a disturbing report which validated our own finding. Of course, this was submitted to the governor.
"At the point of implementation of the panel's report, we decided to seek a deeper self-conviction. We invited the Civil Service Commission, Office of Establishment under the Head of Service, and not less than one past Head of Service and two retired permanent secretaries for deliberation and advice.
"At the end of the day, the recommendation was that, for justice, fairness and equity to be served, the affected officers must be regularised in line with extant public service employment scheme. This means the officers are to revert to appropriate grade levels, with remuneration commensurate to their new placements.
"Not less than 17 irregularly appointed officers were reverted from levels 12-13 entry point to levels eight and nine normal positions, respectively, and it was based on the governor's approval, following the Civil Service Commission, Office of Establishment, and our management's joint review and recommendations.
"The officer whose entry point into service was Level 15 was approved by the governor for termination of appointment with a clause for an offer of contract appointment. ( This is in spite of the fact that the newspaper advertisement for appointment in 2012 stipulated that anyone above 45 years needed not apply). Yet the then system circumvented itself by giving him an appointment in spite of his 1952 date of birth, which he wrote in his own ink!"
The OSRC boss added that he was under serious attack because he brought down-to-the-earth reforms which include the termination of appointment of some members of staff who had been working with forged certificates, for donkey years.
He noted also that rather than being professional, some of the broadcast station's editorial staff members had "become politicians", thus distorting the regular flow of news; a drift which he altered through regulatory standards embraced even by private-sector media stations.
Curiously too, Adebayo complained that several acts of indiscipline were pervasive in the radio/TV station before his arrival, noting that some persons were even "engaging in sex romp in the office."
On his alleged property acquisition and profligate acts, the OSRC boss said the anti-graft bodies were free to come and look into the books of the station, as he was never a pauper before his appointment, as being speculated by his detractors.
Speaking in the same vein, Odili, the CD scribe, said the unspoken cause of Adebayo's travail was no more than the fact that the latter he not from Ondo State, an ethnic dimension which he said should not be heard of in a federation like Nigeria.
"Here is a man, who though is from Osun State, has spent the better part of his life in Ondo State, and he is still being called a non-indigene.
"I recall when I was made a special assistant under Governor Olusegun Agagu, some people waged serious war against me, saying, I am from Delta State. Yes, I am from Delta State but I was born and bred in Akure and I schooled here; so you can see the problem with our people," Odili bemoaned.
Stamp of Approval
Meanwhile, the Ondo State Government has risen in defence of embattled Adebayo, saying it is satisfied with his performance as the chairman of OSRC, and that no mischief-maker can mislead the government into sacking him.
In a statement issued by the Senior Special Assistant on Special Duties to the governor, Dr. Oladoyin Odebowale, he said, "Some mischievous elements twist facts and disseminate falsehood to mask the dark intentions of their sponsors. The constant attacks on the person of Mr. Adebayo have reinforced the confidence of the government in his diligence, firmness and focus.
"The recent history and the current state of the two state-owned media organisations (OSRC and Orange FM), currently under his able supervision, attests, eloquently, to the nature of his intervention."