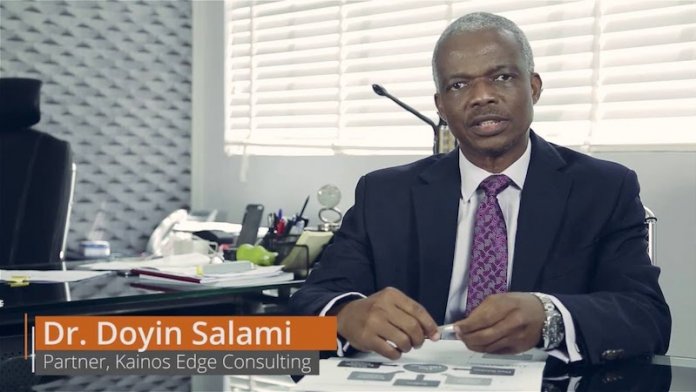 Ugo Aliogo
The Chief Executive Officer, Kainos Edge Consulting, Dr. Doyin Salami, expressed confidence that the economy is on the path of growth, predicting that it will maintain the path throughout 2019.
Salami, who disclosed this recently in Lagos, at an event with the theme: 'Post-Election Economic Outlook: Positioning to win,' said the outlook of the economy outlook was much brighter now than couple of months, before the election.
"I am clear that the outlook is much brighter now than it was a couple of months ago, before the election," he noted.
The economist, however, explained that the country's short to medium term outlook would be largely determined by the quality of the cabinet and policies to be adopted by the president by the middle of the year, "as well as international economic forces, including the value of the US dollar and Chinese growth."
In her welcome address, the Managing Director, Leadway Pensure, Aderonke Adedeji, who was represented by the Executive Director, Lanre Idris, noted that the event was borne out of the need to look at Nigeria's post-election economy in a bid to adequately consider where the opportunities lie for businesses and how to better position for them.
According to her, "We all are very much interested in ensuring that the economy thrives. The general elections are now over; and I want to believe that we are all appreciative of the relative peace in the land, contrary to speculations in some quarters. We can now focus on moving the economy forward.
"At Leadway Pensure, we understand the pressures of operating in an uncertain environment and the impact it has on businesses and indeed our lives as individuals and that is why we have organised this event as part of our commitment to help our stakeholders get more out of life.
"We are not only focused on your retirement future but also very importantly, we are paying very close attention to your progress today. The product was designed to put individuals in control of their future and provide a clear and measurable path to financial freedom."
Speaking on the new retirement simulator, Adedeji said it was imperative to help the Nigerian public take control of their future by providing a simple and smart solution that can help them measure their ways to financial freedom