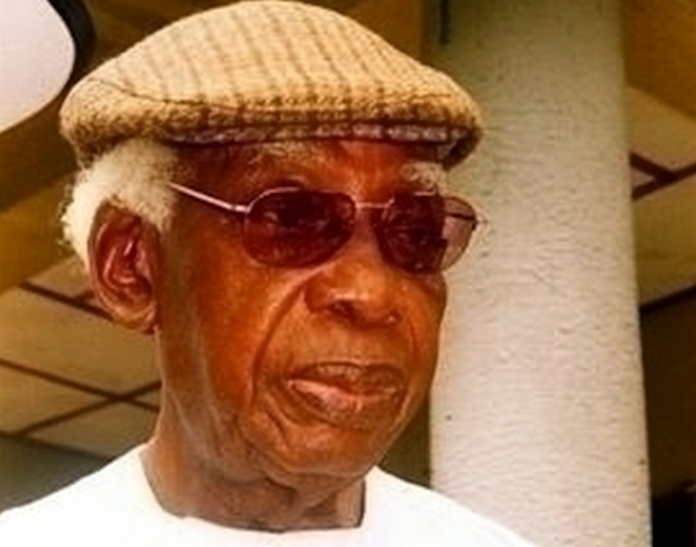 •  ANA mourns literary icon
Emmanuel Addeh in Yenagoa
Family of renowned literary icon, Dr. Gabriel Okara, weekend said their patriarch never intentionally craved for public recognition in his writings, but only wished people could read and enjoy his works.
Speaking in Yenagoa, when officials of the Association of Nigerian Authors (ANA) paid the family a condolence visit,  the poet's first daughter, Mrs. Timinipre Okara-Schiller, said those who knew the value of her father's work celebrated him while he was alive.
She added that the perception that  Okara was not fully recognised while on earth, could have been because of the depth and melancholic nature of his writings, which many people did not fully appreciate.
While describing Okara as a peaceful man who preached peace anywhere he went, Okara-Schiller, noted that her father's greatest wish was for the world to live in harmony and love, which he expressed in many of his works.
"He taught us to be honest. He was a man of peace who believed everything could be resolved by reasoning. He never wanted a voice raised.
"He taught us never to think evil of anybody. He preached peace, forgiveness and honesty and that whatever God has for us will always come to pass.
"He had love for humanity, knew his gift was from God and was always very humble about it. He always told us that writing wasn't a way to make money. He always rendered help and came back home with an empty pocket.
"Our father was an anti-corruption advocate. In all his dealings, he knew it wasn't for him to benefit personally. He taught us to do the right thing. He protested oppression in his writings," she said.
She said her father was not a commercial writer, adding that he never intentionally craved for recognition.
"Many people did not fully understand the depth and weight of his writings. He wasn't a commercial writer. In the world today, commercial writings excel. Many people did not fully appreciate his works because they were probably too deep".
In an address, the ANA Bayelsa State Chairman, Mrs Nina Nengi-Ilagha, who was accompanied by her Rivers counterpart, Uzor Nwamara and officials from the national body, described Okara as an icon of African literature.
"He always said that writers should not focus on making quick money from their works as that does not come easy.
"He blazed the international literary trail by winning the prestigious Commonwealth Poetry Prize with his Poetry Collection, The Fisherman's Invocation, in 1979.
"This was after his famous poem, "The Call of The River Nun," launched Okara into the global literary scene in 1953 when he won the first poetry prize at the Nigeria Festival of Arts," she added.
She added that most of writers of Ijaw extraction and the South-south, were inspired by those writings and especially his early laurels and honours, which brought Bayelsa, the South-south and indeed, Nigeria and West Africa to literary limelight.
"He was the first African of note, to write successfully in the English Language. Unarguably, he was the first modernist writer in Africa.
"He was about the first to win accolades in West Africa, though most unsung thereby being less appreciated than most writers of his generation," she added.