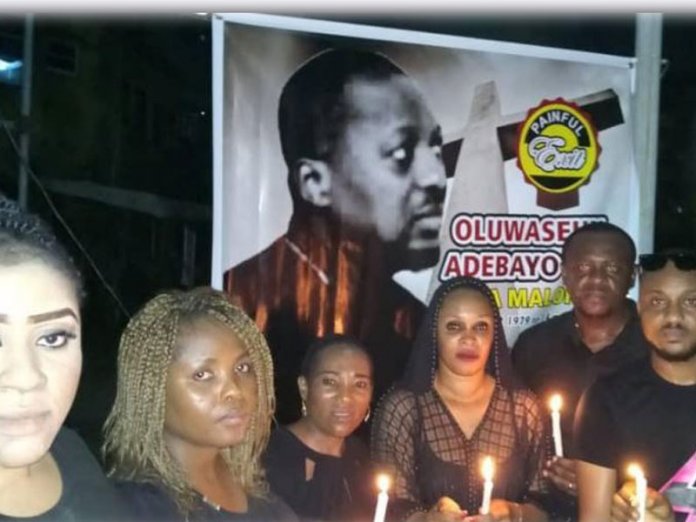 In spite of the efforts made by the Hopebay College Old Boys Association 1998 set to raise funds for the kidney transplant of Oluseun Adebayo Ojo, he lost the battle on March 14, leaving the members in mourning. Chris Asika reports
It was with heavy hearts that members of the Hopebay College Old Boys Association, 1998 set (HBC 98) received the news of the death of their member, Oluseun Adebayo Ojo (popularly called Bayo), who died on March 14, 2019, the same day THISDAY Newspaper published a story titled ' Hopebay College Old Boys Solicit Financial Help to Save a Member's Life' soliciting financial support from well-meaning individuals and groups to fund his kidney transplant operation.
Bayo 39, was diognosed of kidney failure two years ago (not long after he lost his mother, who was his only surviving family member). For over a year, he was undergoing dialysis to remove excess urine in his system until he finallycollapsed in last month after attending a friend's social function and was taken to Dializer Specialist Medical Centre where a complete kidney transplant was recomended by the doctors to save his life.
The members made efforts, including personal contributions, newspaper publication, opening of pages on social media platforms all in the bid to raise funds for a successful kidney transplant, but Bayo lost the battle before the transplant was performed.
A service of song and wake keep was organised on Wednesday, March 20, 2019 in honour of the late Ojo by the group and his church members in FESTAC Town, Lagos where he lived, which was well attended by members from all walks of life to pay their last respect. He was laid to rest at the Ikoyi Cemetry on Thursday, March 21, 2019.
In a chat with THISDAY, one of the old boys, Mr. Joseph Okoli, in an emotion-laden voice, regretted that despite all the efforts made to save his life, Ojo had to go.
"It is so sad that he had to go, we love him, but God loves him more. We really would have hoped that he stayed a while so that we can effect his treatment, but man proposes and God disposes. All we can do is to thank God for a life well spent and give glory to God. The news of his death came as a shock to me because just as we posted it that same day on the dailies, that same day by 3:06 pm he gave up. It came as a shocker to everyone of us."
Okoli called on Nigerians to create awareness on kidney-related diseases especially among youngsters.
"Nigeria should try as much as possible to reach out to people that have kidney issues because kidney issue is becoming rampant among youths of nowadays. I want to advice that the youths should stop drinking and smoking and whatever they are doing should be in moderation.
"Nigerian doctors should try to create more awareness about kidney issues and things youngsters should do to avoid kidney failure because if you look at it critically it is mostly youngsters that have kidney problems. I really hope that the federal government and the private sector will do more to help those that have kidney problem in Nigeria," he said.