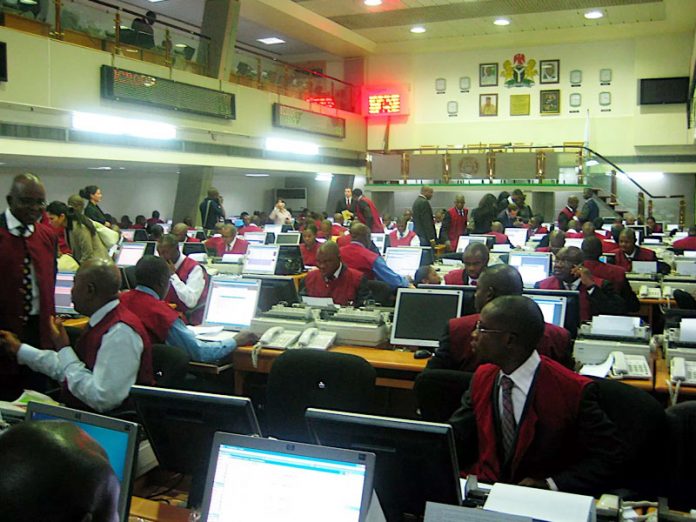 Goddy Egene
The Nigerian equities market remained bearish last week as investors paid little attention to the announcement of improved results and declaration of dividends by some companies. The market was under the firm control of the bears for four out of the five days. 
However, the decline recorded by the Nigerian Stock Exchange (NSE) All-Share Index (ASI) was marginal, as it fell by 0.01 per cent to close at 31,139.35. Market capitalisation shed N1.3 billion to close at N11.6 trillion. 
Similarly, three out of the five major sectors tracked declined. They were led by NSE  Oil & Gas Index with 3.9 percent, trailed by NSE Consumer Goods Index, which shed 2.3 per cent. The NSE Insurance Index shed 1.09 per cent. On the positive side, the NSE Banking Index appreciated by 3.8 per cent, while NSE Industrial Goods Index garnered 2.4 per cent.
Apart from the Nigerian market that closed negatively, five other markets in Africa had bearish performance.  The Egyptian market suffered the highest decline 1.4 per cent. It was followed by Mauritius' SEMDEX, which fell by 0.7 per cent. Ghana's GSE Composite went down by 0.6 per cent, just as Kenya's NSE 20 closed 0.3 per cent lower. Only Morocco's Casablanca MASI was the lone gainer, rising 1.8 per cent.
Performance across the developed market was mixed. In the United States (US) markets, the S&P 500 and NASDAQ rose 0.2 per cent and 1.0 per cent respectively.  Hong Kong's Hang Seng rose 0.3 per cent, while Japan's Nikkei 225 appreciated 0.8 per cent. Conversely, the United Kingdom FTSE All Share Index fell 0.2 per cent while the France's CAC 40 and Germany's XETRA DAX declined two per cent and 2.1 per cent in that order.
In Asia and the Middle East, performance was mixed as two of five markets  closed in the green. The United Arab Emirates' ADX General Index led the decliners, shedding 2.5 per cent  followed by Saudi Arabia's Tadawul ASI, which fell by 1.4 per cent.  Turkey's BIST 100 went down by 0.9 per cent.  On the flip side, Qatar's DSM 20 and Thailand's SET indices rose 0.2 per cent and 0.1 per cent respectively.
Market Turnover
Meanwhile, investors in the Nigerian market traded   1.198 billion shares worth N12.273 billion in 18,293 last week, compared with 1.113 billion shares valued at N13.465 billion that exchanged hands  the previous week in 15,036 deals.   The Financial Services Industry led the activity chart with 1.014 billion shares valued at N9.693 billion traded in 12,165 deals, thus contributing 84.63 per cent  and 78.98 per cent to the total equity turnover volume and value respectively. The Consumer Goods Industry followed with 58.049 million shares worth N1.398 billion in 2,689 deals. The third place was Conglomorates Industry with a turnover of 46.272 million shares worth N103.316 million in 626 deals.    Trading in the top three equities namely, Access Bank Plc, Zenith Bank Plc and United Bank for Africa Plc accounted for 651.600 million shares worth N6.294 billion in 6,505 deals, contributing 54.4 per cent and 51. 3 per cent to the total equity turnover volume and value respectively.
Also traded during the week were a total of 7,165 units of Exchange Traded Products (ETPs) valued at N1.933 million executed in two deals compared with a total of 10,598 units valued at N1.355 million that was transacted the preceding week in five  deals.
A total of 2,224 units of Federal Government Bonds valued at N2.324 million were traded last  week in 18 deals compared with a total of 201 units valued at N205,083.12 transacted two weeks ago in two deals.
Price Gainers and Losers
The price movement chart showed  that 32 equities appreciated in price last  week, higher than 18 in the previous week, while 38 equities depreciated in price, lower than 45 equities of the previous week. Mcnichols Plc led the price gainers with 22.8 per cent, trailed by Access Bank Plc with 18.1 per cent. The financial institution will soon absorbed Diamond Bank Plc in with their merger arrangement.
Last week the NSE suspended trading in shares of Diamond Bank Plc following the Court sanction of the scheme of merger between the bank and Access Bank Plc. The NSE explained that the suspension was required to prevent trading in the shares of Diamond Bank  in order to determine the bank's shareholders who will qualify to receive the scheme consideration.
"The bank obtained the Court sanction of the Scheme on Tuesday, 19 March 2019, being the effective date of the scheme. The bank's shareholders passed a resolution approving the merger between Diamond Bank and Access Bank Plc at the Court ordered meeting of the bank held on Wednesday, 6 March 2019. The Scheme will result in the delisting of Diamond Bank Plc from the Daily Official List of The Exchange," the NSE had said.
Dangote Flour Mills Plc chalked up 13.7 per cent, just as Fidelity Bank Plc appreciated by 10.7 per cent. Prestige Assurance Plc and Cement Company of Nigeria Plc gained 10 per cent apiece.  Other top price gainers included: Caverton Offshore Support Group Plc (9.6 per cent); Meyer Plc (9.2 per cent) Eterna Plc (9.0 per cent) and International Breweries Plc (8.1 per cent).
Conversely, Cutix Plc led the price losers with 17.7 per cent, trailed by Cadbury Nigeria Plc with 17.5 per cent. Cadbury last week announced the appointment of its first female managing director in the person of Mrs. Oyeyimika Adeboye effective April 1, 2019.
 Adeboye is the first woman to be appointed MD since the establishment of Cadbury Nigeria over five decades ago.  Adeboye, a chartered accountant, joined the board of the company in November 2008, as Finance and Strategy Director, West Africa.
"Mrs. Adeboye's appointment attests to the company's commitment to promoting gender equality, diversity and inclusion," the firm said.
Prior to joining Cadbury Nigeria, Mrs. Adeboye was the Director of Finance and Chief Financial Officer of Nigerian Bottling Company Plc. She previously worked for the erstwhile Accounting and Tax Practice of Arthur Andersen & Co as well as the United Kingdom Accounting practice of Midgley Snelling & Co., Chartered Accountants.
Mrs. Adeboye has an impressive track record in finance, strategy and business administration both in Nigeria and the United Kingdom. She is a fellow of the Institute of Chartered Accountants in England and Wales and a member of the Institute of Chartered Accountants in Nigeria. Mrs Adeboye has a Bachelor of Science honours degree in Economics and Social Studies from the University College Cardiff, Wales and executive management education certification from the Institute of Management Development (IMD), Lausanne, Switzerland.
Ikeja Hotel Plc was also among the price losers, shedding 17.3 per cent. Royal Exchange Plc and UACN Property Development Company Plc dipped by 17.1 per cent and 12.8 per cent respectively. Sovereign Trust Insurance Plc shed 12 per cent and Presco Plc lost 9.3 per cent.
Associated Bus Company Plc and Beta Glass Plc went down by 9.2 per cent and 8.9 per cent in that order.