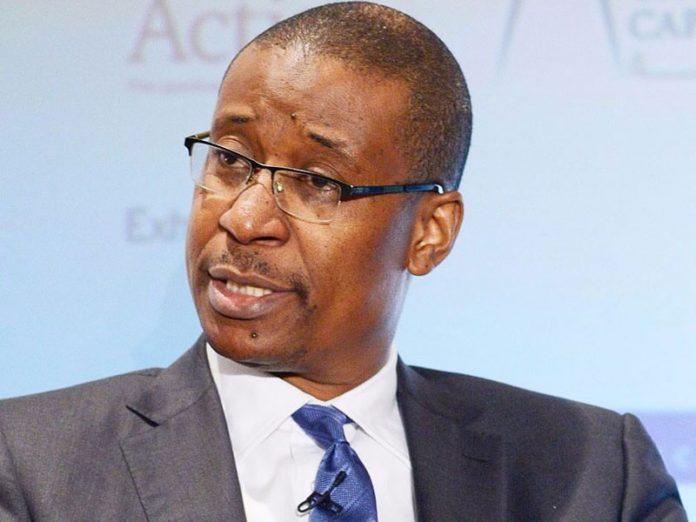 By Emma Okonji
The Minister of Industry, Trade and Investment, Dr. Okechukwu Enelamah, has assured Nigerians of a better business-friendly environment that will promote the 'Ease of Doing Business' through the adoption of appropriate policies.
Enelamah, gave the assurance in Lagos recently, during the launch of a mobile app called 'Reportgov.ng, by the Presidential Enabling Business Environment Council (PEBEC).
The app was designed as an official public service feedback and complaints platform to support business climate reforms implemented by PEBEC that will improve transparency and 'Ease of Doing Business' in Nigeria.
The minister called on Nigerians, especially the small and medium enterprises (SMEs), to take advantage of the app and download it on their mobile phones, to ease business communication between businesses and government agencies as well as promote instant responses from government. 
According to Enelemah, "The app is so important to PEBEC as the people's representative of the public sector in government because it will further make it easier for all to do business with ease in Nigeria.
"The motive of the app is in line with the objectives of government in job and wealth creation, driving economic growth and industrialisation, business diversification, among others, that are geared towards engaging, energising, empowering and enabling businesses in Nigeria. 
"The app has been designed as a digital tool and avenue to engage government, agencies of governments, and service providers and also an avenue for business owners to channel feedback to government in terms of their observations and experiences.
"The app is so important that it will promote more action with less talk." 
The Senior Special Assistant to the President on Industry, Trade and Investment, Dr. Jumoke Oduwole, said the app, which is also a website, would facilitate the escalation and resolution of issues encountered with Ministries Departments and Agencies (MDAs) towards ensuring a more business-friendly environment.
The Chairman, Financial Reporting Council of Nigeria, Mr. Adedotun Sulaiman, advised Nigerians to download the app and use it to get faster response time to all their complaints and reports.
The launch of the app, which was in partnership with the Enabling Business Environment Secretariat (EBES) of the Council, featured a panel of discussants and stakeholders from the public, private sector and civil society, with a focus on issues bothering on transparency and efficiency of service delivery in Nigeria.
The mobile app is available on the Google Play store, and is coming soon to the iOS store to enable users give feedback or complaint that will drive continuous improvement in service delivery and public protection efforts
Smile Expands Retail Footprint with Quickteller Paypoint Agents 
Nosa Alekhuogie
Smile, a telecommunications service provider, has collaborated with Interswitch Financial Inclusion Services Limited (IFIS)to make its products and services easily accessible via Quickteller Paypoint agent locations spread across Nigeria.
This collaboration provides ease and flexibility of payment for everyone to have access to internet and voice services from Smile.
According to its GM Sales and Distribution, Onamari Horsfall, the company was happy to enter into the  collaboration to expand its retail footprint across Nigeria, which was aimed at making Smile's products and services easily available.
It is intended to address customers' travel time to purchase a device or airtime.
He added that the collaboration offers thousands of Smile's customers' another means of making purchases.
The Divisional Chief Executive Officer of IFIS, Titilola Shogaolu, stated, "At Interswitch Financial Inclusion Service, we are not only committed to reducing the financial exclusion gap, we are continuously working to provide convenient services and this latest collaboration is just one of the many ways through which we are achieving this."
Smile launched the first 4G LTE network in West Africa in Nigeria in 2014, revolutionising the way people access the internet.
"Customers in Lagos, Abuja, Port Harcourt, Ibadan, Benin City, Kaduna, Onitsha and Asaba, can experience the country's reliable, SuperFast 4G LTE mobile broadband services, and also enjoy SuperClear voice calls, video calls and SMSs from their one SmileData bundle.
"The collaboration, which is expected to create over 18,000 Quickteller Paypoint agent locations across Nigeria, will position IFIS to work assiduously to remove the barriers to financial inclusion while creating wealth for its paramount stakeholder- the agent. "Using simple innovative technology, persons can pay their bill, transfer money, receive money, buy airtime recharge and open a bank account at our Quickteller Paypoint agent location nationwide," Shogaolu said. 
LSETF, Coca-Cola Graduates 300 Women in Empowerment Initiative
Raheem Akingbolu
No fewer than 300 women drawn from different communities in Lagos state have been empowered to start up their own small businesses through the women empowerment initiative by the Lagos State Employment Trust Fund (LSETF), in partnership with Coca-Cola Nigeria Limited and its bottling partner, Nigeria Bottling Company Limited (NBC).
The initiative was in line with Coca-Cola's 5by20 programme which is the company's global commitment to enable the economic empowerment of five million women entrepreneurs across its value chain by 2020.
The 300 women who were the first batch of the 1000 women targeted for the initiative were provided with trade assets which included coolers, tables, umbrellas and Coca-Cola beverage products, having completed their training modules on financial literacy and business skills.
Speaking at the handing over ceremony held recently in Lagos, the Executive Secretary of Lagos State Employment Trust Fund (LSETF), Mr. Akintunde Oyebode, stated that the empowerment initiative was in line with the vision of the Lagos state government to create jobs, wealth opportunities and alleviate poverty among residents in the state.
Oyebode, who commended the beneficiaries for their tenacity and determination to improve their lots economically urged them to judiciously put into use all the skills acquired as well as the resources mobilised for them.
While expressing appreciation to the two partners for their contributions in complementing government's effort in the empowerment of women, Oyebode stated that such collaborations would ultimately help to reduce social problems and address the alarming rate of unemployment in Lagos State.
He also called on other private sector partners to join LSETF to create jobs in the State.
Congratulating the beneficiaries on the completion of the trainings as well as the handing over of the assets, the Managing Director of Coca-Cola Nigeria Limited, Mr. Bhupendra Suri, represented at the event by Ms Nwamaka Onyemelukwe, Public Affairs & Communications Manager, advised the women to make the best use of the resources handed overto them by effectively deploying the skills and assets in the running of their businesses profitably and sustainably.
She also reaffirmed the commitment of Coca-Cola Nigeria to empowering Nigerian women through its numerous initiatives, emphasising that the companyrecognises the socio-economic value that women bring to enterprise development and urged other corporate organizations to consider Women Empowerment as a business imperative.
She said, "We are as prosperous as the communities in which we operate. The shared prosperity we envision as a company would only add up when we commit resolutely to empowering people living around the communities where we operate.
"We believe any investment on them, particularly women would trigger not only economic growth but foster sustainable development.
"As you are aware, women are pillars of the communities we serve and pillars of our business. We are convinced that they will play a significant role in shaping Nigeria's economy over the next decade. So, empowering the women through this initiative would go a long way to address poverty and unemployment in the state."
In his own remarks, the Public Affairs and Communication Director, Nigeria Bottling Company (NBC) Limited, Ekuma Eze, restated the commitment of the company to women empowerment, saying that it would continue to support efforts that enhance shared economic growth.
He said: "We truly believe supporting women is a key driver to economic development. This explains why we bought into this idea to ensure that while they are empowered, we can begin to see the multiplier effect on the economy."
NLNG: We Responded to Distressed Trawler
Eromosele Abiodun
The Nigeria LNG Limited (NLNG) has stated that it responded to a distress call by a trawler 45 Kilometres South West off Bonny Fairway Buoy contrary to claims that it did not.
NLNG, in a statement, said claims in some media reports that it failed to respond to a distress call were false and misleading.
According to NLNG,  "On receiving the distress call at about 2107hrs on February 6, 2019, NLNG responded by dispatching a long range security boat to the location. On getting there, the crew of the long range boat found other sister vessels engaged in rescuing the crew of distressed trawler, MV Orc IV.
"The boat returned to base after confirming that the trawler boat crew had been rescued by sister vessels.
"At 1320hrs on February 7, 2019, after reports of a fishing boat on fire in the same location, NLNG sent a tug boat with firefighting capabilities and two security boats.
"The tugboat put out the fire and the crew of the security boats doused small fires in the fish hold. In line with one of our core values of Caring, we continue to exhibit care for people and the environment to enhance safety and sustainability through partnership with relevant agencies."
It added: "Recently, NLNG was recognised with "The Best Caring Company" award by the Nigerian Maritime Administration and Safety Agency (NIMASA) for its outstanding contributions to the realisation of the agency's mandate on safety on the waterways, especially the Bonny-Port Harcourt sea route which borders our area of operation in Rivers State.  
"At the event, NIMASA commended NLNG for the rescue of 12 victims of a boat mishap on the Bonny Seaon 19 November2018."