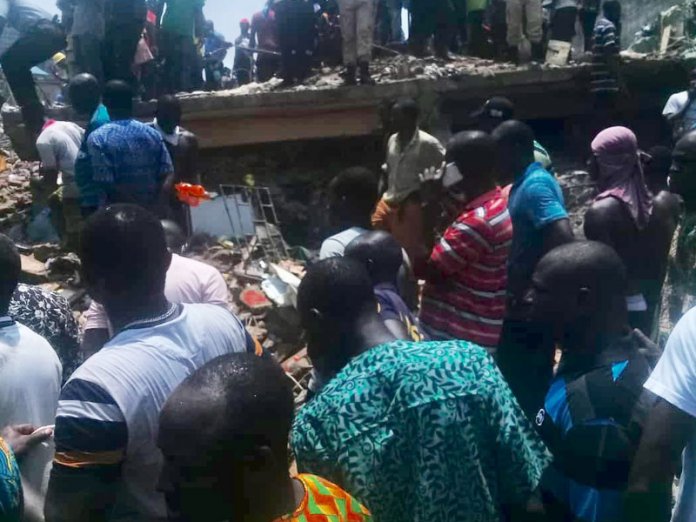 In a cruel twist of fate, a street name which translates to 'the venue of merriment' became the scene of an unimaginable tragedy as criminality, complacency and complicity ultimately resulted in the loss of 20 lives and injury to dozens more. Many of them were children seeking an education against all odds in tough conditions but their hopes were shattered; they were betrayed by a callous system that crushed them as their dreams came to a crashing halt. Chiemelie Ezeobi and Sunday Ehigiator write
For Abdul-Fatai Ayo-Ola, his world as he knew it crumbled like a pack of badly stacked cards on Wednesday, March 13, 2019. He might not have been the richest man in his neighbourhood, but he certainly had enough to send his son, Abdul-Fawas Ay-Ola to school. His decision to send him to Ohen Primary School at Ita -faji on Lagos Island was simple; its system of education was relatively sound, as evidenced by the academic brilliance his son showcased.
That brilliance came to an abrupt end last Wednesday when the three-storey building housing the school collapsed. With the tragedy, lives were lost, hopes shattered, dreams cut short and the affected families left in numbing pain. Ayo-Ola did not just lose his son, he also lost three of his nephews in one fell swoop.
The three-storey residential building with the primary school at the top, caved in at about 10am when some of the pupils were observing their Physical Education (PE) exercises in batches, while others were in the class waiting for their turn.
When the building collapsed, the first responders at the scene had initially rescued some of the pupils and rushed them to the Marina General Hospital. Present figures by the Ministry of Health however put the dead at 20.
The school occupied the third floor while tenants occupied the second floor and a block of shops made sales on the ground floor. The casualty rate was on the high side because the building has over 20 rooms and had about eight persons living in a room.
Preliminary investigation revealed that the cause of the collapse could be traced to the ongoing construction of a drainage around the old building, which they had just recently dug round the building a few days before and might have likely weakened the foundation.
Certified Casualty
After confusion about the casualty and fatality rate, the state ministry of health on Friday finally harmonised the figures. According to the Commissioner for Health, Dr. Jide Idris, 20 corpses were brought to Lagos state mortuaries from the site, while 45 survivors were received and were managed by government health facilities, notably Lagos Island General Hospital, Massey Street Children Hospital, Onikan Health Centre, Gbagada General Hospital, LASUTH, National Orthopaedic Hospital, Igbobi and LUTH.
He said that as at Friday morning, 14 persons (10 children and four adults) were still receiving medical attention at Lagos Island General Hospital for various levels of injury. According to the Medical Director of Lagos Island General hospital, Dr Ismail Ganikale, more survivors would have been discharged from the hospital to their families before the close of work.
Day of Horror
For Ayo-Ola, it was a moment of horror when the building collapsed. Recounting the horrific moment he said: "I was around when the incident happened at exactly 10:10am. I was around because I live in the area. We are three relatives whose children were involved in the incident. My son, and three other of my relative's children. We are all from same family.
"One of the children belongs to my wife's elder sister. The boy was 10 years old. My own son also died. He just marked his sixth year birthday about two weeks ago. I took him to Ohen Primary School after noticing the brilliant performance of my in-law's son. I noticed the change under two years of him attending the school- not just academically, but morally. He was doing very well in terms of morals at home.
"You should know that I am a Muslim, but I saw that the coordination of the school was done in a Christian manner, even in assembly but I didn't mind because I love the outcome I see in the children going there.
"That aside, on the educational aspect, they are very okay. I have the money to have taken him to the bigger schools on the island, but I preferred here because this boy is my first son and I wanted the best for him. His younger sister clocked a year and a week old on the very day of the incident."
Touching on the loss incurred by his other relatives he said: "After my son started going to the school, my wife's elder brother was impressed with his performance, he was convinced enough to enrol his twins – a boy and girl – in the school, and that was how they all began to go there too.
"They were both of the same age with my son Fawas, but my son was a class ahead of them," he said.
"The twins couldn't have spent more than a year plus in the school before this incident happened. So after the incident, my own son was brought out dead, while the twins were initially brought out alive only for the younger the girl to die of fractured bones after some minutes in the hospital."
The pain he felt when his son was brought out dead will forever be etched in his memory. Initially, when his son was brought out, he didn't recognise him.
"When they brought out my son, I couldn't recognise him on time. When I did, he was already dead. What has happened has happened and I buried my son that same day according to Islamic rites of passage."
On how his wife was holding up he said: "What can she do? It's her first son that just died. She is very sad and heartbroken."
Ayo-Ola is not alone in his pain, there are tons of others who suffered similar loss. Iya Idris, was one of such people. Her son Maleek Soetan Akanbi died in the collapsed building. Her loss is more painful given that her son would have been safe if she didn't send him back to school when he came home twice during the day.
More pathetic was the fact that he died on his 10th birthday. When Maleek woke up happy on that fateful day with all hopes to celebrate his 10th birthday, he had no inkling that death was around the corner.
According to the distraught woman, it has been a mixed bag of emotions – pain that she seemingly sent him to his death; sorrow that he died all in the quest for learning, and submission to the will of the Almighty despite the deceased being her only son.
Narrating her ordeal, she said: "Imagine someone just woke up in the morning and dressed her child, who just clocked 10 years on that same day, for school. She sends him to school without knowing that would be the last time she will ever see him alive.
"My son Maleek clocked 10 on the day of the incident. He is my only child. Few days before his birthday, he told me that he wants to give his teacher a gift on his birthday and also his classmates in school. And I assured him I will give him all he wants to take to school when the day comes.
"When he first went to school that morning, he forgot the things I had bought for his birthday and what he was supposed to take to his teacher in school, so he returned back home for it.
"After taking that to school, he came back home again for the second time to pick another thing. I don't know what it was but I cautioned him to return to school as soon as he is done. After a while that I noticed that he didn't return home again, I left for shop in Idumota.
"I opened my store for business with the knowledge that he was already in school. Then I got a call that his school had crumbled to the ground. That was when I immediately picked a bike to the school from my shop.
"On getting there, I met the situation on ground and those in charge of the ambulance told me to go and check for my son at the Marina General Hospital. So I went there with other parents with hopes that as they are bringing them, we would see our children alive.
"I saw some injured on the head and those with broken limbs that they used oxygen on to enable them breathe. But when they brought my son, it was his corpse they brought together with corpses of children between ages one and two; those in the creche.
"They brought out their bodies from the ambulance in cartons because they were very little and had been crushed by the stones.
"My heart is heavy. He started the school from creche and was supposed to finish primary school in few months time. He was in primary six. The government has done me bad, in the sense that when he was rescued from the wreck, he was alive, he was still breathing.
"But when they placed Maleek in the ambulance, there was no oxygen. They just left him in the ambulance without attending to him. He was still breathing. The government has done me bad and I hand them over to God. He died in the ambulance as they were moving him to the hospital."
Maria Adeyemo is the mother of the twins, Taiwo and Kehinde, who were both victims of the collapse. While the older of the twins – a boy -died in the hospital from injuries sustained, the younger one is still fighting for her life in the intensive care unit. Having lived in the building for just two years, they saw no indication that the building would collapse anytime soon.
She said, "We were blessed with twins, Taiwo and Kehinde Adeyemo, and both attended the school located on the third floor of the building. Unfortunately, they were both involved in the accident and even though they were both rescued, we lost Taiwo shortly after. We buried him yesterday, while Kehinde is still receiving treatment at the hospital."
Also recounting their ordeal when the news filtered in she said: "Both their father (Sunday Adeyemo) and I had both left for work. I have a shop at Idumota and that's where I was when the phone call came in that our house had collapsed.
"I got there and two of them were rescued alive. I was so happy until one of them died. They were just seven years. Their father is so devastated. He has just been taken to one of his friends place to change his clothes which he has had on since yesterday."
Blame Game
While the government was quick to blame the residents of the area for preventing the demolition of marked buildings in the area, which resulted in its collapse, the affected families beg to differ.
Governor Akinwumni Ambode, who visited the site on the day of the collapse, said most of the buildings were previously marked for demolition but the team met stiff resistance from the residents.
He said: "Most of the buildings in the area had been marked for demolition, but some property owners in the area defy such notices. Going forward, structurally defective buildings would be demolished.

"The building is not technically a school, it is a residential building that was actually accommodating an illegal school so to speak on the second floor.
"Like we have said, we have been carrying out a lot of integrity tests on the buildings in this neighbourhood and as you can see, some of them have been marked for demolition but we get resistance from landlords.
"But we must continue to save lives and we would intensify our efforts to see that those that have failed our integrity test, we would ensure that they are quickly evacuated and we bring the structures down."
In response to the government's opinion of the school, Ayo-Ola had this to say: "This is a big tragedy in Lagos Island but the main blame is on government because the school is very sound academically. Let's forget about the government tagging it as an illegal school of the environment it was located in. They are very okay, academically."
Debunking claims that the affected building had been marked thrice for demolition he said: "I can show you the picture of the building, it wasn't marked at all. It was painted. Except it was marked before the building was renovated because my son just spent two years in the school, but I wasn't aware before I took my son there."
Another area he faulted the government agencies that carried out rescue operations was the lack of adequate oxygen to go round the trapped children.
He said: "I must note here that most of the rescue team came without oxygen; which is very bad. This is part of the reason why I blame the government. They should have realised that based on the fact that most of the victims are children, they won't have much strength as an adult and would need oxygen to aid their survival at the point of rescue before they get to hospital."
Iya Idris on her own part made some grievous allegations about the said marked buildings. She alleged that the agency in charge just arbitrarily marked buildings without conducting any tests.
She said: "In the days of Governor Babatunde Fashola, there used to be machine that they place on houses to test their fitness and if the house isn't safe, it is immediately demolished. But it all stopped during Ambode's time. Ambode stopped it. And instead, what they do now is just come and mark any house without testing it and force the owners to settle them with bribe.
"And even when they genuinely mark an unsafe house, the owner goes and settles them with money and they give him permission for renovation. This is bad. Government must look into this before we all die in this area. We tenants are innocent but we suffer the brunt the most because the landlords don't live in the house but collect rent as high as N500,000 for a self-contained room here in Lagos Island.
"Now my son is dead and I blame his death on government. As you saw when Ambode came here, they threw pure water at him and didn't want to see him. This is because the people are angry with what they are doing to us here. Now my son is no more."
Adeyemo also debunked claims that their building was marked for demolition and they refused to move. According to her, "we had no idea because the house was just renovated when we moved in. The landlord and agents never mentioned to us anything of such."
Appeal to Government
Ayo-Ola has a request. His clarion call was to the government, urging them to fix the educational system. "My advice to the government is that they should improve on our education system. Our educational system is very poor.
"As you can see, the government schools are not doing well. They lack qualified and passionate teach ers and care less of the wellbeing of the children unlike private schools.
"It was just a day before yesterday that I was telling one of my bosses of my intention to take my son to another school outside this Lagos Island. Apart from this Ohen, most of the other schools in this Lagos Island lack the right environment which is very important in the life of children.
"Apart from academics, they lack sporting facilities to enable the children thrive in sporting activities. The government should look into issue.
"Secondly, the issue of collapsed building in Lagos and Nigeria entirely should be looked at. They should try as much as possible to save lives by marking and demolishing it completely before it happens."
Adeyemo's plea to the government is for aid to be provided for the family to get back on their feet. She said: "The government should please come to my family's aid. I have lost a child and also been rendered homeless. I was lent this cloth that I am putting on to wear.
"The one I wore while I left home, I had shredded it unconsciously when the news was broken to me about the incident. We don't have anyone or anything to depend on as it stands now. Even to feed. We need support for housing and feeding. Nigerians please come to my aid. (sobs).
"If my other son is discharged from the hospital now, we have nowhere to go. Government should please help us."
Post-traumatic therapy for survivors of the collapse and loved ones of victims is imperative.
Already, there are reports that a mother who lost two children in the incident committed suicide by ingesting a poisonous insecticide after she received news of their death. However, THISDAY couldn't confirm this story at the time of going to press.