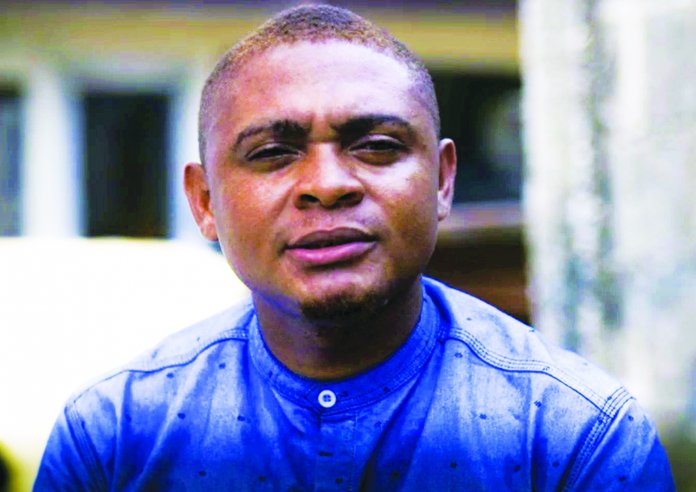 SATURDAY POLITY 
In recent times, irregular migration has reached terrifying new heights. Current statistics rank Nigeria highest amongst countries with irregular migrants around, following the sub-Saharan desert, also known as the Agadez route. In their attempt to go to Europe via irregular means, through the desert and across the Mediterranean sea, thousands of migrants, majorly coming from West Africa, have perished or found themselves in slavery. Most of them were recruited by traffickers that had deceived them, making them believe that the channel to Europe would be easy. Libya thrives in human trade and slavery. Migrants who are incapable of settling ridiculous smuggling fees are tortured, sold or forced into prostitution. Jerry Adelu was one of such migrants who had planned to get to Germany to start life afresh. In this interview with select journalists, including Olaoluwakitan Babatunde, Adelu details what he went through on the course of his trip.
What made you decide you were going to take the trip?
I would say lust. I saw a picture of a friend on Facebook who travelled. There's an attitude that Nigerians who leave the country display. They would take pictures and share on Facebook and Instagram and tell you, 'It's happening over here. What are you doing there? Come over!' And they say, 'Man, when you come, this laundry that you're doing in Nigeria, it's going to bring more money than what you get in Nigeria.'
Whom did you speak to about helping you leave Nigeria?
I didn't speak to anybody. I was scared because my friend had input that mindset in me that if I tell somebody, that person will now become somebody that is now blocking my way from traveling. He was the one that called people, and directed me on which way to go.
How easy was it sourcing for funds for the trip?
It took me over six months to put the money together. What he told me was that if I could raise N300, 000, it would be more than enough for me to leave Nigeria to Europe. The initial plan was to go to Germany, which we bargained for. He would connect me with some transit guys who would take me from Nigeria to Europe. That was the starting point. Unknown to me, I was going to spend more than that. He didn't explain to me that I was going to face challenges and see kidnapping and beating. The money didn't seem much to me. I knew that if I saved for three months or more, I would get it. God so kind, after six months, I raised the money.
Would you say that your friend was a bad influence?
My friend was not a bad influence. He just wanted to help me. Somebody helped him too, and he wanted to help me that way too. He was fortunate to get there in a nice way, by not spending much money. The person who took him was a bugger (returnee turned trafficker). But he was not a bugger himself. He wanted me to bypass the bugger. It would make me spend less than he did. He had the contacts of people I could call that could help me get into Europe.
Starting from the beginning, did everything work out according to expectation?
It didn't work out well, and that's the reason you're seeing me here in Nigeria. I ended up spending N1.150 million at the end of the day.
After I left Nigeria, I paid the N300, 000 to someone my friend connected me to ,  an agent from Benin. After paying the money, we embarked on the journey. But I was shocked when I got to Sokoto and met another agent who said the money I paid in Nigeria was for a wrong connection. The money had expired and couldn't take me into Europe.
I called my friend and told him what was happening. My friend was furious, but there was nothing he could do. I had to handle it myself, by asking the agent how much it would cost to take me to Europe. He said N200, 000. I said no problem. So, I did a mobile transfer with my bank's app to an account provided to me. The cash got me as far as Agadez in a journey that took 17 hours, nonstop. We traveled in a luxurious bus.
Arriving in Agadez, the same agent, called Abdulrahman still told me that the money I paid at the border had expired. I needed to pay 5,000CFA. I did another transfer into another Nigerian bank account. I asked him if I would pay any other money and he assured me that I wouldn't, that I would get into Europe.
Tell me about the Sahara desert. What was the experience like?
The Sahara desert experience is one that I have never seen. During the day, the sand is cold, the sun is high. During the night, it will now change. The sand would be hot, the weather we could cold. There was no way we could stand. When I say cold, I mean block. We had to dress like armed robbers. We put on head warmers to cover up, so that we don't die because of the dust and cold. As you're passing the desert, you'll see skeletons of people who have died. Inside the desert, we still have rebels who would come and rob you and take your money from you. Most of us suffered a lot in the desert. I was lucky, probably because of the money I paid. It took us only five days, between Agadez and Niger. Others weren't so lucky.
We passed through that stage and got into Qatrun, Libya. From there, we went to Sabha. And that was when the genesis of our problem started.
What was your experience in Libya?
We were taken to a large detention camp which was like a big hall that could accommodate nothing less than 5,000 persons. We had different departments there. We had Nigerian ghetto, VIP Nigerian ghetto, Ghanaian ghetto, Cameroun, Senegal… Different countries. When you get there, they will ask you where you're from. If you say you're from Nigeria, they will tell you to go to the Nigerian ghetto. If you come on credit from Agadez, you'll get VIP. It's the credit area. If you're standing, you will stand there for as long as you're there. If you're lucky to find a space to sit, you will sit there until you leave there. I was asked to stay in the normal ghetto.
Hours later, the people controlling the camp welcomed us and told us we had come to the 'Land of No Mercy'. They pointed at the walls of the hall and we saw fresh blood there. The story behind that was that some people had tried to escape and they had been shot dead. This was why they called the place the 'Land of No Mercy.' If you break their rules, your blood will stain the walls.
Ahmed, one of the traffickers in charge of the place, came by and told us that we had to pay N300, 000. I reminded him of the guy in Agadez whom we had paid 5000CFAs to, that he promised it would get us to Europe. I told them I was willing to pay the money, but I didn't have a Libyan bank account to make it happen. They told me that I shouldn't worry. Two hours later, he brought a bank account number from a Nigerian bank.
God help you, if you are given that bank account number, your days start counting from there. You would be given 48 hours free of charge. After the time expires, they would start beating you. Now, this is how it runs, once they give you that account number and the 48 hours elapses, they would give you 59 seconds to call Nigeria. You would be asked to cram everything you want to say. While you are on that call, they would be beating you, and whomever you're speaking to would be hearing your cry of pain from the background. It would then trigger them to send the money.
I had no choice but to call my sister who is like a mother to me. She shouted, 'Again? Which kain wrong connection? You no dey see better connection enter?'
I explained everything to her. She asked how much the money was. I told her and she said she didn't have the money, but she was going to talk to her husband to help out. Meanwhile, we didn't tell her husband. I had listened to my friend's advice about not telling anyone. Also, I relied on his promise, believing I would get there in two weeks. I had planned to reveal to the whole family where I was after I had arrived Germany. I wanted to surprise them. So, my sister had to tell her husband about my predicament, and the husband then sent the money.
In that place also, girls were being used for prostitution. Those who could not pay their money were sold to those who were in charge of connection houses where they would have to work to earn twice of whatever they billed them. What Nigerians who want to make money do is to go there, get a girl and pay like N300, 000. The Arabs take 500 dinar, which is N50, 000 to bail anybody anywhere. It is a fixed price. But the Nigerians would take N300, 000. So, if someone bails someone for N50, 000, the person would then pay N600, 000. Can you see the difference? The traffickers would pretend as if they are helping you, but they are not doing that. They are actually killing you. That is their own source of income, how they earn their money. They have been living like that. They are comfortable with it, and they feel you cannot do anything about it.
Now, what got me scared was that on our way back, we noticed they had caught a boat before they caught ours. The boat had about 157 people, but only 27 people survived. The rest died. Some had no eyes, no nose, stiff hands… That was the first thing I saw and my brain said, 'Man, if you had died on that sea, who would see your corpse?'
We were taken to a deportation camp where we spent nine months. During that time, we were calling on the ambassador, but he didn't respond. The reason was that were taken to Misrata, which was a no-go area. The law working there was different from the one in Tripoli where the Nigeria embassy was. At Misrata, the law is too stringent. They would detain you if you don't have papers or they are not complete. Eventually, I called my dad for help. He was upset at first, but he later succumbed to my pleas.  I thank God that I am now in Nigeria. The government worked with the International Organisation for Migration (IOM) to bring us back home.
What advice do you have for those intending to travel out of Nigeria?
We're not saying migration is bad. But if you must go at all, go through the legitimate means.
What have you been doing since you returned to Nigeria?
Since I came back, I went back to my laundry business. I'm doing it in another way, putting what I learned from Libya into my business.
Today, Jerry works with the Patriotic Citizens Initiative, actively enlightening people on the realities of irregular migration.