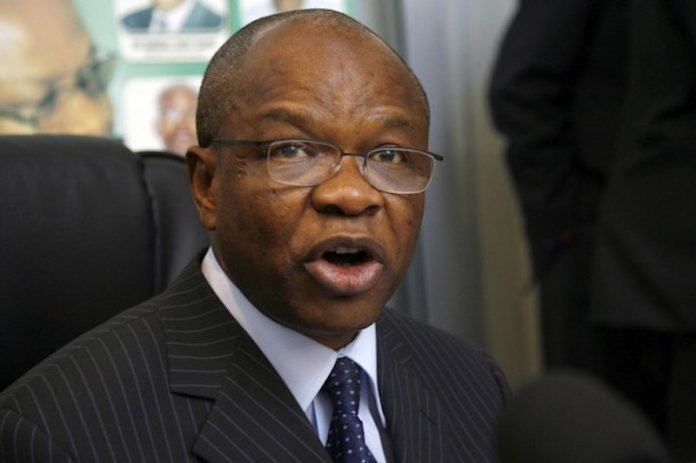 Udora Orizu in Abuja
A former Chairman of the Independent National Electoral Commission (INEC), Prof. Maurice Iwu, Thursday in Abuja, praised the role played by former President Goodluck Jonathan, while he was in office, in funding research in the Ebola scourge, leading to its control in the country.
He also praised the then governor of Lagos State, Babatunde Raji Fashola, for his pragmatic approach in also putting money into the Ebola research, when the scourge hit Nigeria.
Iwu said the quick funding of research into the scourge was instrumental to its immediate containment despite the few deaths it recorded.
Speaking in Abuja when the Nigerian Council of Physicians of Natural Medicine invested him with a fellowship of the council, alongside a fellowship of the West African College of Natural Medicine, Iwu re-emphasised the importance of research funding in the containment of epidemics and other health challenges.
According to him, Jonathan had released N2 billion through the Federal Ministry of Health, to fund research into Ebola, nothing that a research firm linked to him was involved in the effort to find solutions to the Ebola menace.
Iwu recalled that the then governor of Lagos state, Fashola had also publicly called on him to help lead research into the menace having also made available funds to achieve same.
He called on Nigerians not to rest on their oars over the containment of Ebola, noting that the virus is still rampant in its place of origin.
According to him, "Just two hours flight and one could get in contact with a possible Ebola victim. That tells us that more need to be done to eradicate the virus.
"We must continue with the hand washing practice. It is the first major step to contain the virus.
"We must know that a major step in medicine is not just treatment of patients but care and control of situations that could lead to major challenges."
He thanked the Nigerian Council of Physicians of Natural Medicine for its pioneering role in the development of alternative medicine in Nigeria.
He pledged to work hard for the growth of alternative medicine practice in Nigeria, noting however, that there is need to increase funding into research and development of alternative medicine.
He called on government and the private sector to invest more resources into research for alternative medicine adding that what the Jonathan government did, though not enough, went a long way towards advancing research on Ebola.