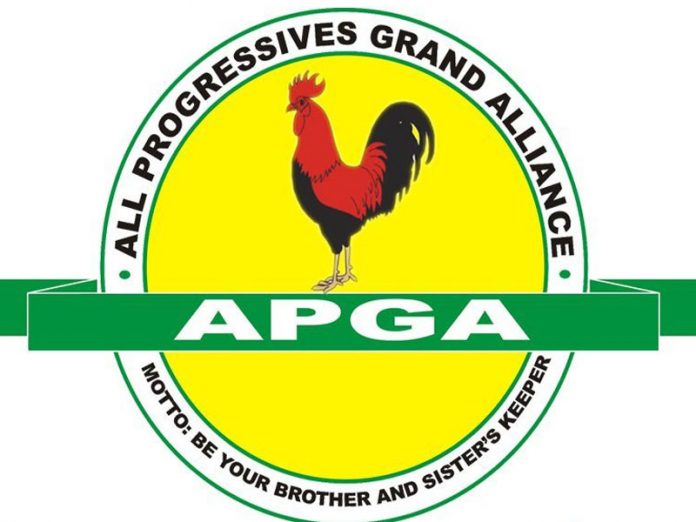 By David-Chyddy Eleke in Awka
Some members of the All Progressives Grand Alliance (APGA), under the aegis of APGA Aggrieved Forum, have called on the Anambra State Governor, Chief Willie Obiano, to sack the leadership of the party.
The group, which consists of aspirants of the party in last year's primary election, said if Obiano fails to do so, the party will perform abysmally in the state assembly election which comes up on March 9.
The spokesperson of the group, Mr Onyeka Mbanaso, who spoke to journalists on Thursday in Awka after a meeting of the forum, said the leadership of the party under Dr Victor Oye had performed poorly and that failure to remove them, the party may lose the Anambra State House of Assembly to the opposition party.
"We are giving Anambra State Governor, Chief Willie Obiano, 9-days ultimatum to sack the national chairman of the party, Chief Victor Oye, and cause him to refund monies he extorted from aspirants during the primary election.
"What happened in last Saturday's election (National Assembly election) where APGA performed poorly is a preamble of what will befall the party during next week's House of Assembly election across the 30 state constituencies if necessary action is not taken.
"So we the aggrieved members of this party, are calling on the Board of Trustees Chairman who is also the governor of Anambra State, Chief Willie Obiano, and other concerned stakeholders to sack Chief Victor Oye," Mbanaso said.
When contacted for reaction, Oye told THISDAY that the aggrieved members were an insignificant few, who were merely seeking a way to cause division in the party.
He said APGA has never been as strong as it is now, and that the party put up a strong fight in last Saturday's election, leading to the winning of 11 House of Representatives seats across the country.
"APGA is the third biggest political party in the country. We all know why last Saturday's election went that way, and I can assure you that the House of Assembly election will be a totally different ball game," Oye said.