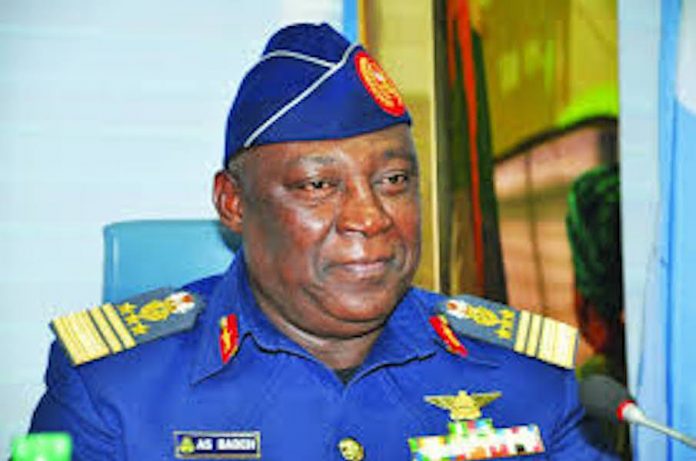 The news hit me like a large slab. I woke up this morning to this very worrisome and distressing news of the assassination of the former Chief of Defence Staff. The dastardly act was said to have occurred on his way back from his farm. What else can one say in times like these but to just stand and fold your arms on your chest and keep quiet. Yes o, just keep quiet and don't say anything because this obviously meets more than the eye can see. The man was quietly standing trial, maintaining his dignity to the best of his abilities under the circumstances and then some one thought it fit to snuff the light out of him. This was a full general o abi Air force something na the same o. I am still keeping quiet o with my hands folded on my chest and just listening to the rabid debate going on at this bus stop in Fadeyi. People are talking o, people are vexing o, people are sad o. What kind of a generation is this? I swear there is nothing wrong with this country; it is just this generation. I tell you. Kai. Sad.

OSINBAJO VS OBI – A Beautiful Waste of Time
I didn't watch the debate o. I was stuck in Lagos traffic and as such gladly missed this beautiful waste of time. Reports I got later showed that these two really gave their best. Throwing up figures and data both fake and real to get the winning edge. I even heard that the shorter of the two was with his note pad getting information online real time, while the other one with the thick Igbo accent relied heavily on native intelligence and street smarts. Mbok, from what I heard it was a blood fest as the two gave as good as they got. While this is very good for our democracy, it however falls flat in the face of a massive glut of semi-literate masses who will do the actual voting and who remain under the control of godfathers. These godfathers decide who goes where and who gets what. These debates will not sway any voters and as far as we are concerned this was entertainment like watching Premiership. In fact, we should have brought in the style police to analyse their fashion for better entertainment value. As long as we remain poorly educated and enlightened, stomach infrastructure will continue to determine election outcomes and not debates or any kind of pseudo-intellectual grandstanding like the one we just witnessed. Na laugh I dey laugh. Pure waste of time. Next.
TINUBU AND HIS VULCANIZER
You know when you are having a bad day and you read something that just cracks you up. I saw a report credited to my lord and master of the universe, Bola Ahmed Tinubu who in response to Jimi Agbaje's strident calls for freedom said that those who wanted freedom should go and learn either tailoring or Vulcanizer so that 'we can come and do freedom for them'. Mbok, laugh nearly kill me. I laughed so hard that tears came out of my eyes. This Baba is humorous o. That was a major sucker punch and I do not think Agbaje can come back from that kind of quip. Kai. But seriously, it is progressively looking like the issue that will capture the imagination of Lagosians is beyond this 'freedom'. Because from what we are seeing even if we achieve this freedom, won't it be more like just exchanging task masters with the rest of us still wallowing in slavery? Mbok, uncle Jimmy let's get more specific, let's leave Alpha beta and all these ambiguous terms out of it. What exactly do you have in mind for Lagosians – specifics mbok? The way it is looking, we are beginning to have grudging respect for the other camp o. Their level of seriousness can no longer be discounted. They are not resting even though they have the power of incumbency, they are just running very seriously. A cursory drive around Lagos will see the impact of their campaign, while yours is at best epileptic. Lagos is the fifth largest city in Africa and economic centre of immense influence and potential. It cannot be conquered with this your style o. it's like you are begging for power o, relying on emotional blackmail and appeal to sentiments. Not gonna work oga. Ko le werk as we say it in Shomolu. Me I am just looking o, it's looking like it's over o. Apart from my Oga Wale Oluwo's shot in the arm, your campaign has gone back to its lethargy. Just maybe the vulcanizer option isn't so bad after all o, we just might get our true freedom after some basic training in effective politicking. No vex.
Who is Ignoring Sowore?
Who is ignoring a whole presidential candidate? Is it John Momoh? How dare him! A whole presidential candidate and you do not deem it fit to invite him to the debate? This is undemocratic, sacrilegious and unacceptable. I hear he would be dragging you to court on this matter but wait, I have told Sowore to also look within and ask why this is happening to him. I have said it many times that this is not campus politics, it is a campaign for the presidency of Nigeria, that position is one of immense power and influence and must be treated as such even for candidates. You cannot continue with these agbero tactics and expect to be taken seriously. The mannerisms, choice of language, image and comportment are totally wrong from someone aspiring to the exalted office. We once watched a video where this candidate once shouted on a minister calling him 'ole'. Nobody wants that on national TV. Nobody wants to be heckled and abused on national TV all in the name of debate. An image consultant should come in at this point, a quick training on elocution and also a class in logic and inductive reasoning would not be such a bad idea. I am sure after all these, just maybe, they will invite you to the debate. My fear is that there may not be enough time again since elections are in February. But still try, it will surely come in handy since age is on your side. But John or is it BON, please let's have a level playing field. The man represents a group of Nigerians and as such, all should be given the same opportunity. Let us decide for ourselves who we want to listen to. Sowore, I don balance m. No worry. Just take the small advice and you will see changes.
Sex for marks – I Am Afraid O!
The prof has been jailed. He fell and allowed his lust get the better of him. Kai, this is a bitter lesson for all men and even women who cannot control themselves especially in this era of social media and wanton and unbridled sex. You see the case is pitiable because it is very prevalent on all sides. This was just a wrong choice of party and an awry strategy and now his career, reputation have gone down the drain. We should all learn from this o. I have learnt a bitter lesson, deciding to really uphold my integrity in a bid not to receive accounting lessons from Prof in prison. Let me tell you guys one story sef. So I have this staff who is on the curvy side with a wicked gap tooth. If you know me well, you will understand my weakness for full-bodied women. I hear it is in our DNA as Ibibio men. Anyways, this particular lady did not come for a meeting and I lost it. I Sent her a query and she responded by this same whats app that 'killed' Prof that she was sorry that she did not make it because she 'forgot to wear a bra' and had to go back home. Can you imagine telling a full-blooded Akwa Ibom man that kind thing? My head was full and all sorts started to run around it. Now this lady is a university student too and I am her boss. If not that God that I am worshipping touched her to go back home, that is how she would have come to the office 'braless' and the rest will be history with my friends taking turns to visit me in prison? These are really dangerous times for men nay us all. God be with us all. Kai.
LINDA IKEJI – NO NEED TO EXPLAIN
I do not really understand the need for this lady to continue to explain the circumstances surrounding the birth of her very handsome son. So she got 'hit' by a reluctant father and as such decided that at every opportunity she must explain to us how and why it happened? They say it is because she has positioned herself as a champion of no sex before marriage and as such, she is conflicted. Me I would say she should stop abeg. Nothing wrong has happened and all these needless controversies should end forthwith. People like us are ready to step in to adopt the baby if it is a father figure she is looking for. Apart from this, I think she should just concentrate on giving her baby the very best in life that I know she can. After all, people were orphans and became heads of state – IBB or was it Abdulsalami? So mbok let's hear word. Enjoy your baby. Lovely boy if you ask me.
AIR PEACE – THAT TURBULENCE!
Have you seen that video? You see what these pastors have turned us into. Prayers and supplication in the midst of major turbulence which they have explained to us countless times is a normal part of modern air travel and my people are pulling Holy Ghost fire instead of putting on the oxygen masks that were deployed. You see even at the beginning of a flight when the beautiful damsels are explaining safety measures and routine, we will be praying and calling God to come and take the flight from the pilot and fly us to safety, thereby missing out on the very important message being relayed. Even the rest of us that are not praying are busy looking at the miniskirts the hostesses are wearing and secretly wishing they could trip and fall down so that we can 'see clearly'. So when it happens, both groups – the prayer warriors and the peepers will now join in the Holy Ghost fire chants instead of following safety rules. Yeye. Air Peace well done, don't mind us. We are Nigerians.
Charly Boy, Congrats
Congrats my lord on the recent re-wedding of our Lady Dianne. This is a little shout out. Wish you well and see you soon.
Lagos Elections and the War of Billboards
So my very good friend and brother who works in the agency that is saddled with the task of regulating outdoor advertising in the state has found himself in a funny position while going about his normal duties (by 2a.m, witch duties) bringing down billboards of one candidate. According to him, they were waylaid by people with strong affinity to the candidate looking for freedom. The candidate had allegedly flouted state laws on such billboards. He had according to this gist refused to attend meetings called by the agency but instead relied on subtle blackmail to play the emotional card. So in frustration, the agency decided to fulfill its constitutional functions of ensuring sanity by pulling down the boards that had violated state laws. That na my friend position o. However, upon arriving at the police station, after one of their colleagues was abducted, they found themselves facing the authorities that really were not interested in hearing their side of the story. They were in a state of shock when according to his story, the Freedom man himself appeared to further compound their problems by insisting that they be charged to court. It took the intervention of their MD to secure their release but not before their pictures, names and other identity materials were splattered all over social media as being the agent of state used to take down the boards of 'opposing candidates'.
You see my take on all these is very simple: There are extant laws guiding the positioning and use of required space in the state for this and other purposes. Lagos is big enough for every poster and board so tearing down peoples' posters on any side of the divide should not be the norm. We have been seeing a lot of posters defaced and destroyed by agents we will call unknown soldiers and this is not fair on either side. Let us even try to be mature about these things and allow for a level playing field. Please let me call on Sanwo Olu and Agbaje camps to call a truce, seek to engage LASAA with a view to ensuring a mature and responsible approach to this matter for the betterment of the state and for my name's sake, pele. It is for the country that you have served. But why 2a.m if I may ask, wetin you tell your wife say you dey go do for that kind time?
Why heckle the President?
Ok, as I was sitting down about to jump into my bowl of afang, I was seeing images of our legislators heckling the President. This one is not good na. You people don't watch British parliament? When Theresa May is speaking, those on her side will be standing up and be sitting down depending on what she is saying. The opposing side will also be standing up and sitting down. They will be saying 'hear', hear' in an orderly and respectable manner. Our own, if they are not breaking the Mace and jumping tables, they are heckling the President.
You see why some people no like democracy, all these ones that have grown liver now, will they have thought about even whispering in 1983 when Idiagbon was alive and when Buhari was still in uniform? As that other governor would say, 'who born their papa' to be talking when Buhari was talking. I am sure when Buhari gots home that day, he would weep and regret the day he became a democrat. If not, I trust am; all those legislators, shouting, calling him grasscutter, corrupt and all that would have been doing frog jump by now in front of guardroom and jailed for 200 years. Seriously, democracy is all about debates, negotiations and discussions. Heckling the President like drunken football hooligans especially on national TV is really not the best. Na all of us no like wetin they happen in the country but he no reach to shout at the Baba, remember he is 76 or 86 abeg leave me; I have made my point. Let's show some respect to the office. Thank you.