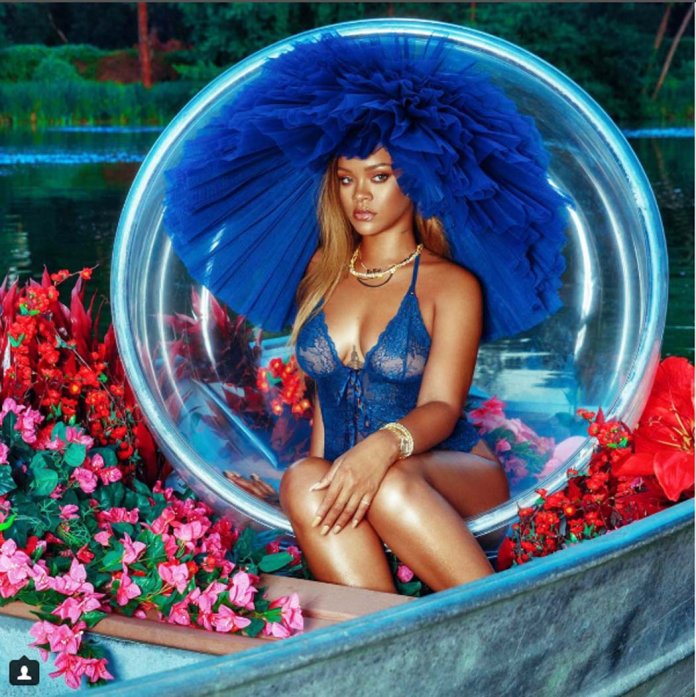 Pop star Rihanna proved to be her own best advert on Wednesday, sharing a steamy picture of hers in blue lingerie as she models her new underwear brand to the world, writes Ferdinand Ekechukwu
Give it to Robyn 'Rihanna' Fenty. The Barbadian descent does things her way. From the pop-R&B singles of her 2005 debut album, Music of the Sun, to the give-no-fucks anthems of 2016's Anti, she's an artiste who defies expectations. 
Now she's spent the past few weeks promoting her holiday collection, "Savage x Fenty Lingerie by Rihanna." And she proved to be her own best advert on Wednesday, sharing a steamy picture of hers in blue lingerie as she models her new underwear brand. The 30-year-old posed up a storm while ensuring her ample cleavage commanded attention. Words on her Instagram page say the new "Savage x Fenty" offerings arrived December 5, including a blue lace body, "NAUGHTY" band pants, and a flower-embroidered set.
"Savage X is about respect. Do what you do. Be unapologetically you. Embrace individuality. My vision for Savage X has always been inclusivity, has always been having women feel confident and expressing themselves through a little lace, a little corsetry, a little T-Shirt bra," the feisty businesswoman scripted on her brand domain page. 
Known for reinventing her style and image, Rihanna's music and fashion sense are widely noted. In 2009, New York magazine described Rihanna's early look as that of "a cookie-cutter teen queen", noting she has the ability "to shift looks dramatically and with such ease".
The nine-time Grammy award winner had earlier been in the news for some damned good reasons. Just a few days ago, the superstar singer put up her recently acquired Hollywood Hills Home back for sale at $7.495 million just a little over six months after the Los Angeles mansion was busted into by a crazy stalker who hung around inside the lavish house for 12 hours,  lounging and 'just wanted to have sex with the singer, he told police after being taken into custody. The property she bought about a year and six months ago for $6.8 million. 
In her career, she's built meticulous control over her voice and image: After rising to fame as a Roc-a-Fella signee, Rihanna used her third album, 2007's Good Girl Gone Bad, to flip the staid dancehall-meets-pop sound of her first LPs and introduce the world to a sexier, darker sound.
It immediately paid off in her sultry, hip-hop-infused global hit "Umbrella" with mentor Jay-Z.
Around the time of the release of her second studio album, A Girl like Me (2006), many critics felt that Rihanna's style, sound, and musical material were too similar to those of Beyoncé. Described as one of the sexiest women of her generation, she had revealed that being a sex symbol was not a priority and that "it's definitely flattering, but also uncomfortable."  Rihanna's body-toning exercise routine includes workouts on a Pilates-inspired technique on a machine called the Supraformer.  
Her appearance has landed her on the cover of magazines such as Maxim, FHM, Rolling Stone and in December 2012, Rihanna became the first woman to be featured on the cover of GQ magazine's "Men of the Year" issue. With the release of her third studio album "Good Girl Gone Bad" (2007), Rihanna developed a public image as a sex symbol and incorporated more elements of dance-pop into her music. It became a major breakthrough in her career and earned Rihanna her first Grammy Award at the 2008 ceremony.
Well known for having a wide collection of small tattoos around her body, Some of them refer to Egyptian antiquity, a subject of a particular interest of the songwriter, dancer and actress, Rihanna is recognised internationally as a pop and fashion icon, particularly since her third studio album redefined her persona.  
Recognised as a pop icon, Rihanna is one of the best-selling artistes of all time, with  over 280 million records sold worldwide.  
Many of her songs rank among the world's best-selling singles of all time, including the singles "Umbrella", "Take a Bow", "Disturbia", "Only Girl (In the World)", "S&M", "We Found Love", "Diamonds", "Stay" and "Work", as well as her collaborations "Live Your Life" with T.I., "Love the Way You Lie" and "The Monster", both with Eminem.
Rihanna's music has incorporated a wide range of genres including, pop, R&B, reggae, dubstep, hip hop and EDM. With its provocative subject matter and lyrics, her musical career has been an experiment with new musical ideas and stated that she wanted to make music that could be heard in parts of the world "that I'd never been to".