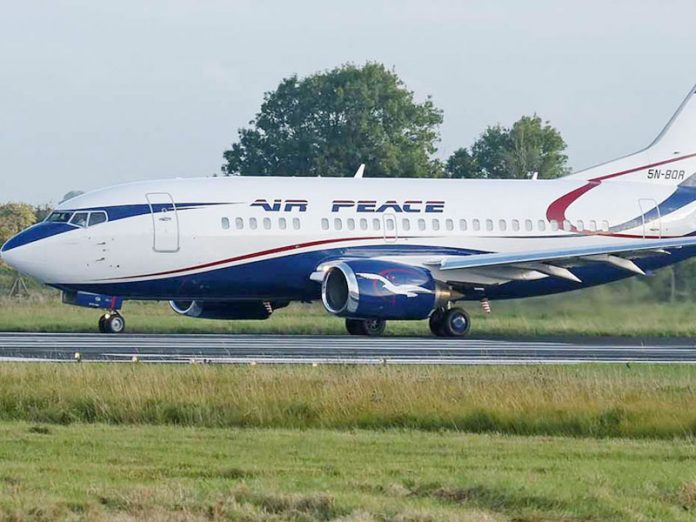 Chinedu Eze
Air Peace has scaled a major regulatory hurdle in its plan to commence international flight services, by successfully performing the partial emergency evacuation on designated aircraft.
The airline passed ditching demonstrations on Boeing B777, the aircraft the indigenous operator would use for its international flights.
Spokesman for the airline, Chris Iwarah, explained in a statement that the audit was on emergency aircraft evacuation, which refers to an exercise aimed at evacuating those in an aircraft when an emergency occurs on the ground, in water or mid-flight.
"The ditching demonstration, however, simulates a planned water landing and evaluates the airline's ability to handle such emergency.
"An emergency evacuation demonstration is mostly required when an airline proposes operating a specific aircraft type and model entering into its service for the first time," he said.
Iwarah, said once the signal is given, the aircraft's emergency evacuation equipment and 50 per cent of the required emergency exits and slides must be ready for use in a maximum of 15 seconds.
"Although simulated, evacuation drills are a risky operation for crew and other participants – often leading to injury of varying degrees," he said.
Air Peace recently acquired four Boeing 777 for its long-haul operations to destinations including Dubai, Sharjah, London, Houston, Guangzhou-China, Mumbai and Johannesburg.
The airline made history as the first Nigerian carrier to acquire and register the Boeing 777 in the country.
Being the first time the Boeing 777 was entering its service, Air Peace was mandated by aviation regulations to demonstrate its capacity to handle emergency evacuation and ditching under the close supervision of officials of the Nigerian Civil Aviation Authority (NCAA).
With the evacuation exercise off the way, Air Peace said it was now set for the next stage of regulatory requirements for the induction of its B777 aircraft into service and commencement of its international flights.
The airline confirmed that it would soon operate demonstration flights with its B777 aircraft to Port Harcourt, Kano, Freetown, Dakar, Johannesburg and Sharjah.