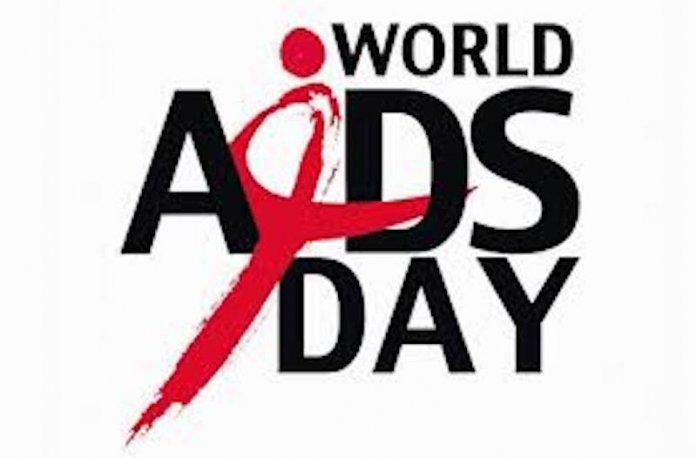 Eromosele Abiodun
The Nigerian Ports Authority (NPA), Dangote Foundation, Nigerian National Petroleum Corporation (NNPC), Total Exploration and Production Nigeria Limited, Access Bank and the Nigerian Business Coalition Against AIDS (NiBUCAA) organised a community outreach in various parts of Lagos, charging residents in the state to know their HIV/AIDS status.
The theme for the 2018 World AIDS Day is: "Know Your Status," which is a laudable effort towards achievement of the UNAIDS 90-90-90 targets.
The aim of the UNAIDS targets is to ensure that 90 percent of people living with HIV should know their status by 2020, 90 percent of identified HIV positive cases would be initiated on Anti-Retroviral Treatment (ART) and 90 percent of persons on ART would have achieved viral suppression.
The walk, which commenced at 8:30 a.m from Costain Bus Stop, had Managing Director, NPA Hadiza Bala Usman, NiBUCAA Co-chairs, Dr Herbert Wigwe (Managing Director, Access Bank Plc) represented by Emeka Nkwonta , Mr. Nicolas Terraz (Managing Director, Total Exploration and Production Nigeria Limited.) and The Group Managing Director, NNPC who was represented the MD of the NNPC Medical Services Limited, Dr. Shaibu Musa led participants during the walk which climaxed at the National Stadium, Surulere, where HIV testing services was provided to participants and resident..
The Managing Director, NPA Hadiza Bala Usman, who led the sensitisation campaign with other members, said the event was held to harp on the need for Nigerians to know their status, and stressed that early detection saves lives.
According to her, the lackadaisical attitude of people, especially the youths concerning HIV/ AIDS is worrisome, that is why we are encouraging all to know there status.
She said the awareness "is all about knowing your status, and this is where the issues starts from, people need to know there status and encouraged to take their drugs.
"We know there may have been apathy on awareness of AIDS in the country in recent times that is why we are here to support and create awareness for people to know their status, take their medications and conduct themselves in manner that will help them not to be infected with the virus."
She canvassed more support from the private sector, government agencies to continue the awareness and encourage organizations to give good attention to their staff that has HIV and ensure they take their medication and giving them counseling that HIV is not a death sentence.
She urged the people and organizations to stop stigmatizing people living with HIV/AIDS, stressing that people should abstain from premarital sex, while women should be cautious at salons and beauty parlors.
In his remarks, the Managing Director of Total E&P Nigeria Limited, Mr. Nicolas Terraz said everybody had a role to play in raising awareness for HIV/AIDS campaign and Total is committed to raising strong advocacy on HIV / AIDS awareness and that is why we are here.
He explained that knowing one's status "is the entry for care and support as it is important for people to get tested. As a business community, we are here to give our support."
The Group Managing Director, NNPC who was represented by the MD of the NNPC Medical Services Limited, Dr. Shaibu Musa noted that HIV is not as deadly as it once was, but it is still considered a world crisis, with many people being diagnosed each year.
"World AIDs Day aims to promote awareness for HIV prevention and testing, while also ending the stigma and discrimination that HIV-positive patients face, according to the campaign.
"The campaign reminds the public that AIDS has not gone away and that raising money, promoting awareness, de-stigmatising those infected and improving education are vital to ending AIDS."
He said that World AIDS Day "is a time to stand in solidarity with the millions who are currently living with HIV. As there is no cure for HIV, those infected often face discrimination that prevents them from living full lives. Individuals who are HIV-positive are often associated with living in poverty and having poor mental health, according to the campaign."
Also, the Executive Secretary, NiBUCAA, Gbenga Alabi said the 2018 World AIDS Day "is particularly significant. The day demands attention and support from everyone, from government to business establishments, citizens and the media. With concerted efforts, stamping out HIV&AIDS in various settlements across the country would become even easier.
"As the voice of the private sector's response to HIV&AIDS and other associated health issues, NiBUCAA bought stakeholders together to address pertinent issues including; HIV prevalence rate in the country, provision of HIV Testing Services and promotion of healthy behaviours.
"This decision is the propeller of activities on our schedule to communicate the essence of the day whilst aligning with global efforts to reduce the impact of the pandemic."
For eight consecutive days- November 26 to December 3, free HIV Counselling and Testing (HCT) services is been offered to residents of Oshodi, Lawanson, Dopemu, Ojuelegba, Shitta, Badagry and other communities in Lagos. This is line with the coalition's plan to provide HCT services to 10,000 Lagos residents.
The first ever global health day dedicated to AIDS awareness took place in 1988, according to the World AIDS Day Campaign. Today, there are an estimated 36.7 million people living with an HIV infection globally.
The virus has taken more than 35 million lives since it's identification in 1984, making it one of the deadliest pandemics to exist, according to World AIDS Day.