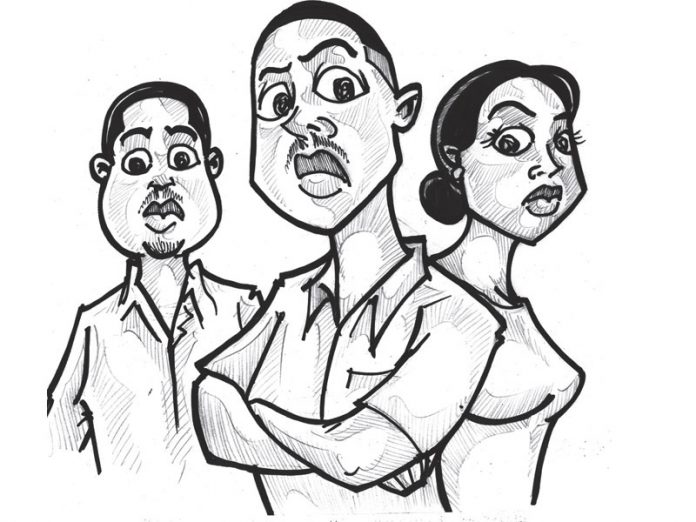 Okello Oculi reviews a film on the need to rid the country's body politic of corruption
It is useful to reflect on ''If I Am President'' – a film financed by MacArthur Foundation and directed by High Definition Productions. It was shown on Saturday19th October, 2018 at Transcorp Hilton Hotel in Abuja.
A predominantly youthful audience filled the Congress Hall. For a film crew selected for their young age, there was a feeling of ownership by this audience of its call for Nigeria's youths to dredge out putrid pools of corruption from Nigeria's politics by seizing the presidency. In the film a campaign team is animated by an energetic, daring young man with a vision for leading a rebellion for ending corruption in Nigeria. He is married to a beautiful wife with dreams of a life of peace and middle class comfort.
Dragging them off from conventional reliance on rich financiers for their election campaign, they settle for Barack Obama's successful and novel strategy of using Social Media to collect small donations from unknown common voters. The general poverty of people in Nigeria, however, jolts the haughty and stubborn candidate into accepting donations from rich persons who were aroused by his campaign rhetoric and courage. His courage to contest a presidential election after his family survived a politically arranged car accident following his televised announcement attracts some rich funders.
Despite this baptism with electoral violence and naked intimidation by a ''mafia'' of older politicians, the campaign team does not build an intelligence and self-defence unit. Che Guevara, a medical doctor, had said that a true revolutionary is guided by love. That did not stop him from leading guerrilla platoons in Cuba's revolutionary war against a corrupt dictatorship backed by American owners of sugar plantations in Cuba.
This film is, however, committed to non-violence. Even at the funeral of 21 supporters slaughtered by security forces directed by the mafia of old politicians, the assassin hired to shoot the youthful presidential candidate collapses under the weight of the candidates appeal entering his pointed gun. A combination of malaria attack; a lightening flash of conscience and conversion to the call to combat against corruption in the combative candidate's graveside eulogy, paralysed him.
There is little relief from the image of older politicians as cynical, murderous, smug and corrupt cabals determined to destroy any youthful challengers to their preferred stagnant and decaying Nigeria. They are united across the country's ethnic groups as depicted by their dresses and accents in speech. Only a bereaved mother whose son had graduated from Stanford University – referred to locally as ''the Harvard of the West''- had returned as a patriot but was callously murdered in Kaduna State while serving as a Youth Corper urges him on. Her support was a memorial to her son.
No female or male ''heroes past'' exist in this struggle. Struggles by Gambo Sawaba –who had been repeatedly beaten and thrown into filthy prisons over 15 times – are NOT recalled. Although portraits of Queen Amina of Zazzau, Mrs Margaret Ekpo and militant Funmilayo Ransome-Kuti is on a flier provided by the Federal Inland Revenue Service was distributed at the venue, there is no consultation of either their legacy of combat with male domination, or contact with contemporary radical voices including: Dr Yusuf Bala Usman and Professor Wole Soyinka. There is clearly a weakness in the area of historical research here.
A latent volcanic cauldron of reciting and throwing at sunlight negative epithets about Nigeria threatens to suck in utterances of actors. It inhibits sproutings of novel ideas from these angry and courageous youths. During the presidential debate, for example, there is no mention of how to fertilise children's creativity by using tools based on traditional games to make learning Mathematics and Physics thrilling; for designing aeroplanes and travelling to space, etc. Also absent are challenges to youths to climb Mount Kilimanjaro to raise money for providing millions of school girls from poor homes with ''sanitary pads''.
The quality of the Presidential Debate was high. Actor Joke Silva was elegant, lucid and effective in asserting women's claims for the presidency. Young women bubbling in the audience rewarded her with participatory shouts of endorsement. A candidate dressed in the familiar Tiv ''zebra'' cap and shawl thrilled with his linguistic genius in substituting ''election'' with ''Presidential Erection''; and inviting voters to ''imagine'' that when a corrupt old generation politician was asked by members of his constituency to supply them with electricity, he replied that ''Power comes from God!''.
The quality of acting in the film is brilliant all round. In a rush to meet a deadline, the editors tripped by repeating a very small section and allowing glaring light as another exuberant actor. Like all politicians, the presidential candidate shows a strong belief in the power of the word. The film ends with almost Fidel Castro-like flourish of passionate rhetoric.
MacArthur Foundation earned a rich harvest of gratitude for selecting the team's script for funding after it passed critical review by Ms Debrah Ogazuma and other film makers and critics. The Foundation gave film a more robust role in shaping political discourse and promoting democratic culture. As Mr Bright Wonder, the script writer and director, confessed, film-making has been elevated above merely providing ''enjoyment'' to the burden of building democratic politics.
The audience must expect productions in Nigerian languages, and competitive dishes by other beneficiaries.