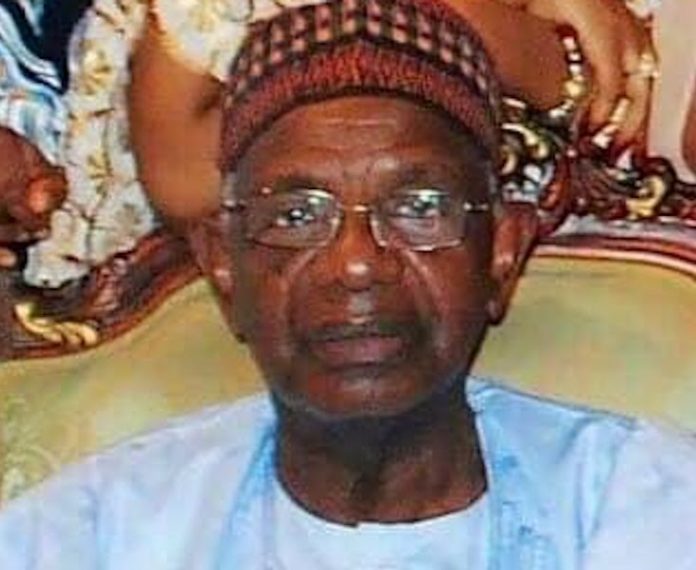 He was a wise elder statesman, says Saraki
Deji Elumoye in Abuja
Former military Governor of North Central State, Abba Kyari, has passed on.
Kyari, retired brigadier general, died on Sunday in Abuja after a brief illness.
He was 80.
His eldest son, Abubakar Kyari, current senator, confirmed the death of the respected Borno elder yesterday.
He said his father would be buried in Maiduguri at about 4p.m.
President Muhammadu Buhari has extended his condoled the family of the late military governor and governments of the states he served.
In a message to the government and people of Kaduna, Katsina and Borno States on Sunday evening, President Buhari said, "We are extremely saddened by the news of General Abba Kyari's passing away, an officer and a gentleman for whom we have a lot respect."
He prayed Allah to accept his soul, and grant fortitude to the family and friends he left behind to bear the loss.
According to Wikipedia, Mr Kyari was born in 1938.
He attended Borno Middle School and Barewa College, Zaria.
He is also known to have many adopted children as well as grand and great grandchildren.
Meanwhile, Senate President, Dr Bukola Saraki, has described Kyari as a wise elder statesman.
In his condolence message, he also emphasised that the late former one star general was a fine Officer; and a patriotic Nigerian who always put Nigeria first in his actions.
While expressing his sadness and condolences over the demise of Kyari, the Senate President said "at this time, my thoughts and prayers are with the family and loved ones of the late Brig.-Gen. Abba Kyari, the erstwhile Military Governor of the defunct North Central State.
"The late General was not only a wise elder statesman, but throughout his lifetime, he was a fine military officer and a patriotic Nigerian who always put Nigeria first.
"The nation will miss him and his wise counsel, especially at this time that we are heading into the general elections. I pray that the Almighty Allah (SWT), grant him a place amongst the righteous ones in Al Jannah Firdaus. Amin," Saraki said.