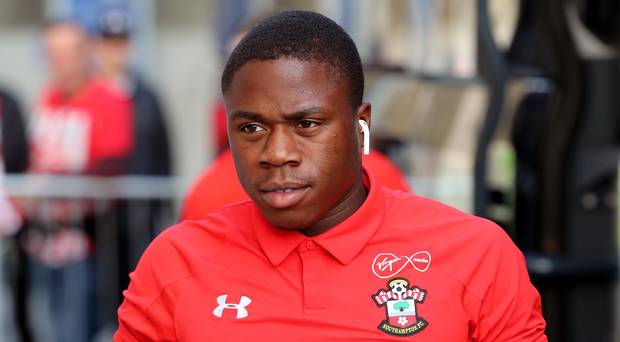 If there is one thing the Nigeria Football Federation had achieved more than any, it's having successfully wooed players of Nigerian descent to star for the Super Eagles in spite of having played for their countries of birth at the junior cadre and the list is endless. Some are Victor Moses, Leon Balogun, Henry Onyekuru and  Sheyi Ojo among others. However, Michael Obafemi who plays for English Premier League side, Southampton, acted differently as he, on Monday night turned down his invitation to play for his fatherland and instead, opted to don the colours of Republic of Ireland reports Kunle Adewale

Nigeria's hope of having Michael Obafemi play for the Super Eagles was over the weekend dashed as the Dublin-born player made his debut for the Republic of Ireland in the UEFA Nation League encounter against Denmark. A thrilled Obafemi had set his sights on a long international career after becoming the first player born this century to be capped by the Republic of Ireland.
The 18-year-old Southampton striker was used as a late substitute in Ireland's 0-0 Nations League draw in Denmark days after committing himself to the country of his birth rather than to Nigeria, for whom he also qualifies.
Speaking after the game at Ceres Park in Aarhus, he said: "It's an amazing feeling to get my first cap for my country. I'm very proud tonight, absolutely buzzing. I'll be getting this shirt framed to put it in my house. Obviously, my career is still young, but this is definitely a major moment in it. Hopefully, I can be playing for years to come. I'm still young. I want to get as many caps as possible, score goals if I can and just keep enjoying it."
Obafemi unwittingly found himself dragged into the Declan Rice saga last week as the West Ham defender pondered over whether to opt for the Republic, Nigeria or England, although he insisted there was never any question in his mind.
He said: "There was no doubt in my head about playing for Ireland. I've represented Ireland in age grade competitions . I never had any doubts at all."
The teenager will now head back to his club hoping to get more first-team football under his belt as he attempts to force his way into Martin O'Neill's plans for the start of the Euro 2020 qualifying campaign in March next year.
O'Neill said: "He had made the commitment anyway that he wanted to play and whether it was going to be tonight or some other evening, he's got a lot to do, a lot to do. I think he realises that himself. We'll see what the next couple of months bring. I think Shane Long is out for a little while – I'm talking really about his club form and he's hoping to get some time.
"Obviously he has to fight for that and he has to earn that, but that would be nice if that's the case. In terms of international football, it's lovely for him to get on. I think his mum was here again tonight and that's very, very pleasing. But I think he knows himself he has plenty to do."
NFF boss, Amaju Pinnick had reiterated severally that youngsters of Nigerian origin who were doing well in England and other leagues would wear the Nigerian colours at the appropriate time. He said it had been in the plans of the present NFF board to build a young Super Eagles team ahead of the 2022 World Cup, adding that the federation was monitoring several Nigerian players that were making waves in the various leagues.
"What we are trying to do is what we call VIP scouting – talking to these young players that are playing abroad to play for their fatherland. No Nigerian, even if they have four or five passports, they are always excited being Nigerians. I can assure you that we shall get them to play for us at an appropriate time," Pinnick had said.
Obafemi, however, had a different line of thought, as his dream was always to play for his country of birth- Republic of Ireland.
The 18-year-old was called up to the Ireland squad on November 6 for the friendly against Northern Ireland and the UEFA Nations League match against Denmark and  Playerworks CSM, a football agency that represents Obafemi, released a statement on his behalf.
"Due to current speculation surrounding Obafemi and as Michael's representatives, we would like to go on record to say that we are not in talks with either Nigeria or England, nor is it something we have ever pursued," the statement read.
"Since Mark O'Toole spotted Michael early on, he, along with the other staff at Ireland, have given Michael a great opportunity, which he has enjoyed immensely. Michael was born in Ireland, so this is the country he naturally wants to play for.                 
"Martin O'Neill has shown great faith in Michael and he wants to repay that faith by helping the team achieve success. Michael is 100 per cent committed to Ireland and is looking forward to an exciting future with the national team."
Michael Obafemi has always set his sights on winning many more caps for the Republic of Ireland following his senior debut. The 18-year-old could have chosen to play for Nigeria or England but is now committed to representing the Republic of Ireland.
The teenager ended speculation over his international future last week by pledging his commitment to the Republic of Ireland after parallels had been drawn between him and West Ham defender Declan Rice, who continues to consider the possibility of switching allegiance to represent England.
"There was no doubt in my head about playing for Ireland. I've represented Ireland in  age grade competitions. I never had any doubts at all," added Obafemi.
The Dublin-born forward, who moved with his Nigerian parents to London when he was young, was introduced in the 80th minute of the scoreless draw in Aarhus and he will hope to play a bigger role in the Republic's Euro 2020 qualifying campaign, which begins next March.
Manager O'Neill has told Obafemi that he will need to play more first-team football Southampton as he continues his development.
Obafemi became the 12th Republic player to make his debut this year as O'Neill continues to add to his squad options.
Aged 17 years and 199 days, Obafemi became the second youngest player to make a Premier League appearance for Southampton after Luke Shaw, who was 17 years and 116 days old.