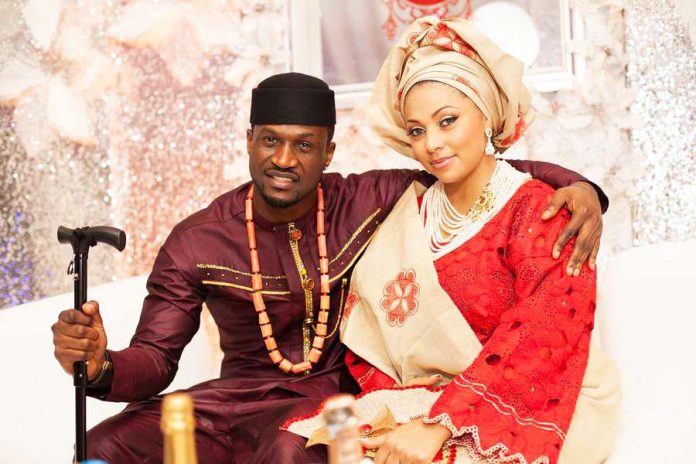 Lola and Peter Okoye are rekindling their love and feelings with sincere words after five years of marriage, making their union story inspiring, writes Ferdinand Ekechukwu
Presumably, we all know Peter and Paul Okoye of the famed "Psquare' brothers." Aside their differences, we all know both singers are married with lovely kids to show for it. Knowing that Peter is married to beautiful Lola while Paul is married to equally charming Anita complements both families. Interestingly however, the union and love story of Lola and Peter Okoye from when they first met over 16 years ago, till they finally tied the knot on Sunday, November 17, 2013, is such that has dominated the interests of many fans of the talented singers and followers of the couple.
That the relationship led to marriage, now five years down the line, makes the union sweeter even stronger each passing year.
Lola recently took to social media to serenade her hubby with kind words on the occasion of their fifth wedding anniversary. Lola in a post shared on her Instagram page, appreciated Peter for being there for their kids and her. 
According to the mum of two, Peter is a husband that would take a bullet for her any day. "My dearest husband today marks five years since we made this our story official. And what a story it is. In the many years that I have known you, what I admire the most about you is your caring heart, your kindness and humility. We have been through hell and back together but these three traits have remained a constant. It took me a long time to understand you but I thank God I now fully get you.
"You are a true example of a real Man. You have been called all sorts of names but because you know who you are and because you are confident in yourself, and because you know that nobody is dragging this role with you, words don't bother you any longer and that I respect. Our children are blessed to have a father who puts them first in all decisions taken. They are blessed to have a father who listens to their needs and I am blessed to have a husband who will take a bullet for me any day. 
"In all, I thank God for keeping us healthy, alive and content. Life is too short to sweat the small stuff. Issues will come up but we remain humble in God's eyes. Marriage is not a walk in the park especially when one is married to a celebrity trust me I know but we do what we can and leave the rest in God's hands. I thank you from the bottom of my heart for loving me unconditionally. I am not perfect. I have a lot of flaws but you have accepted me as I am. Happy Anniversary babes, I love you, zombie love. . . ." 
Commending his partner, Peter recollects her role for caring for his late mum until her death. He had promised to protect her and their children. "I took a vow to defend and protect you and your beautiful children on this day five years ago and no matter what happens, you and the kids come first", the singer wrote in the first part of his wedding anniversary note. 
In the second part of his post, Peter expressed gratitude to his wife, who gave him his first wheel upon moving to Lagos. 
As opposed to what had been rumoured overtime, the singer identifies himself as the parasite when they were dating. He made mention of many privileges that he enjoyed in their relationship. "We have been together for over 16 years and married for five years. You are still the same woman and I will never forget the day I met you. How you used to book shows for us and all due to the fact that you worked in an agency. I remember how former manager Howie-T used to tell us how nice you were to us, getting us shows and all. 
"Today, the world doesn't know all that. Instead they call you gold digger. If anyone should be called gold digger here, it should be me. I remember you gave me your official car few weeks after we moved into Lagos and started dating. That was the first time in my life experiencing a car with air conditioner and every night I would sleep inside the car. You made me a better man Lola and I owe you nothing but love and loyalty" 
Lola had told the story of how she and Peter met and how the relationship started. "My agency handles some of British American Tobacco brands and P'square was doing a show for us at one of our events in Enugu. Though, I had met Peter a couple of times before then, at the show, there was some chemistry.
"He asked for my number and I refused giving it to him. I told him 'if you really want to know me, you have to find my number.' So he took it as a task and found my number and the rest is history."