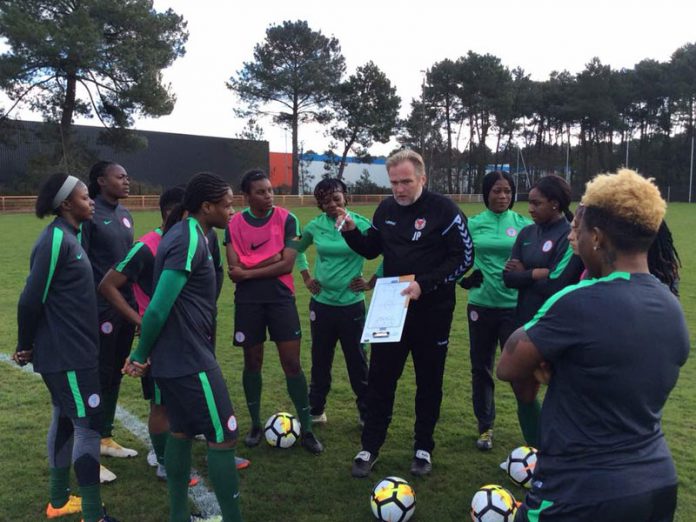 Super Falcons' hope of defending the 2018 African Women Cup of Nations in Ghana started on a shocking note as they were stunned 1-0 by South Africa in their opening match. However, the eight times champion bounced back in their second match pummeling Shepolopolo of Zambia in Cape Coast 4-0
The Falcons would need an outright victory against weeping baby of the group-Equatorial Guinea to book a semifinal berth.
The Nzalang Nacional who made their return to the tournament for the first time since they claimed the title in 2012, are technically out of the tournament after losing their first two games and conceeding 12 goals in the process.
Against a Falcons side that seems to have found their groove after losing their first game, Nzalang Nacional look likely for another pummeling.
Falcons coach, Thomas Dennerby was never in doubt about his team going all the way in spite of the initial slip.
"We have a very strong team, time is good for us, the more we are together the more we play together, everybody knows we didn't have the best of friendlies but our aim is still there, which is to win the trophy and qualify for the World Cup," said Dennerby.
Dennerby admitted that in spite of the 4-0 bashing of Zambia, his team was yet to get to the level he expects.
He said: "First of all, I am very happy we managed to score four goals in the game. Of course I am happier than three days ago. But honestly, I am not 100 per cent happy with our performance because we should have scored more goals. After our opening game in which we lost, I talked about being professional and using experience to come back in the next game, not being anxious."
The coach said the win over Zambia was still not enough to take his team out of the woods, pointing out that they needed to work harder.
"I don't think this game we won today (Wednesday) is the defining game in the group, and now we have to work harder in our next fixture so as to secure a place in the semifinals. So, we stay cool and keep working," Dennerby said.
The Falcons take on Equatorial Guinea today in their final Group B match, needing to win with a massive haul of goals if they are to top the group.
With South Africa thumping Equatorial Guinea 7-1 later on Wednesday in the group's other match, Nigeria dropped into second place from the top they occupied earlier.
However, today's matches still hold so much impact on semi-final qualification, with the trio of Nigeria, South Africa and Zambia very much in the race.
While South Africa look to have the easiest task, a 0-3 loss to Zambia and a 2-0 win over Equatorial Guinea by Nigeria can undo many things.
It can see the Banyana Banyana dropping to third and missing qualification, with Nigeria in top place and Zambia as runners-up.
But South Africa only need to avoid defeat or a 0-3 loss to finish among the semi-finalists.
Nigeria and Zambia must win and with 2-0 and 3-0 scorelines respectively, to be semi-finalists.
Nigeria need to win at least 1-0 against two-times champions Equatorial Guinea to finish among the top two, if South Africa beat or draw with Zambia.
But in case of a Zambia win, Nigeria will need a bigger win against Equatorial Guinea who have beaten them to the title twice in the past (2008 and 2012).
However, the Falcons look to be in a better shape to win this time around against the team they beat to the title in 2010.
Meanwhile Falcons Captain, Onome Ebi has revealed that the Nigeria Football Federation has fully motivated the team to go all the way and retain their WACON trophy at the ongoing championship in Ghana. 
"The NFF have done their part very well. The ball is now in our court to do our part and make Nigerians happy, by winning against Equatorial Guinea today and going ahead to win a ticket to the World Cup and also retain our African title."
Speaking to thenff.com, Ebi said victory over Zambia only meant the team was gradually returning to great shape. "We are getting back to shape. In the first game against South Africa, it was not the Super Falcons that Africa knew that turned up. Defeat made us to talk hard to ourselves. I think we are getting back to the form known of Super Falcons, the champions. We are not there yet but we are still pushing ourselves to reach our normal level. I believe our third game will definitely be much better."
The experienced defender said it had never crossed her mind that the Super Falcons would leave the tournament at the group stage. "I never thought about that. I don't think that is possible because to me I see us in the semi finals already. I have strong faith in the team that we are going to beat Equatorial Guinea and then we will take the knockout stage one match at a time.
"Nigerians should keep praying for us. They should keep believing in the Super Falcons because we are here for the trophy and we are here to qualify for the World Cup. I believe that with hard work and with God on our side, we are going to achieve our twin objectives."
Chairman of the Nigeria Women Football League, Aisha Falode has stated that all the matches at the championship are crucial, and that the Super Falcons will always be a strong contender for World Cup ticket having never failed to qualify for the global championship. 
"Every match is crucial; we are here as African champions. We not only want to qualify for the World Cup; we want to be a strong contender for the Women's World Cup trophy come France 2019.
"The first match was somewhat demoralizing. It was not the result that we expected. It was as shocking as it was stunning to all Nigerians, including the players. They were not happy with the performance, but as true champions that they are, they put it behind them, went into the next game against Zambia and won handsomely to re-build their confidence. 
"We always believe in the Super Falcons to get us result. We always believe that they are not only strong mentally, they are strong as individuals and as a unit. We are now on the right track. They girls are motivated, they are concentrating. They have been given everything they need to perform and excel. They have been paid their bonuses and allowances. Every game is important until we lift the trophy back to Nigeria and secure our ticket to World Cup."