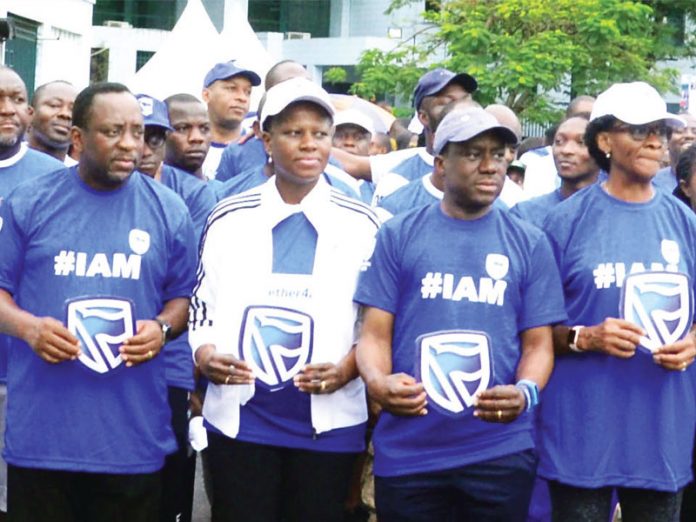 Sunday Ehigiator writes that with the "Together for a Limb" initiative, Stanbic IBTC has given a new lease of life to 20 persons who were hitherto limbless, just as it continues to create awareness for people living with limb loss and its attendant effects
The key to the sustainability of any business is believed to hinge on the collaborative corporate social investments, while business survival is predicated on the level of support and goodwill it enjoys from its stakeholders; particularly its host community. This ethos is one Stanbic IBTC understands and lives by.
Since 2015, Stanbic IBTC Holdings has taken up the gauntlet to create awareness for people living with limb loss and its attendant effects. Through its flagship corporate social investment (CSI) initiative, 'Together 4 A Limb,' the signature corporate social investment initiative of the Stanbic IBTC Group, which was formally launched on December 2, 2015, was preceded by a charity walk on November 14 that year, flagged off by Mrs. Bolanle Ambode, wife of the Lagos State Governor, who commended Stanbic IBTC for its laudable corporate social investment projects, particularly in the area of education.
The adoption of the "Together 4 A Limb" as its flagship CSI initiative stemmed from the fact that it addressed the financial institution's three cardinal CSI objectives; which are, health, education and economic empowerment. Since the 2015 launch, the firm has helped to change the course of the lives of little Aliyu and other 19 young Nigerians who have suffered limb losses.
Unarguably, by addressing the children's healthcare and educational needs, Stanbic IBTC has greatly reduced the financial burden on the parents, which will help empower them economically. With less worries on the health and education needs of their children, parents are able to conserve the family income and deploy such for other useful needs.
Of greater importance is the yearly charity walk by Stanbic IBTC to help raise awareness about the need to support the vulnerable in the society; the indigents, youths and, particularly limbless children, who are often stigmatised and treated as if they are less human than the full limbed children.
Charity Walk
This year was no different. In furtherance of its commitment to value creation via social, economic and environmental initiatives, well-meaning Nigerians, alongside a contingent of staffers, thronged the streets of Lagos, Abuja and Port Harcourt recently, to commemorate this year's charity walk and to celebrate the 20 beneficiaries of the initiative fitted so far.
This year's walk took place simultaneously across three cities; Lagos, Abuja, Port Harcourt, and specifically focused on generating awareness for people living with limb loss, as well as celebrating the 20 beneficiaries, who have been fitted with prosthesis since the initiative was launched in 2015.
The 2018 walk, unlike the previous ones that covered three kilometres, stretched for eight kilometres. The extended distance is significant. It is apparent that the financial institution is desirous of deepening the awareness drive to further raise public consciousness. The eight-kilometre charity walk took longer to navigate, took in more neighbourhood/people, and generated more publicity.
The eight-kilometres walk kicked off at 8am at all locations, with adequate protection provided by security forces and traffic wardens. It had participants buzzing all through the walk with music and inspirational messages, with focus on three key areas of human life; health, education, and economic empowerment.
In his address, Chief Executive, Stanbic IBTC Holdings PLC, Yinka Sanni, said the cardinal objective of the walk is to raise awareness about the importance of supporting the vulnerable in society, especially indigent and underserved children. It is also expected to connect with other Nigerians who share the passion for impactful social causes.
He said: "We understand how challenging it must be for the parents and guardians of these children, especially considering the high cost of acquiring these prostheses (artificial limbs). Our ultimate objective is to help these children to lead very productive and fulfilling lives.
"We are passionate about this initiative, which helps Stanbic IBTC to contribute meaningfully to the society. The education trust will provide for the education of the beneficiaries for as far as they are willing and able to go and will enable them realise their God-given potential."
In a chat with the media, Chief Executive of Stanbic IBTC Bank Plc, Dr Demola Sogunle, said the initiative is a key plan in the group's corporate social investment drive, which focuses on education, health and economic empowerment. He said the charity walk is an integral part of the initiative as it helps to draw attention to the plight of children with limb losses.
He said the prostheses and education trusts Stanbic IBTC is providing for the children will not only help integrate them into society by boosting their self-esteem but will also help them make something out of their lives. While adding that some of these children if their potentials are properly harnessed may go on to become presidents, governors, great leaders he said: "therefore we see the ripple effect and the impact this intervention will have on these children beyond just enabling them lead more productive and rewarding lives".
Some of the dignitaries that came out for this year's walk included Consultant Orthopedic and Trauma Surgeon, National Orthopedic Hospital Igbobi Lagos, Dr. Olatunji Idowu; Chief Executive, Standard Bank, Africa Regions, Mrs. Sola David-Borha; Non-Executive Directors of Stanbic IBTC Holdings Plc, Prof Fabian Ajogwu (SAN), Ms. Ngozi Edozien and Mrs. Ifeoma Esiri; Chief Executive, Stanbic IBTC Holdings PLC; Sanni, Sogunle and other senior members of the organisation's management team.
Life-line for Beneficiaries
One of the beneficiaries was Aliyu. His mother who was effusive with praises at what she saw as a positive contribution to her son's life said: "I say thank you to Stanbic IBTC. If not for them, how would I have been able to afford prosthesis? He (Aliyu) would probably have started having back pains and we would be running from one hospital to the other. If more organisations can come out like Stanbic IBTC, lives of children and parents would be better. So, I truly appreciate Stanbic IBTC. They are doing a wonderful thing."
Indeed, by focusing on the provision of prostheses, Stanbic IBTC had touched on a profound area of need and is able to address its three CSI pillars in one fell swoop. The commitment to provide artificial limbs for beneficiaries until they are 18 years effectively takes care of their all-round healthcare needs. Such commitment help to give the beneficiary children access to quality medical facilities they otherwise would not have been able to afford.
As researched, the average lifespan of prosthesis is three years and to fit the artificial limbs, a comprehensive health check is often required. What this means is that the children are exposed to regular medical checks and the state of their health becomes paramount.
Stanbic IBTC equally opened a N1.5 million education trust fund for each of the children fitted with prostheses, thus exposing them to quality education.
Statistics of Limbless Nigerians
While accurate figure is not available, estimates put the population of limbless individuals in the country at roughly 20 million Nigerians, of mostly children and young adults.
According to the International Society for Prosthetics and Orthotics, "there are no standard figures as to how many amputees or orthotics users there are in Nigeria."
What this means is that the figure could be less or more than the estimated 20 million. In any case, the growing population of amputees, driven by the insurgence in the North and a culture of reckless driving, is enough cause to worry and require massive focus. For instance, little Aliyu was an unfortunate victim of a careless tricycle driver.
Stanbic IBTC Holdings is a full service financial services group with a focus on three main business pillars; Corporate and Investment Banking, Personal and Business Banking and Wealth Management. Standard Bank Group, to which Stanbic IBTC Holdings belongs, is the largest African bank by assets and market capitalisation. It is rooted in Africa with strategic representation in 20 countries on the African continent.