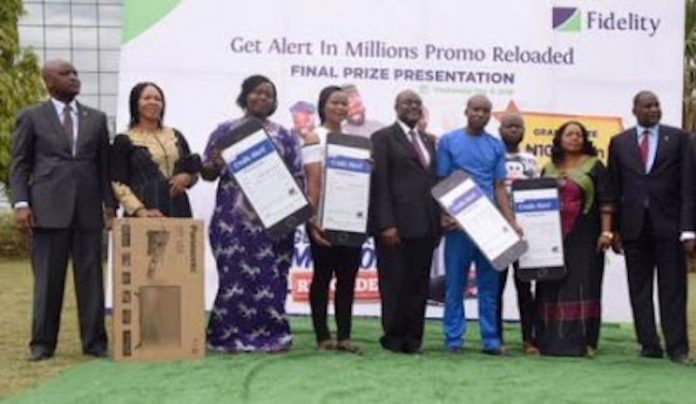 A total of 13 customers of Fidelity Bank Plc emerged the first set of winners in the Get Alert in Millions Season three promo (GAIM-3) draw by the bank that took place in Lagos at the weekend.
In all, they won N15 million in cash as well as various consolation prizes.
Speaking on the promo, the Executive Director, Shared Services and Products, Fidelity Bank, Mrs. Chijioke Ugochukwu, said various initiatives organised by the bank to encourage saving has also helped in improving its customer base.
She stressed the need for Nigerians to always set aside a portion of their income for a rainy day.
"This new savings promo is the eight in 11 years. As with the previous ones, we are motivated to continue to empower our customers by rewarding them with cash and gift items, whilst at the same time promoting the savings culture, in line with the financial inclusion drive of the Central Bank of Nigeria (CBN)," Ugochukwu explained.
According to her, the bank would be intensifying its efforts in the northern parts of the country where financial exclusion is still high.
To qualify for the draw, the Head, Retail Banking, Fidelity Bank, Mr. Richard Madiebo said customers can open a savings account and grow same to N20, 000 or top up an existing account with N10, 000 or more to qualify for the monthly draws to win N1million or N2 million respectively.
Through the draws which was monitored by the regulators, two persons from the south-east and the south-south won N2 million each while two persons from Lagos, Abuja, the northern region and the south-west won N1 million each.
One of the winners, a student from Afe Babalola University, Isreal Asidere, expressed joy on being one of the winners, thanking the bank for making him a millionaire.
Another winner, Nnamdi Okafor, a trader from Aba who won N2 million also expressed appreciation to the bank noting that the win would help in growing his business.
Fidelity bank plans to give out a total of N110 million in cash prizes, N10 million in weekly airtime prizes as well as other consolation prizes during the period which the promo will run.