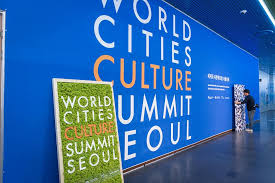 Lagos has recorded a major global recognition for its commitment to the arts and culture as it formally joins the influential World Cities Culture Forum.
Lagos' membership was ratified at the 7th edition if the World Culture Cities Summit which ended in San Francisco, United States of America on Saturday.
According to a statement signed by the Permanent Secretary, Lagos State Ministry of Tourism Arts and Culture, Mr. Fola Adeyemi, Lagos has now joined globally respected cities like London, New York, Los Angeles, Toronto, Lisbon, Edinburgh, Seoul, Hong Kong and Tokyo which are celebrated as cultural hubs by the World Culture Cities Forum, an initiative of the Office of Mayor of London.
According to the statement, the profile of Lagos State as an arts and culture hub in West Africa is also featured for the first time in the triennial authoritative publication of the Forum – World Cities Culture Report (2018).
In the report, Lagos is acknowledged for its multi-faceted infrastructural development of the arts and cultural spheres; using cultural tourism to drive growth and improve the profile of the city and its commitment to diversity in the arts and support for  artists operating in the visual, digital and performing arts.
The statement quoted the Commissioner for Tourism Arts and Culture, Mr. Steve Ayorinde, who together with the Chairman of the Board of Lagos State Council for Arts and Culture, Mrs. Polly Alakija, represented Lagos State at the summit, as describing the honour as a validation of the giant strides that the state has recorded in the areas of arts and creative sector in the past three years.
" The honour from World Culture Cities Forum is well deserved and a validation of the commitment that the Lagos State Government has shown to arts and cultural development; more so that it is coming on the heels of Mastercard's 2018 Report ranking Lagos as the most visited city in Sub-sahara Africa,"  Ayorinde said.
The statement added that World Cities Culture Report 2018 demonstrates how governments are responding to global challenges with inclusive cultural policies, while describing the Report, which was unveiled in San Francisco on Friday as "the most comprehensive report on culture and cities."
The report includes data and examples of transformative cultural projects from 35 major global cities including Lagos.
 "The World Cities Culture Summit 2018 saw representatives from 32 cities unite to champion culture and share research and best practices as they launched the world's most comprehensive cultural report.
 "The World Cities Culture Report is the first to bring together examples from across the world on how cities are tackling the issues they face with cultural policies. The report outlines the ways in which culture drives regeneration, creates jobs, increases tourism, gives young people positive opportunities and improves health," the statement says, adding that "the report will enable city and cultural leaders to learn from best practice across the globe, inspiring new approaches in their own cities."
The report includes examples of how cities are using culture to respond to universal challenges, such as access to education, social divisions and a rising cost of living