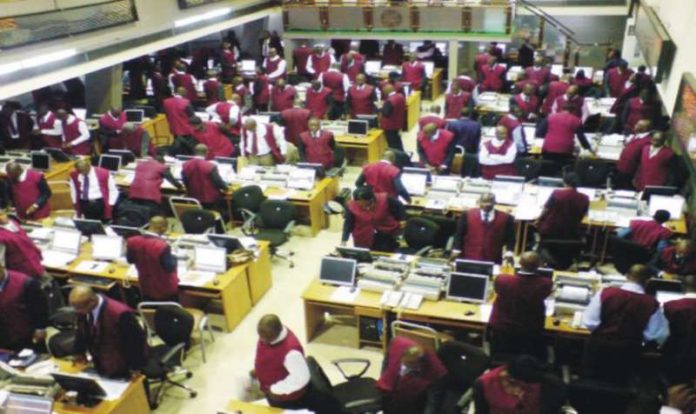 By Goddy Egene
The stock market last week sank deeper into the negative territory as losses by bellwether stocks prevented the market from sustaining gains recorded the preceding week.
Compared to a gain of N27 billion in capitalisation two weeks ago, the market shed N51.8 billion last week. Consequently, the Nigerian Stock Exchange (NSE) market capitalisation closed lower at N11.704 trillion, while the NSE All-Share Index (ASI) went down by 0.44 per cent to be at 32,200.21.
Similarly, all other indices finished lower with exception of the NSE Consumer Goods and NSE Industrial Goods Indices that finished higher at 0.04 per cent and 1.02 per cent respectively, while NSE ASeM Index closed flat.
Although there was increased buying activity in some bellwether stocks as investors sought to take advantage of attractive pricing. In all, sell pressure dominated trading activities in the week. Hence, the negative close for the week that saw the year-to-date (YTD) decline worsened to 16.2 per cent.
However, losses by Dangote Cement Plc, Guaranty Trust Bank Plc and Zenith Bank Plc were the major drags to overall performance in the week.
According to analysts at Afrinvest, three events shaped global markets last week. In the United Kingdom, Prime Minister Theresa May's proposed Brexit deal was received with doubts which prompted resignations from her cabinet. As a result, the Pounds Sterling depreciated and markets reacted negatively. In the United States, concerns about the trade war with China persisted as the Commerce Secretary, Wilbur Ross, indicated the possibility of further tariffs in January 2019.
But this was still unclear as a new framework to guide trade between both countries was being touted ahead of the meeting between the presidents of the two countries on the sidelines of the next G-20 meeting. In the commodity market, oil prices continued to trend lower, falling to US$68.00/b during the week (from US$69.00/b last week). Global oversupply of oil due to US, Russia and Saudi Arabia volumes coupled with lower global growth prospects were the major drags.
As a result of these events, the performance of developed markets was largely bearish across board. In the US markets, the NASDAQ and the S&P 500 closed the week lower, down two per cent and 1.8 per cent respectively, while the UK FTSE shed 1.2 per cent. Similarly, France's CAC 40 declined by 1.4 per cent while Germany's XETRA DAX shed 1.4 per cent also. However, Hong Kong's Hang Seng was the only gainer, rising 2.3 per cent.
But across the BRICS markets, performance was largely bullish as all indices trended northwards save for South Africa's FTSE/JSE All Share. The largest gain was recorded in China's Shanghai Composite,  that appreciated  3.1 per cent while Russia's RTS added 1.5 per cent.  India's BSE Sens garnered 0.8 per cent, just as   Brazil's Ibovespa closed 0.4 per cent higher.  But South Africa continues to endure a challenging macro backdrop, a development that   weighed on investor sentiment with the FTSE/JSE All Share falling 1.2 per cent.
In Africa, the positive momentum from last week was reversed as five of six indices tracked   recorded losses, led by Ghana's GSE Composite that depreciated by 0.8 per cent. The trend was similar in Kenya's NSE 20 that shed 0.5 per cent, while Egypt's EGX 30 and   Mauritius' SEMDEX shed 0.4 per cent just like Nigeria's ASI. On the positive side, however, Morocco's Casablanca MASI sustained gains from last week, returning 0.6 per cent.
In Asia and Middle East, markets turned for the better after a disappointing performance   the previous week. For instance, Thailand's SET index posted a strong return of 2.6 per cent   to lead advancers, followed by Qatar's DSM 20 Index hat went up by 1.5 per cent.  Saudi Arabia's Tadawul ASI added 1.2 per cent while and Turkey's BIST 100 index chalked up  0.2 per cent.  But the negative performance of UAE's ADX General Index from the previous week persisted last week as the bourse   lost 0.5 per cent.
Market Turnover
Meanwhile, investors traded 1.285 billion shares worth N11.539 billion in 13,245 deals were trade on the floor of the exchange in contrast to a total of 1.079 billion shares valued at N18.196 billion that exchanged hands  the preceding week in 14,372 deals.
However, the Financial Services Industry  led the activity chart with 890.433 million shares valued at N8.113 billion traded in 7,923 deals, thus contributing 69.3 per cent  and 70.3 per cent  to the total equity turnover volume and value respectively. The Services Industry followed with 284.370 million shares worth N585.368 million in 298 deals. The third place was Consumer Goods Industry with a turnover of 44.694 million shares worth N 2.054 billion in 2,367 deals.
Trading in the top three equities namely Diamond Bank Plc, Ikeja Hotel Plc, and FBN Holdings Plc,  accounted for 708.003 million shares worth N1.758 billion in 1,957 deals, contributing 55.1 per cent  and 15.2 per cent  to the total equity turnover volume and value respectively.
Also traded during the week were a total of 5,727 units of Exchange Traded Products (ETPs) valued at N2.284 million executed in 11 deals compared with a total of 4,065 units valued at N17,357.55 that was transacted two weeks  ago in one  deal.
A total of 1,034 units of Federal Government Bonds valued at N980, 295.60 were traded last week in 10 deals compared with a total of 78,261 units valued at N78.378 million transacted  the previous week   in 61 deals.
Price Gainers and Losers
A look at the price movement chart showed   that only 24 equities appreciated in price during the week, lower than 27 in the previous week, just as  36  equities depreciated in price, lower than 39 of the previous week. Unity Bank Plc led the price gainers with 30.9 per cent, trailed by Flour Mills of Nigeria Plc with 11.6 per cent. Prestige Assurance Plc garnered 9.8 per cent, while Glaxo Smithkline Consumer Nigeria Plc  added  9.5 per cent.
Other top price gainers included:  Niger Insurance Plc (9.0 per cent); May & Baker Nigeria Plc (8.7 per cent); Mutual Benefits Assurance Plc (8.7 per cent); Oando Plc (7.5 per cent); Meyer Plc (7.2 per cent) and Lafarge Africa Plc (6.6 per cent).
Conversely, Diamond Bank  Plc led the price losers with 29.6 per cent, trailed by C & I Leasing Plc with 26.4 per cent. Eterna Plc shed 17.4 per cent, just as Veritas Kapital Assurance Plc depreciated by 14.8 per cent. University Press Plc and UACN Property Development Company  Plc went down by 11.9 per cent and 10 per cent in that order.
Other top price losers were: International Breweries Plc (9.9 per cent); Ikeja Hotel Plc (9.6 per cent) and Abbey Mortgage Bank Plc (9.4 per cent).