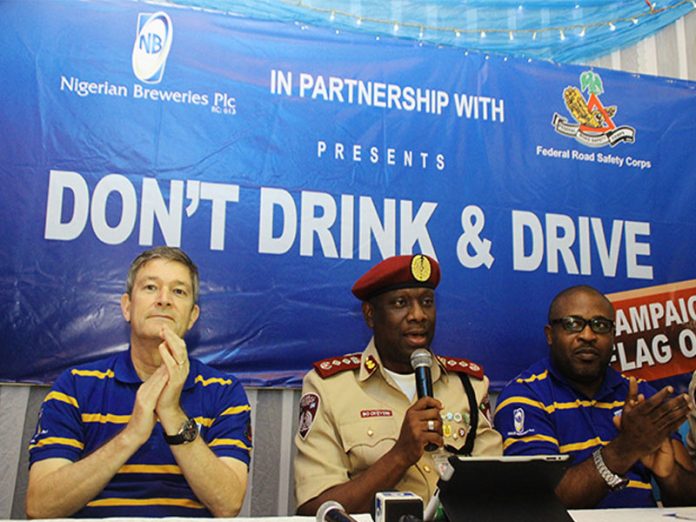 Following the successful mega rally of the 11th edition of the 'Don't Drink and Drive' campaign in Uyo, Akwa Ibom State, the Nigerian Breweries and the Federal Road Safety Corps (FRSC) recently held another mega rally on road safety in Lagos.
The initiative was part of efforts aimed at ensuring reduction in road accidents.
The Lagos event, the second of the three rallies scheduled for this year's campaign was held at the Ojota New Garage.
The Managing Director of Nigerian Breweries Plc, Mr. Jordi Borrut Bel said the campaign was an important part of the company's long-term sustainability agenda, tagged "Brewing a Better World" and falls under advocating responsible consumption.
Bel, stated that since inception of the campaign in 2008, enlightenment rallies have been held in popular motor parks and other locations in 42 cities and towns across the country.
It has also engaged over 20,000 drivers and other road users.
He emphasised that the campaign, which was aimed at discouraging drink driving and improving safety on Nigerian roads, commenced its first mega rally in 2018 in Uyo in October, with the last for the 2018 edition scheduled for Minna, Niger State.
"For the first time since the initiative started, we also launched the campaign at a National Youth Service Corp (NYSC) camp in Umuahia, where we involved the youths as change agents to imbibe and drive the message of the campaign," he explained.
Bel, added that as the year comes to an end, road users, most especially commercial road users, should imbibe the culture of responsible drinking.
On his part, the FRSC Sector Commander for RS2.1, Lagos Sector Command, Corps Commander Hyginus Omeje, explained that during this period of the year, the corps doubles its efforts in actualising one of its core mandates of educating the public on proper use of the highways to curtail accidents.
He said drink driving has been a major factor responsible for increasing accidents on the country's roads.
According to him, analysis of crashes recorded in Lagos State over the past two years showed that in 2016, a total of 441 reported cases were recorded with 971 injured and 165 deaths; while in 2017, 425 cases recorded shows 1,005 victims injured with 113 deaths. However, from January to September of this year, 304 cases were recorded with 691 injured and 95 deaths.
Omeje, disclosed that a baseline study on 2,600 persons from December 2015 to September 2018, with the digital evidential alcohol testing machine showed 247 positive results of drink- driving, while 2,353 tested negative.
He said the study further showed that 180 cases involved commercial vehicles, representing 72.8 percent; 65 were private vehicles indicating 26.3 per cent, while two were government vehicles marking 0.8 per cent.
He explained that the set legal limit for alcohol consumption was 0.05g/100ml breath alcohol concentration, saying any driver above that would be charged with driving under the influence of alcohol, which is punishable with a fine of N5,000, or one-year jail term, or both.
The Corps Public Education Officer, Corps Commander Bisi Kazeem, who represented the Corps Marshal, Dr. Boboye Oyeyemi, said the agency was embarking on a road safety initiative on vision test for drivers, known as "Operation Cobra", as a measure to curb road accidents, which some people attribute to demonic forces.