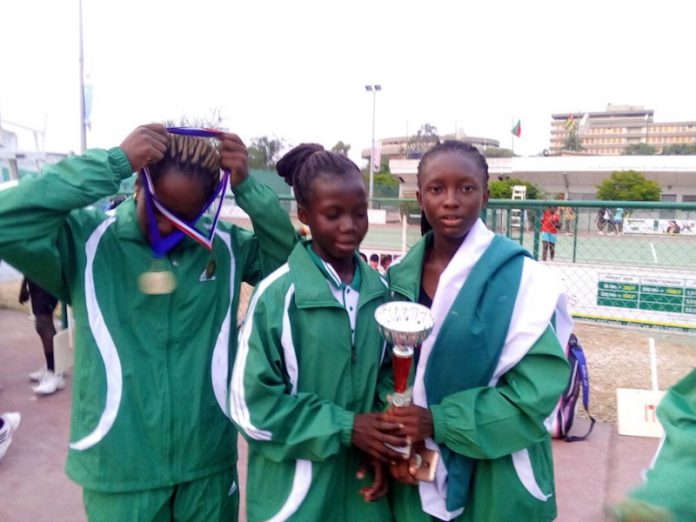 Nigeria's junior female tennis player, Oiza Yakubu, caused a major upset yesterday at the on-going 2nd Rainoil Open Tennis Championship at Ikoyi Club in Lagos when she defeated former national tennis star, Omotayo Osewa.
Yakubu who gained wild card to play in the Rainoil Tournament, took the first set easily with a 6-2 score-line before Osewa formerly known as Omotayo Ibrahim dug deep into experience to claim the second set in 6-4. The left-handed Yakubu, with support from neutrals, took the super tie break 10-3 to progress to the next round.
Now guaranteed a few national rankings, Yakubu will now face Oluchi Ozurumba, another of the seeded players in the second round this afternoon.
Yakubu had similarly put up eye-catching display in the same tournament last year when she won two qualifying matches to berth in the Main Draw. Although she lost in the first round, she no doubt created an impression in the minds of tennis aficionados.
Her performance since then has been very impressive posting some podium finishing at ITF Junior tournaments.
In some other women's singles matches decided yesterday, Bunmi Are coasted to a 6-1, 6-0 win over Esther Chidiebere, a wild card entrant, while second seeded, Blessing Samuel bagged an easy 6-0 6-1 win over Toyin Asogba.
Mary Tenu-Michael and Aanu Aiyegbusi were ruthless in their matches against Ramota Odeyemi and Blessing Danjuma after 6-0, 6-0 wins but Oluchi Ozurumba needed to be on top of her game to advance by beating Temitope Fashanu 6-3, 6-7 (1), 10-5.
Blessing Anuna also bested Ngozi Dirisu 6-0, 6-4 while Ronke Akingbade stopped Omolade Aderemi, a qualifier, 6-4, 6-1.
In the men's singles, top seed Joseph Imeh bagged a 6-3, 6-4 win over Tochukwu Ezeh to move to the third round and he is joined by his nearest rival, Sylvester Emmanuel who was merciless in his clash with Oche Adehi winning 6-0, 6-0. He will face Joseph Iyorovbe for a place in the quarterfinal.
Martin Abamu gave former top ranked player Shehu Lawal a huge fight before the latter pulled through 3-6, 6-1, 10-5.
Former Nigeria top ranked player Thomas Otu was walked over by John Henry due to his late arrival for their match.