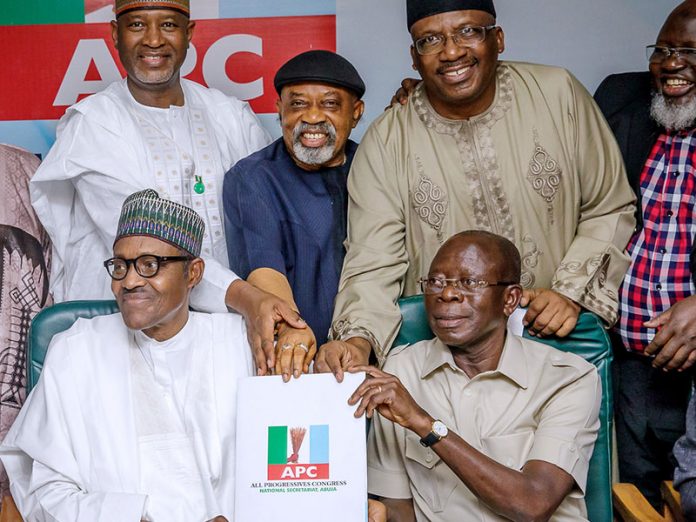 By Omon-Julius Onabu in Asaba
President Muhammadu Buhari and his party, All Progressives Congress (APC), would be rejected in a humiliating manner at the 2019 general election, the Delta State chapter of the Nigerians Asking For Atiku (NAFA) has said.
 The group also passed a vote of confidence on the Alhaji Atiku Abubakar and Peter Obi as well as the Governor Ifeanyi Okowa and Kingsley Otuaro 2019 presidential and governorship tickets respectively.
 In a communiqué at the end of its 3rd state executive meeting held in Asaba at weekend, the pro-PDP political pressure group claimed that President Buhari has woefully failed the honesty and integrity test on which he reportedly rode to power in 2015, saying his reelection bid was clearly heading for failure.
 In a communique signed by the Delta State NAFA Coordinator, Dr. Fred Latimore Oghenesivbe, and Secretary of NAFA, Prince Sunny Ajemudia, the group said; "President Buhari and the leadership of the APC have done inestimable damage to the socio-economic fabrics of the Nigerian nation."
The economic recession experienced at the inception of Buhari administration was a pointer to "the gross inefficiency of the APC national government," the group noted, adding that ''the failure of APC and Buhari to provide the positive change promised Nigerians in 2015 has ridiculed the image of the country and crumbled the global rising profile of Nigeria rated in 2014/2015 as one of the fastest growing economies in the world before Buhari assumed office."
 NAFA, therefore, predicted that "the APC and its presidential candidate, Buhari, shall suffer acute humiliation and rejection in coming election, as eligible voters who have been suffering untold hardship, hunger, joblessness and frustration are already warming up to vote Atiku and Obi as the next president and vice-president of Nigeria.
"It is obvious that our country has collapsed to the absolute dismay of Nigerians, especially our teeming youths who mobilised for the fake APC 'Change' in 2015. Nigerians do not need soothsayers to tell them that Buhari and APC are sinking and shall be relegated to the dustbin of political history in 2019.
"NAFA Delta resolved to campaign massively in the state for Atiku-Obi and Okowa-Otuaro tickets at both presidential and governorship elections. It's a task that must be done and its glaring that the fast decaying APC has lost respect and the confidence of Nigerians.
"We frown at the illegal WAEC attestation certificate issued to President Buhari. WAEC has no business attesting to the results of an examination it never conducted.
"The unscrupulous certificate saga has further revealed the fake integrity of Buhari who, in recent times, exposed himself as a dishonest man, bereft of ideas and essential leadership qualities to point the way forward for our dear country."
Nonetheless, the group also passed a vote of confidence on its State Coordinator, Oghenesivbe, describing him as ''a well-focused, proactive, humorous, trustworthy leader," urging him to remain committed as NAFA Delta coordinator.