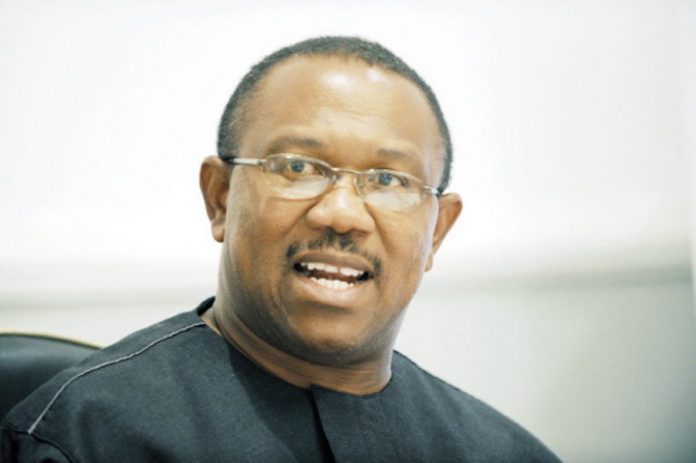 By Adedayo Akinwale in Abuja
The vice presidential candidate of the Peoples Democratic Party (PDP), Mr. Peter Obi, has said that since the All Progressive Congress (APC) assumed the mantle of leadership in the country, everything has been negative, adding that every minute, six Nigerians are pushed into poverty.
The former governor of Anambra State made this claim Monday while featuring on The Morning Show on ARISE News TV, a THISDAY sister company, where he lamented that since the APC government came in, millions of people had lost their jobs.
According to him, "This year alone, between January and September, over 4 million people have lost their jobs. Every minute, six Nigerians are being push into poverty. Go to market now, there is no demand, people don't have money to do anything."
On the rising debt  profile, Obi said a couple of months ago,  he raised the alarm about the development but no one listened to him because he was not a renown economist.
He added that while he was not against borrowing, there must be credible reasons for borrowing, and such reasons must also be explained to Nigerians.
"On May 1, 2017, I said the country's debt is too high, the debt keep getting worse, everybody was busy playing politics. The Minister of Finance then said debt to GDP; I said minister, have managed money all my life, most of the people contesting today, I have managed money more than they have managed money as a businessman. All my life, I know when things get wrong. But, then because I wasn't a famous economist, no one listened to me. Today, IMF, World Bank have said the same.
"We are using almost 60 per cent of our revenue to service debts, we are borrowing more. As me and you are speaking today (Monday), Nigeria's financial system, National Assembly, everybody is flying to London to borrow more money. This is what we should be discussing. What is this money going to be used for? Not discussing whether Peter Obi came from Anambra or Imo."
Reacting to a statement credited to the governor of Kaduna State that there is "no single thinking brain" left in the PDP, Obi asked; if all the good brains are in APC as claimed, why is the country not working?
He stated: "Well, all of them are in APC but the country is not working. All the good brains are in APC, yet the country is collapsing. That's all I can say,
"When APC came, this country was growing at 6 per cent, since they came look at where we are, everything has been heading south, not one item is positive."
Obi said PDP was focused on bringing the country back  to where it used to be.
On the search on the presidential candidate of PDP, Alhaji Atiku Abubakar, by security agencies when he arrived Abuja Airport on Sunday, he said opposition leaders were being  targeted for persecution.
He explained that Atiku's priority areas include education, security, and also the unity of the country that had been so divided under the current  administration.