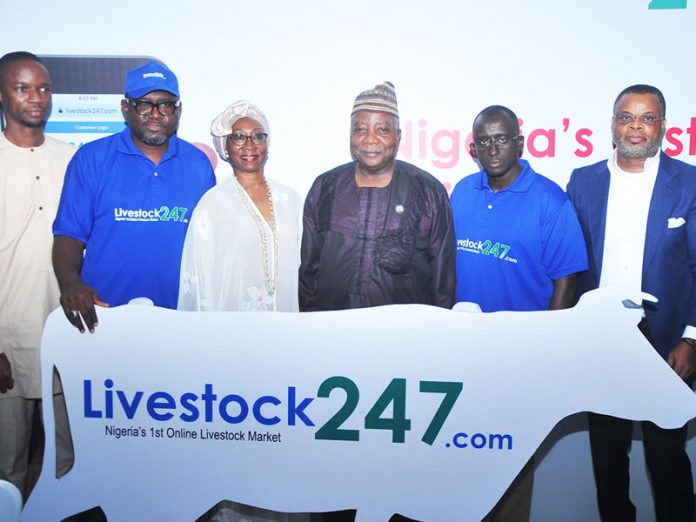 Buying livestock in Nigeria is now only one click away with the launch of a revolutionary purchase system that connects buyers and sellers 24 hours on every day of the week.
This Nigeria's first livestock e-commerce platform that was launched in Lagos during the week, works with animal identification and traceability technology to compliment the government's efforts to regulate, structure, transform and promote investments in the livestock sector.
Livestock247.com, as it is known, is Nigeria's First Online Livestock Market.
The platform is structured to bring together the livestock stakeholders, connecting buyers, sellers, ranchers, livestock merchants, veterinary professionals, butcheries/abattoirs, haulage and logistics companies and financial services providers to ensure that customers have the most cost effective, convenient and healthy livestock available.
Livestock247.com's bold innovation aims to transform the livestock business on two strong premises. Firstly, the World Organization of Animal Health Countries (OIE) has reported that 60% of existing human infectious diseases are Zoonotic (diseases that transmit from animals to humans). And more alarmingly, at least 75% of emerging infectious diseases of humans (including Ebola, HIV and Influenza) has an animal origin. Livestock247.com, Nigeria's 1st online livestock market will mitigate the spread of zoonotic diseases, with the listing of only fit-for-slaughter and traceable livestock on the platform.
Secondly, it is in line with the Federal Government of Nigeria's National Livestock Transformation Plan (NLTP) (Under the office of the Vice President of the Federation). The 6-point plan by the Federal Government to end herders-farmers crisis has, perhaps, as its most significant pillar, economic investment, by encouraging private sector investments in the production and structuring of the livestock sector in Nigeria. Livestock247.com as a platform will serve as a key driver of the initiative where investors, owners and farmers of livestock will readily be marched with buyers anywhere in the country.
According to the CEO Livestock247.com, Ibrahim Maigari, "Livestock247.com is the triangle of Commerce, Health and Technology. What started, as keying into the NLTP initiative and the O.I.E. directive was made more innovative and unique by creating an online platform that enables all three cardinals.
"The technology deployed on Livestock247.com is multi-dimensional and will impact development within the livestock sector, create more jobs and trigger growth of the economy." Maigari quoted available statistics, which says Nigeria has 43% of the cattle population of West Africa according to the UN/FAO statistics of 2013.
"The 2011 National Agricultural Sample Survey released by the FMARD In 2016, also says Nigeria has 19.5 million cattle, 41.5 million sheep and 72.5 million goats; 95% of the national herd is under pastoralist/smallholder management, justifying the need for transformation by intensification in production.
"Nigeria also has the largest livestock market in terms of consumption in Lagos with an estimated slaughter figure of 6000 cows a day, i.e 1.5 million kg of beef in a city of 23 million people.
"Nigeria cannot export a kilo of beef legally due to lack of a functional animal identification and traceability system. Our national herd cannot meet projected demand as our population is estimated to be 450 million in 2050. Globally, consumption of beef in developing countries is outpacing that of developed countries. According to ILRI, demand in developing countries will reach 250 million metric tonnes in 2030, while that of developed countries will be around 100 million plus."
On the company's future trend, he said Livestock247.com intends to transform the sector by intensifying production. "We will be enabling commerce by bringing together merchant, buyer, vet, professional, butcheries, haulage companies, and financial service providers. Ensuring the buyer conveniently gets fit-for-slaughter and traceable livestock at an affordable price; (Promoting healthy living).
"Ensuring the merchant has borderless and unrestricted access to market beyond his immediate locality. (Promoting commerce); Empowering the vet professional; Ensuring that butcheries have traffic and facilities are up to standard; Deeping financial inclusion by capturing the largely unbanked markets.
The Chairperson, Livestock247.com, Amina Oyagbola stressed that "our Livestock247.com platform is there not only for the big players, but also to enhance the activities of the lowliest goat herd in the most remote of our villages and towns. We have put in place an outreach programme to involve them all.
"For, the strength of a chain is determined by its weakest link. Our ultimate focus is ensuring that all livestock in the Nigerian Marketplace is healthy and fit-for-slaughter. By this, we would have both broadened and deepened the livestock market.
"For the health and economic wellbeing of our communities, our nation and Africa at large, the livestock market is one that has for long cried out for standardisation, rationalisation and structure.
"Our focus is assurance to all stakeholders in the livestock chain that they can select the most cost effective, convenient and healthy livestock for their use and consumption and that they can do this with the click of a finger.
"We are also fully cognizant of our role to support governments in their efforts to realise their goals for economic development and food security. We are fully aware that Lagos state constitutes the biggest livestock market in Sub Saharan Africa. We aim to make that market healthier and more prosperous.
"We welcome your patronage and partnership in the days and years ahead as we continue to improve and expand our products and services."