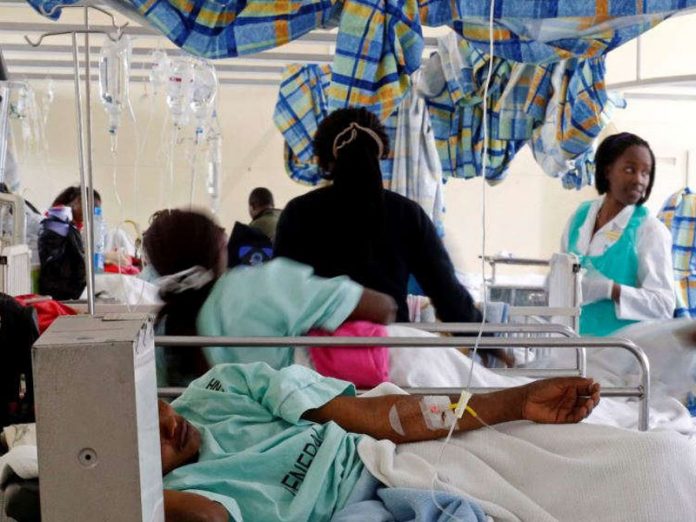 Michael Olugbode in Damaturu
Nine new suspected cases of Cholera have been reported in Yobe State, North-East Nigeria, bringing the total reported cases of the disease in 2018 to 1,759.
The revelation was made Thursday by the Emergency Manager, World Health Organisation (WHO), Dr. Collins Owili, with the Maiduguri office.
Owlli told journalists that of the reported cases, 61 persons were lost showing case fatality ratio (CFR) of 3.47 per cent.
He disclosed that: "In the state, 576 cases have been reported in Gulani LGA, 485 cases in Gujba LGA and 450 cases in Damaturu LGA. In Fune LGA, 181 cases were reported and 67 cases were reported in Potiskum LGA. Out of 97 samples collected and tested using cholera RDTs, 82 (84.5%) were positive and 15 (15%) were negative.
"Again, 9 (47%) out of 19 samples cultured were positive for Vibrio Cholera. However, the 9 positive samples were taken to national reference laboratory for quality checks and further analysis samples and Vibrio Cholera O1 (Inaba) serotype was isolated in 4 out of the 9 samples," Collins said.
He stated that compared with that of the previous day, "three cases were reported from Gulani, six cases were reported from Damaturu. No case has been reported from Gujba in six days, none was reported from Fune in about two weeks while Potiskum has not reported any case in over six weeks".
Owili revealed that the WHO have continued line-listing of all suspected Cholera cases within the city and neighboring communities and have also continued retroactive case search in communities and health facilities using: MSF-Volunteers, EHA, HTR and LGA RRT team in Gulani, Gujba, Fune and Damaturu.
"We have conducted investigation of new suspected cases from 2 LGAs (Damaturu and Gulani) and have also supported EHAs and MFS volunteers conducted house to house active case search in Gujba, Gulani, Fune, Potiskum and Damaturu reaching up to 415 households, yet no suspected cholera case was identified.
"Priority areas have been identified and communicated to WASH and risk communication teams to scale-up interventions. We have also continued sensitisation of Islamiyya and Tsangaya school in Galani, Gujba and Damaturu. Airing of radio jingles by Yobe Radio Broadcasting Corporation has continued across the state," he said.
The medical consultant said all stakeholders in the health sector have continued response activities in affected location through bucket to bucket chlorination, clearing of drainage and refuges, and disinfection of households. He added that Wash Teams and WHO-supported volunteers have disinfected 15 households in Gulani and Damaturu.
Speaking on coordination, he said local government area rapid response teams (LGA RRTs) in Gujba, Gulani, Damaturu and Fune LGA conducted daily local coordination meetings, and provided updates to state RRT to mobilise additional resources and technical supports
"Daily coordination meetings were consistently being chaired by SMOH at the state level to ensure robust and effective response activities," Owili said.