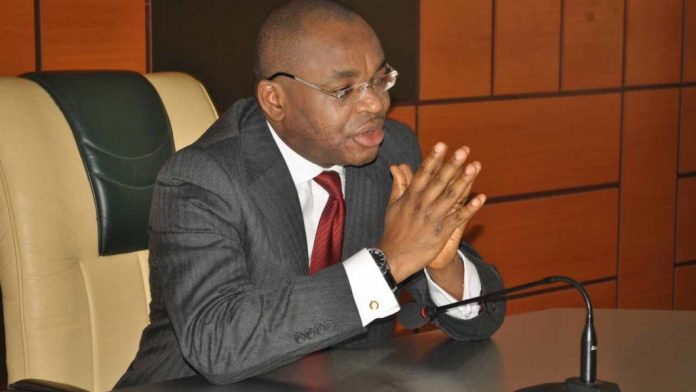 Nseobong Okon-Ekong and Nelson NseAbasi writes that the Ibom International Airport which has been the subject of enduring political intrigues from inception is being primed for its next phase of existence as a proper economic and business gateway, but will politics get in the way?
Going by the body language of Governor Udom Emmanuel of Akwa Ibom State, there may definitely be a plan in the offing to make a huge investment in the aviation industry. This is following the recent birth of the Ministry of Special Duties and Aviation Development, under his right hand man and investment expert, Akan Okon. No doubt the government is looking to maximise the potentials of the Ibom International Airport.
The first phase of airport construction began in 2006 and was completed in 2009. Akwa Ibom Airport opened on September 23, 2009, and the first scheduled passenger service commenced on December 2, 2009, when Arik Air began offering flights to Abuja and Lagos. The second construction phase began in 2012, and included the completion of a maintenance, repair, and overhaul facility, the construction of an international terminal, and additional taxiways. In recent times, there have been suggestions and clamour to honour former Governor Victor Attah by naming the airport after him. He is credited with the conceptualising and started work on the airport. Many have not forgotten how the immediate past governor of the state Senator Godswill Akpabio humiliated Attah by not according him due courtesies at the commissioning of the airport.
Ibom Airport was also a factor, along with the cedimg of oil wells, in the feud with its neighbour, Cross River State. The opening of an airport in Akwa Ibom State was a major loss of passenger traffic and aircraft frequency to the Margaret Ekpo International Airport, Calabar.
As one of the leading global industries connecting people, cultures and businesses across continents, aviation is a major political and economic tool frequently deployed by discerning states and leaders. Governor Emmanuel understands that for a state to be on its way to economic boom, it has to be open to investors by facilitating ease of entry through all basic means of transportation; air, land and water, as stated recently during his interaction with journalists in Lagos, hence the need to create a government organ to coordinate the affairs and interface with regulatory bodies and investors.
Aviation as Major Contributor to Global Economy
Aviation provides the only rapid worldwide transportation network, which makes it essential for global business. It generates economic growth, creates jobs, and facilitates international trade and tourism. According to recent estimates by the cross-industry Air Transport Action Group (ATAG), the total economic impact (direct, indirect, induced and tourism-connected) of the global aviation industry reached USD2.7 trillion, some 3.5 percent of world's gross domestic product (GDP) in 2014.
The air transport industry also supported a total of 62.7 million jobs globally. It provided 9.9 million direct jobs. Airlines, air navigation service providers and airports directly employed over three million people. The civil aerospace sector (the manufacture of aircraft, systems and engines) employed 1.1 million people. A further 5.5 million worked in other on-airport positions. 52.8 million indirect, induced and tourism-related jobs were supported by aviation.
Aviation Facts and Figures:
$704.4 billion in direct GDP benefits:
The world's airlines carry over four billion passengers a year and nearly 62 million tonnes of freight. Providing these services generates 10.2 million direct jobs within the air transport industry and contributes $704.4 billion to global GDP. Compared with the GDP contribution of other sectors, the global air transport industry is larger than both the automobile manufacturing sector and the pharmaceutical manufacturing industry. In fact, if air transport were a country, its GDP would rank it 20th in the world, similar to that of Switzerland or Argentina.
$637.8 billion indirect GDP impact
These include employment and activities of suppliers to the air transport industry – for example, aviation fuel suppliers; construction companies that build airport facilities; suppliers of sub-components used in aircraft; manufacturers of goods sold in airport retail outlets; flight booking, ticketing, bag wrapping, airport taxi shuttles and a wide variety of activities in the business services sector (such as call centres, information technology and accountancy). These indirect activities contributed approximately $637.8 billion to global GDP in 2016.
$454 billion induced GDP
The spending of those directly or indirectly employed in the air transport sector supports jobs in industries such as retail outlets, companies producing consumer goods and a range of service industries (such as banks and restaurants). Worldwide, roughly $454 billion induced GDP impact globally is supported through employees in the air transport industry (whether direct or indirect) using their income to purchase goods and services for their own consumption.
$896.9 billion in tourism GDP
Tourism is fast becoming one of the world's largest industry and air transport plays a very important role in supporting this sector. Conservative analysis suggests that aviation supports $896.9 billion in economic activity within the tourism industry. Consider the Godswill Akpabio International Stadium as a major boost to Sports Tourism in Akwa Ibom State, a befitting aviation industry is required to give the much needed support for it to thrive.
Hospitality services sector is another major beneficiary of a booming aviation industry in the economic value chain. The influx of tourists and investors bring about an increase in number of people who require bed and breakfast in the metropolis.
Maximizing the Benefits of Aviation in Akwa Ibom: The Task Before Akan Okon
The aviation industry is very lucrative market and capital intensive too, but the Governor seems ready, as seen in his approval of funds for massive infrastructural upgrade at the Akwa Ibom International Airport since assumption of office. This is also evident in the construction of the second runway at the Airport, the hanger, and the maintenance, repair and overhaul (MRO) work ongoing.
Mr. Akan Okon, an investment expert with wealth of experience in banking and finance has been instrumental to the delivery of projects in the Emmanuel-led administration, considering the number of strategic signature projects under his supervision. This may not be far from the reason why he was considered to speerhead the new ministry to oversee the proposed investment by Akwa Ibom State Government in the aviation sector.
He will be expected to among other tasks; Draw an Economic Development Plan which highlight the priorities of the aviation sector in Akwa Ibom State's economic development planning, so that aviation can be used as an economic driver to diversify the state's Internally Generated Revenue source from crude oil. He is to establish Air Transport Regulatory Framework, Build Aviation Infrastructure by liaising with federal government agencies, including air navigation systems, commensurate with the level of predicted traffic growth and based on International Civil Aviation Organization's (ICAO) global plans. He will to set in motion the process that will ensure that the hanger at the Akwa Ibom International Airport designed to accommodate aircrafts for repairs and servicing is put to use.
Efforts are continuing in this regard through the ministry, as seen in the construction of the second runway, to ensure free take-off and landing of multiple flights simultaneously. Another evidence is the construction of the lobby with shops and VIP Lounge at the airport and the provision of a power substation for constant uninterrupted power supply.
Asides the investment of the state government, the Commissioner for Aviation will be expected to secure investments by interested partners to promote diversified funding sources from national institutions, international and regional organisations, multi-lateral development banks and other financial institutions. His mandate also includes setting up Safety & Security structure, Ensure Environmental Protection, Facilitate Public Engagement.
Part of Okon's duty is to inform and engage the public as a crucial partner to advance sustainable air transport solutions, encouraging the populace to key in by establishing businesses connected with aviation as support service providers, to enable them tap into the multi-billion dollar industry.
In all, the new portfolio demands that he produces from his wealth of knowledge, a workable plan towards maximizing the benefits of the Akwa Ibom State International Airport in a sustainable manner, drawing an implementation plan showing concerted and coordinated actions from public authorities at all levels, together with aviation stakeholders, financial institutions, international and regional organisations.