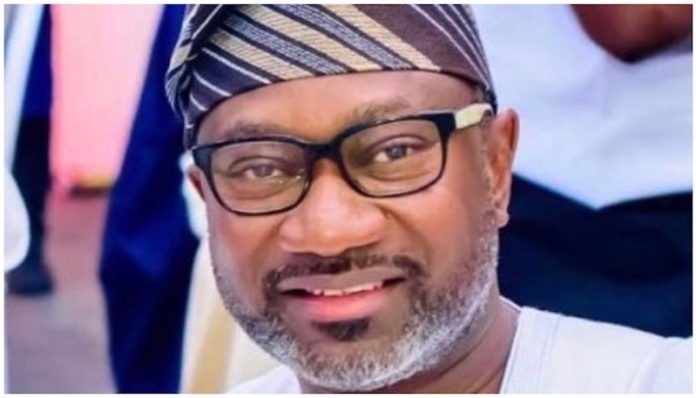 Society Watch
If it is possible for you to secure, for instance, a five-minute interview appointment with his aged mother, you will definitely be entertained with very interesting tales about the circumstances surrounding his conception and birth, among other riveting narratives.
Your encounter with his aged but vibrant mother will further delight your audience if she offers you, with the benefit of hindsight, the untold story of why she and her late husband, Pa Michael Otedola, a former governor of Lagos, preferred to name him Oluwafemi, which literally means 'God loves me' – he was not so christened only for the sake of christening.
More than five decades after Femi Otedola, now Chairman, Forte Oil, was brought forth to this "sinful world", there is enough proof that he is truly living up to the description of his first name typical of one whom God has continually lavished His favour on. Indeed, his paths in life have been laced with roses.
First, as a husband, his wife cannot wish for a better lover, soulmate and 'gist' mate.
Also, as a father, he is wonderful. He has been able to raise his children in such a way that they give him utmost joy.
Even in his business, his profile has always been on the rise. His competitors agree that he is blessed with the proverbial Midas touch.
A well-loved man by members of his immediate environment, Otedola is acknowledged as one of the few successful individuals who see the need to give back to the society as a priority. He is generous to a fault; his deep pocket is unqualifiable.
So, whenever his birthday is approaching, his family, friends and others who have benefitted from his large-heartedness and benevolence always see the day as another golden opportunity to celebrate him. The eulogies, no doubt, usually come in torrents.
Society Watch gathered that they often do this out of deep respect for the man with the very creative monicker: "Ote$".
Surprisingly however, as he turns a year older today, the man full of aura and charisma does not seem to see the day as significantly different from others. Reason: he owes his creator praise and thanks every day for His abundant blessings in his life. So, is that what he will spend the whole of today doing? Maybe, especially because if he had his way, the day would have gone unannounced. That his vintage Otedola!
Earlier in life, he craved success and worked very hard to be successful.
His life is a challenge to those who were born with a silver spoon in their mouth but abused the privilege a lack of self discipline.
Ex-First Lady, Patience Jonathan's Flips Side
She was once powerful, influential and highly connected. When her husband, former President Goodluck Jonathan, held the reins of power in the country, her word was law. Before our very eyes, Patience, fondly called Mama Peace, rose from obscurity to prominence.
The then-first lady had large hangers-on. Many sought her listening ears for so many things. Life couldn't be any better.
But the return of General Muhammadu Buhari as a presidential candidate of the APC was no more but a killjoy for her. Also, Buhari's victory in the 2015 presidential election forced her and her husband out of the ornate Aso Villa.
Ever since, the former first lady has been having a running battle with the EFCC over her frozen accounts and seized property. She has been tasting the cold side of powerlessness. The attention she used to get unsolicited has disappeared. The number of her friends and hangers-on has also dwindled.
As proof of the transient nature of power, her last birthday celebration was reportedly devoid of the usual fanfare. But for her unenviable condition and deepening controversies, she would have been celebrated to high heavens on that occasion.
It will be recalled that while she was in power, her birthdays was always celebrated with fanfare, coupled with tons of advertorials in the media.
Sadly, her birthday celebration on October 25 was unusually low-key, as only a handful of her so-called friends remembered the day.
In fact, Society Watch gathered that she could count on her fingers the number of friends who called to congratulate her on the day.
" None of those who used to swarm around her like bees to nectar deemed it fit to drop at least a word for her in any of the media, if only to show her that they are still with her, even in her travails and tribulations," our source revealled.
Diamond Bank's CEO, Uzoma Dozie's Bugbear
In 2014, Uzoma Dozie was appointed the Chief Executive Officer, CEO, Diamond Bank Plc.
But many who were not impressed with his appointment had claimed that the position simply fell into his lap, owing to his status as a son of the founder of the bank, Pascal Dozie.
At that time, his critics never saw anything good in whatever Uzoma, who was then 44, did.
However, for those who were sympathetic to him, such criticisms were not fair.
They were quick to dismiss any attack hurled at him, marinating that he had enough experience and expertise to occupy the position.
In supporting his appointment, his loyalists were always forthcoming with his enviable credentials, which included a master's degree in Chemistry.
Prior to his joining Diamond Bank, he had honed his skills at some other banks. He started out at GT Bank Plc as an analyst, commercial banking and then as business analyst, oil and gas division at the defunct Citizens International Bank before joining his father, Pascal Dozie's bank in 1998 as the head of oil ang gas section.
There is no doubt that Uzoma, an alumnus of Imperial College, London, University College London and Havard Business School, exudes class and intellect.
But he seems to be under some heat to turn around the fortunes of the bank. In recent times, he has been facing intense pressure over the health of the bank. The bank seems to be in dire need of new capital to fuel growth and profitability. But many observers would tell you, Uzoma is not to blame. The bank has been struggling with bad decisions that predates him.
Just last week, some of the board members of the bank, including Oluseyi Bickersteth, Chairman of the Bank, resigned.
A Peep into Adekunle Akinlade's Dark side
It is doubtful if Ogun State Governor, Ibikunle Amosun, has ever been under fire as much as he has been in recent times within and outside the state.
While a lot of people are not so interested in his performance in office, even as his second term will soon screech to a halt, he has suddenly become the anvil of criticisms mostly because of his support for Abdulkabir Adekunle Akinlade as his anointed governorship candidate of the All Progressives Congress ahead 2019.
Though the leadership of the party has assented to the emergence of Dapo Abiodun as the standard-bearer of the party in the next governorship election in the state, Amosun has been threatening fire and brimstone over the rejection of Akinlade.
In his bid to force Akinlade on the people of the state, he has sought the intervention of President Muhammadu Buhari on different occasions. But Amosun has been literally left languishing to his utmost surprise, as the body language of the president reads something to the effect that "he is on his own. "
Akinlade is a Federal House of Representatives member representing Egbado South and Ipokia in Ogun West. Those who know him very well say he (Amosun) needs to study him very well like a book; otherwise, he will forever rue the day he threw him up for the governorship race in the state.
Society watch gathered that Akinlade was allegedly living his life on the fast lane in the United Kingdom. In fact, a source claimed that immediately he relocated to Lagos, some of his victims tracked him down with a determination to get rid of him.
'Two of his security aides lost their lives in his stead,'' the source added.
Akinlade is also said to be flirtatious and he does so without any regard for his London-based wife. Not a few ladies are said to have fallen victim of his recklessness .
A source also revealed that before he got married to his present wife, Chineye Ochuba, a former beauty queen, he had earlier been married to another woman with whom he has his first child, a girl.
But he hid this part of his life from Chineye until it was too late for her to quit the relationship.
He was said to have taken advantage of the status of his first wife as a UK citizen to fast-track his documentation, and eventually his naturalisation as a British citizen.
Society Watch also gathered that Akinlade was once involved in a land scam at Alakuko area of Lagos, where he built his first mansion.
It resulted in a legal battle with the rightful owner of the land. In the end, he lost the right over the property to the man in 2012.
Against this backdrop, many wonder why Amosun has decided to settle for a man whose past is questionable, in spite of the fact that Ogun State parades a line-up of sterling technocrats and politicians with time-tested, brilliant records of public service.
His choice has even left many to think that he has some skeletons in his cupboard that he needs a character like Akinlade to conceal.
Wosilat Okoya's New Lifestyle
Wosilat Okoya, younger sister to Lagos billionaire businessman, Alhaji Razak Okoya, is blessed with an awesome beauty that can make any man stop in his tracks to take a second look at her.
She is not an attention-seeker, but if there was a beauty competition for people of her age, this drop-dead beauty would certainly come tops.
She is among a few women whose beauty would make any full-blooded man drool. Such is the power of her beauty, even as she is in her 50s.
Though a grandmother, she still boast a glowing skin. So many features, including her curvature, come-hither-look and shape.
All these rare qualities, in addition to her commanding dress sense, are said to have made her the cynosure of eyes at public events.
However, Society Watch gathered that she has now slowed down on partying.
A source revealed that she only attends functions that involve the Okoya families, their associates as well as close friends.
Olugbo of Ugboland, Oba Frederick Akinruntan in Joyous Mood
If you cherish royalty and the grace of being a king, you will surely appreciate why His Imperial Majesty, Oba Frederick Enitiolorunda Obateru Akinruntan, the Olugbo of Ugboland, Ilaje, Ondo State, loves to celebrate the ascension of his forefathers' throne and the grace of God in his life.
It was gathered that the billionaire monarch is planning big to mark his eighth anniversary on the throne next week.
Consequently, the entire Ugboland is said to be agog, literally rising and tumbling in joy over the coming event.
It was also gathered that some of his friends and even family members would be placing congratulatory messages in the print and electronic media to celebrate him.
Since he became the Olugbo of Ugboland, he has put the name of the riverine community on the world map with a number of projects such as the eye-popping palace.
In 2014, the flamboyant and colourful traditional ruler was ranked by the Forbes magazine as the second richest king in Africa and the richest in Nigeria. He has a custom built 2012 Rolls Royce similar to that of Queen Elizabeth II.
Aside from this oil and gas business, Oba Akinruntan is also into real estate. He has choice buildings in London and across Nigeria, including the prestigious Febson Hotels and Mall in the Central Business District of Abuja.
The stylish monarch, who sits atop a business conglomerate with interests in petroleum, shipping, construction, fishery, tourism and hospitality, consultancy services and water purification and production, owns one of the most expensive yachts in the country.
Lagos Socialite, Rotimi Ajanaku, Left in the Cold
"A dog about to get lost will not heed the hunter's whistle," so a saying goes.
In Nigerian politics, this proverb says a lot about the political (mis)adventures of Rotimi Ajanaku, famously called Don Dino.
When he declared his intention to contest election to represent Ibadan Southwest/NorthWest Federal Constituency at the Lower Chamber, he was advised to drop his ambition by those who knew better than he did.
But he refused to heed the wise counsel. He went ahead but was beaten again in the primary by the incumbent lawmaker representing the constituency, Saheed Fijabi, son of a popular Ibadan-born socialite and businessman, Akin Fijabi.
Society Watch gathered that this is not the first time the top hotelier would be thoroughly beaten by Fijabi.
Following his second defeat in the hands of Fijabi, the insinuation in some quarters is that Ajanaku had all along been ruled by what many described as bloated ego and, perhaps, his closeness to the number one man of Oyo State, Abiola Ajimobi.
''Ajanaku is being blinded by his dream that he failed to realise that he is a small fry to Fijabi who is well loved here. He did not only lose the ticket, but he also lost a huge amount of money. It was a total loss. He is currently bitter, angry and dejected," a source said.
The businessman is currently left in the cold and yet to get over the incalculable defeat.
Another source claimed that many people don't consider the Lagos-based businessman as a native of Ibadan.
''Ajanaku cannot claim to be a native of Ibadan. His place of origin is shrouded in secrecy. To some, he is from Ilesha in Osun, while some others believe he is from Lagos State. So, it will be easier for a camel to pass through the eye of the needle than him to scale through,"the source added.
Femi Fani-Kayode's Loyalty
Femi Fani-Kayode, a lawyer and former Minister of Aviation, means different things to different people.
While some appreciate his brilliance and outspokenness, some others see him simply as controversial.
However, what you cannot take away from him is his loyalty; he respects the sanctity of friendship and never takes friendship for granted.
Penultimate week, he demonstrated his sense of loyalty when his friend and former governor of Ekiti State, Ayodele Fayose, was arraigned by the anti-graft agency, the Economic and Financial Crimes Commission, EFCC.
He had a ready answer for inquisitive minds and news hounds who sought to know why he was again at the Federal High Court, Ikoyi, Lagos, having previously accompanied Fayose to the Abuja office of the EFCC, where he had gone to honour an invitation for interrogation over some alleged fraud charges.
In response, he was quoted as saying, "I believe in the virtues of courage, loyalty and faith in God. I believe in loyalty to country, family, friends and political party. I am a patriot and I believe in loyalty to Nigeria. I also believe in the unity of Nigeria. I believe in loyalty to friends, through thick and thin. Fayose is my friend and that is why I am here.
"He stood with me during my travails and I am constrained to stand with him during his. I am not a fair-weather friend: I am a real friend and I will always stand with the persecuted, the cheated, the marginalized, the voiceless and the oppressed. Fayose is being persecuted like so many other leaders in the PDP and that is why I am here: to stand firm and show solidarity with him."
Though many argue that his action was just another political stunt, a source close to the smooth-talking politician revealed that one thing you can't away from him is his love for his friends.
The source took Society Watch on a memory lane when Fayose had stood with Fani-Kayode when he was going through same travails in the hands of the EFCC.
' Fayose was there for him during his travails, so he has to show his gratitude. Apart from Governor Wike of Rivers State, Fani-Kayode and a handful of others, no one was there for the ex-governor. So, nothing to sneer at for standing with someone's friend. It is just to show appreciation for what Fayose has done for him in the past, '' the source added.