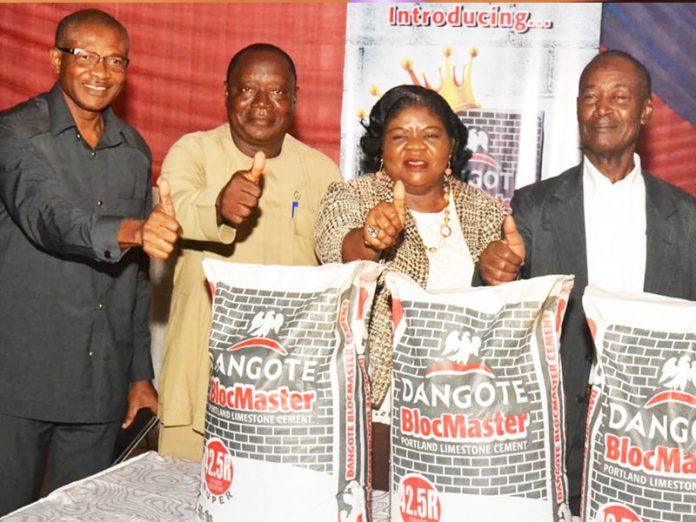 Raheem Akingbolu takes a look at the competition in the cement market and how the Dangote brand is weathering the storm to consolidate its market leadership
The history of cement production in Nigeria can be traced back to 1957. Three cement plants were commissioned by the Northern, Eastern and Mid-Western regional governments. Later, other companies such as Ashaka Cement, Benue Cement Company (BCC), West African Portland Cement Company (WAPCO) and Cement Company of Northern Nigeria (CCNN) and a host of others were established.
But today, there are many cement manufacturing companies in Nigeria with plants located across the country. Key among these companies is Dangote Cement, which started operations in the early 1990s and has so far dominated the cement industry in Nigeria like a colossus.
Dangote's influence has spread over the African nation like a wildfire, and as at the last count, the cement company has established its presence in almost 17 African countries, with revenue in excess of $2.2 billion and far more than 24,000 employees. It is now a fully integrated quarry-to-customer producer with production capacity of up to 45.6 million tonnes per annum (Mta) across Africa at the end of 2017.
Driven by its desire to further enhance cement production in the country, especially in the areas of block moulding, the management researched deeply and came out with a new cement variant, called "BlocMaster". This is said to be the best among its peers in the market.
"BlocMaster" according to the Group Managing Director of Dangote Cement Plc, Engr. Joseph Makoju, is the final answer to the yearnings and expectations of block and concrete makers,
who desire a new product that could combine all the qualities of the existing range of cements in the market. Makoju explained that BlocMaster is a product of intensive research, laboratory and field tests and regulatory authorities' approval. According to him, the new cement comes with a difference and value for money.
He stated that all stakeholders involved in the value chain of cement were part of the research and the eventual formulation of the BlocMaster saying, "all stakeholders were involved, block makers, the regulatory agencies and the customers alike. We took samples to them to test before we finally concluded on the product.
"We identify an opportunity and also a gap that has to be filled and we went ahead to design and formulate the BlocMaster. In addition, we are giving the product out at the best price that gives the best quality.
The Dangote Cement helmsman assured block makers and the distributors of steady supply because the company operates the largest fleet of trucks for distribution of Dangote cement. "We operate over 7,000 truck for product distribution, so there is no issue about timely delivery to every nooks and crannies of Nigeria."
Explaining qualities of the new product, the Dangote Cement Group Chief Marketing Officer, Oared Ojeikere, said Dangote BlocMaster was a premium high strength Portland limestone cement that gives users up to 50mpa in compressive strength after 28 days.
He pointed out that the product was Ideal for concrete applications that required very high final strength and durability.
"BlocMaster has been tested and proven to provide the best performance for all concrete applications that require rapid early strength, higher final compressive strength, and fast setting. It outperforms all other bagged cement products in Nigeria, and it is the cement of choice for all major construction projects", he added. Oare stated that Dangote cement is made in Nigeria but loved across Africa because of its high quality. "And it is because we can vouch for our product's high quality, that is why we are in so many African countries.
"We are the king in this business as we control more than 60 per cent of the cement market. We introduced to you 3X 42.5R, 3X 42.5R, we have Falcon, and now we are rolling out BlocMaster. As the name suggests, we want the name to resonate anywhere cement is mentioned, that is why we called it BlocMaster"
The chief marketer said the unique selling proposition of the new cement was its unparalleled strength as its 15 per cent stronger than any 42.5 grade presently available in Nigeria market. "It's 50 per cent stronger after one day. This means that blocks made could be quickly demoulded, and will be ready for sale faster, increasing the speed at which block makers can meet customer demand.
"BlocMaster with its higher compressive strength will deliver stronger blocks at the same mix ratio as used currently, and can deliver more blocks, if same quality blocks as achieved currently are desired. BlocMaster is a high grade technical product that allows users achieve higher concrete strength qualities with less cement, lowering in the process, users' concrete cost."
In his comment on the product, during the Lagos unveiling, held last week, representative of the Director-General of Standard Organization of Nigeria (SON), Joseph Ugbaja, endorsed BlocMaster, saying it was another quality product from Dangote Cement, a company known for its strict adherence to standard as stipulated by the authorities.
He described as a good development in that Dangote Cement had now produced a higher 42.5 grade of cement, for the use of the block makers.
Ugbaja stated that his organisation had been making routine visits to Dangote Cement plants across the country and had never been found wanting, when it comes to meeting standards. "They always exceed stipulated standards. We are very proud of them.
Also making remarks, National President of Block Makers Association, Alhaji Rasheed Adebowale, said his executive had tested the new product, stating that block makers couldn't expect a better deal when the components of the new cement was analysed.
"I have personally tested the new product and I was 100 per cent satisfied with the result. I also asked some of my members to test it and they also came out with the same response, scoring the BlocMaster 100."
Also in faraway Kano, State Governor Abdullahi Umar Ganduje, called on all Nigerians to patronise the new cement to help minimise the menace of collapse building in the country.
Speaking in Kano recently during the product's unveiling ceremony, the governor commended the management of Dangote Group, adding that it had always been supportive in all sectors of the economy.
In the same vein, Manager, Magina Blocks Industries Kano, Nura Musa Yahayah, said he had used the new product and could therefore recommend it to Nigerians. "I can recommend this product. I have personally used it and I am very convinced that it is the best for those of us who are in the business of cement moulding. It is strong and sets very fast. This is the product that we need at this time and we are grateful to the Management of Dangote Cement for giving us this product," he attested. Chairman, Kano State Concrete Block Makers and Allied Products Association, Alhaji Umar Faruk Musa, was on the same page with Yahayah and even added that the cement innovation would translate into more income for block makers and in the long run for Nigeria.