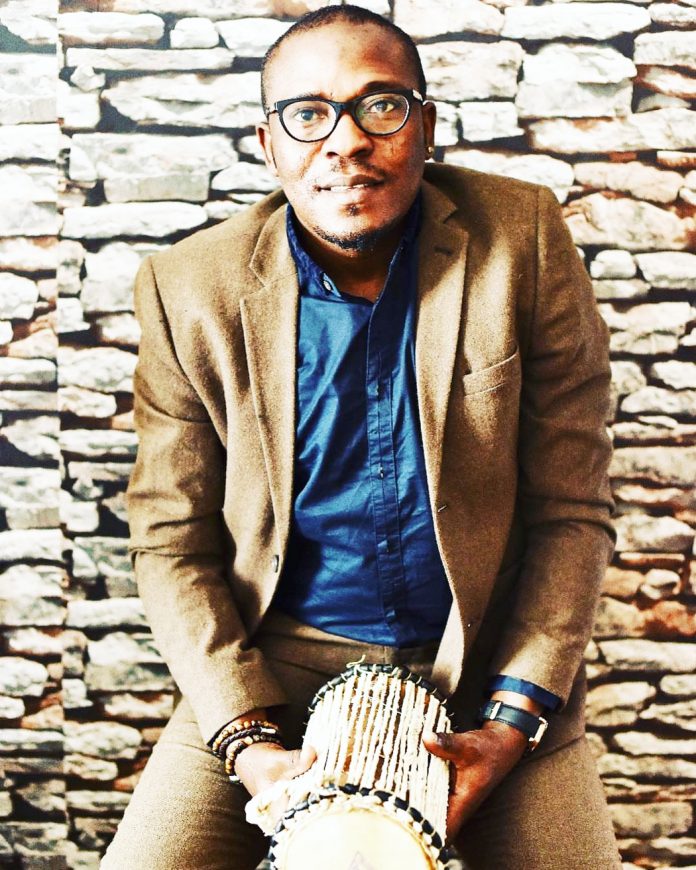 Sunny Melody is a UK-based Nigerian indigenous Juju musician. While at the Ogun State University, he was a member of the school's music band and that kick-started his career before he travelled to the UK in 2000. He shares with Tosin Clegghow his journey started while in school, moving to the UK, his works and more
How the journey started
My journey started from Abeokuta in Ogun State when I was a very young boy and a choir member of an African Church in Abeokuta. I became the choirmaster of this church at a tender age.
How OSU Melody was formed 
The brain behind Osu Melody was Adeolu Adekanmbi who was simultaneously a kegite member in those days. It was formed out of distinction from Kegites and became the official Ogun State University band (now OOU). All members of OSU Melody were kegites when it was formed. 
We were doing Highlife, Juju and all kinds of Yoruba traditional music. I was offered an opportunity to join when I got to OSU, and I obliged without any hesitation. 
Growing up, family and childhood dreams
I was born into a Christian family in Abeokuta and I have always loved music even from the grassroots, and my entire family loves music. My brothers, sisters, uncles, cousins were active in our church choir and it became a tradition for the entire family. I was the leader of my secondary school's "Cultural Group" and I was a member of my University Band (Osu Melody), as I said earlier. To be honest, I never dreamt of becoming a musician because I only saw it as a hobby. I have always wanted to be a journalist or be in any vocation that will give me an active interaction with the public. 
What inspires my musical content
Every "church grown" musician would opt for Juju music because it's next in line to church or gospel music. I stated earlier that I started from the church, so obviously, my choice of circular music would be Juju. I always try to at least send a message to the entire world in my musical content. I so much love educative messages and that's what I always do in my music. 
My definition of Juju music
Juju music is a wonderful style of Nigerian traditional music which derives its flavour from rich Yoruba percussion and strings. It is naturally educative and captivating. I perform with a large band consisting of keyboardists, guitarists, talking drummers, percussionists, backup singers, among others. We rehearse regularly and we have an uncountable number of composed songs. 
How I came about the name Sunny Melody 
My first name is Sunday and that's Sunny, my melody was culled from my University School band days "Osu Melody". It's just too perfect for me, considering these two memorable factors.
Successes and challenges so far
Well, we thank God for the hard-earned success so far. We thank God we have achieved all that can be achievable in the Nigerian context. We have faced so many challenges and, to God be the glory, we are still standing. It's all to the Glory of God. 
I have released four albums so far 
Oyato, my first album was inspired by my journey from Nigeria to the UK and it was released in 2003/2004. On the Dance Floor, my second was inspired by my early settling years in the UK, the Nigerian culture and mentality here in the UK and it was released in 2005/2006. My third one Pasunnification was a collaborative work with Pasuma and it was released in 2007/2008 and was a magnificent success. The fourth, Greater Heights was released in 2013 to appreciate all my fans in the UK and all over the world for believing in me and my dreams. 
Ongoing projects
I have just released a single titled 'Fewa' and I'm seriously working on the video right now. I am also working on another single and another album. 
Who inspired my kind of music
Inspiration comes from God, however, I have always loved the Ebenezer Obey while I was growing up. When I became an adult, I always regard Sir Shina Peters as my role model for bridging the gap between old and young. 
My view about Nigerian Juju artistes targeting the UK
Well, if you ask me, I will say that it's due to the poor standard of living in Nigeria. However, I believe Nigeria is still the best place to showcase one's talents in music. Majority of those here including myself would still want their works to be heard and promoted in Nigeria. What an irony that is? Aside from the UK and Nigeria, I have been to at least 15 countries and I am happy that my music has been accepted everywhere. 
Hip hop music and Juju music
I have always been saying this, Juju music will always be relevant because it derives its roots from traditional music, as long as there are traditional activities, it will always be relevant, whether Hip Hop or no Hip Hop. 
Looking ahead
I see myself still in the industry but doing less singing and promoting upcoming artistes and also engaging in a musical charity programme.