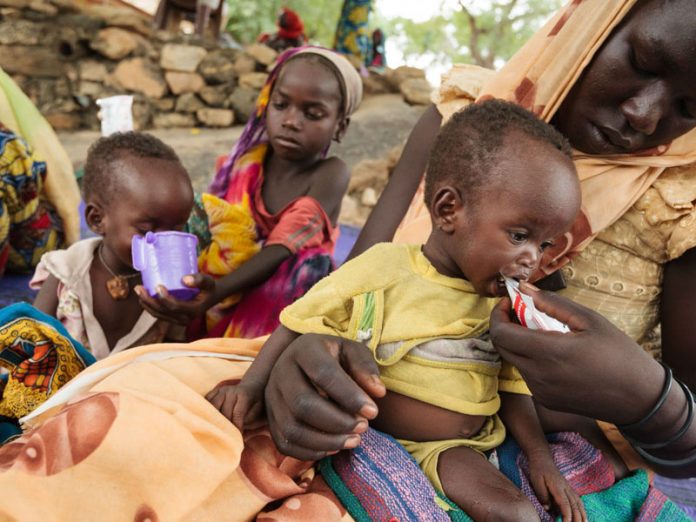 While Nasarawa State Government has increased its nutrition allocation in the 2018 health budget, the non release of the fund, and the overwhelming malnutrition burden in the state has made it impossible to reverse the public health challenge. Emmanuel Ukumba writes
Malnutrition is a leading cause of death among under-five children


Malnutrition, according to the World Health Organisation (WHO), refers to "deficiencies, excesses or imbalances of a person's intake of energy and/or nutrients." Therefore, it is a direct result of insufficient food and nutrient intake or repeated infectious disease or inadequate care practices or a combination of all three.
Perhaps, it was against this backdrop that a nongovernmental organisation, Civil Society-Scaling up Nutrition in Nigeria (SC-SUNN) recently organised a one-day meeting with media outfits in Lafia, the Nasarawa State capital, towards addressing the malnutrition menace bedeviling the state.
Leading Cause of Child Mortality 
Addressing participants at the meeting, the  CS-SUNN Nasarawa State Coordinator, Mrs. Mercy Asso, said the term malnutrition can be classified into over-nutrition and under-nutrition, adding that under-nutrition includes stunting (low height for age), wasting (low weight for height), under-weight (low weight for age) and micronutrient deficiencies or insufficiencies (a lack of important vitamins and minerals).
She consequently blamed malnutrition as one of the leading causes of child mortality worldwide, adding that it is characterised by deficiency of macronutrients or micronutrients, or both.
She continued: "more than 5.9 million children under the ages of five die around the world; 45 per cent of these deaths are attributed to malnutrition. Malnutrition is the cause of about half of all under five deaths in Nigeria."
Asso therefore noted that the first 1000 days of life which begins at conception, through pregnancy, to age two is very important to nutritional issues. Consequently, she said: "A healthy mother is more likely to give birth to a healthy baby and have the ability to care for the child during this most crucial period of development.
"Adequate nutrition, correct and consistent practice of exclusive breast feeding (EBF), eating right proportion of variety of foods such as staple foods, legumes, animal source foods, fruits, vegetables, fats/oils are all essential throughout lifespan but especially within the first 1000 days of life."
Call to Prioritise Nutrition 
When welcoming the participants at the media engagement, the ExecutiveSecretary, CS-SUNN, Mrs. Beatrice Eluaka, said the aim of the meeting was to highlight the nutrition situation in Nasarawa State and government efforts in addressing the menace. She said the engagement was also to call on the Nasarawa State government to prioritise nutrition and ensure timely releases of funds allocated to nutrition in order to scale up nutrition interventions in the state.
According to her, "CS-SUNN commends the state government's commitment to
addressing malnutrition in the state. One of such efforts is evident in the budgetary allocations made to nutrition. The state government also recorded some progress on the implementation of the National Strategic Plan of Nutrition as is evident in CS-SUNN's performance scorecard in 2016 which scored the Nasarawa State government 56.8 per cent in the implementation of the plan."
Worsening Situation 
However, despite the gains made in the state, she said the non-release of funding allocated to nutrition has also worsened the malnutrition situation in the state. She said: "We want to draw attention to the fact that the burden of malnutrition in the state is much bigger than the nutrition allocation in Nasarawa state. The attendant non-release of funding allocated to nutrition also worsens the situation thus making it impossible to reverse the disturbing statistics on malnutrition in Nasarawa State.
Statistics
She further stated that "available data from the National Demographic and Health Survey (NDHS 2013) and the latest Multiple Indicator Cluster Survey (MICS 2017), indicate a rise in the state's malnutrition burden."
Eluaka continued that malnutrition, which continues to be a key contributor to infant and maternal mortality and morbidity also leads to poor cognitive development and increased severity of diseases, adversely affecting under-five year children in the state.
She therefore revealed that the 2013 NDHS reported a stunting rate in Nasarawa state of 34.5 per cent, while underweight and wasting rates were put at 20.9 per cent and 9.8 per cent respectively, even as she continued that the latest Multiple Indicator Cluster Survey (MICS 2017) shows a higher rate of stunting at 37.2 per cent, and lower rates of underweight and wasting at 20.7 per cent and 6.8 per cent respectively.
She further explained that: "stunting in children under five years is a condition of physical and intellectual impairment that has lasting negative effects, and it is defined by low height for age. Stunting is a condition in which the child is too short for his or her age with accompanying poor brain development and is a result of long-term under nutrition.
"Globally, stunting is currently an indicator for measuring a country's development and it is a fact that malnutrition impedes economic development, hence the need for urgent action to address the problem."
Emergency Action
Wasting or acute malnutrition, according to her, "is a condition whereby a child is too thin for his or her height as a result of long-term or current under nutrition or illness. The current wasting rate in Nasarawa State is above the WHO acceptable level and calls for emergency action."
Consequent upon that, the ES called on the state government to ensure timely release of funds allocated to nutrition as well as effective and efficient utilisation of nutrition funds. "We charge the state government to ensure release of the funds allocated to nutrition this year. The state government needs to provide clarity in budgeting for nutrition to include preventive interventions such as promoting nutrition education to ensure optimal infant and young child feeding practices, staple food fortification and maternal nutrition programmes.
"These measures will prevent more children from becoming malnourished and ensure that cured children do not relapse upon discharge from the treatment centres, as is currently the case in many communities," Eluaka maintained.
She also urged the media to step up reportage of nutrition issues to draw the attention of policy makers and concerned stakeholders on the urgent need to take the right steps towards curbing malnutrition in Nigeria, particularly in Nasarawa State.
Overall Goal of PINNS
In her remarks at the engagement meeting, the communications officer of CS-SUNN, Lilian Ajah-mong, said the Partnership for Improving Nigeria Nutrition System (PINNS), was designed to strengthen Nigeria nutrition systems to be more result driven, effective, serviceable, efficient and transparent.
According to her, "the overall goal is to contribute to the reduction of malnutrition among women and under five children by strengthening the Nigeria nutrition systems."
She said specific goals of PINNS are to improve implementation of National Multi-Sectoral Strategic Plan of Action for Nutrition (NMSPAN) with focus on high impact nutrition interventions in the health and agriculture sector strategic plans designed to contribute to reduction in maternal and child malnutrition at national and focal states, and momentum for scaling up nutrition in Nigeria, through concerted Civil Society Action.
Nevertheless, Ajah-mong's advocacy and appeal to the media during the engagement meeting was the call on media to increase reportage of nutrition issues in Nasarawa State, setting nutrition as an agenda for discourse on public opinion making tables, increasing their watchdog function via investigative reports around nutrition issues.
She concluded that the watchdog function will contribute to holding government accountable to their commitments on nutrition, continuing that the media should become champions and advocates for nutrition via their reportage.