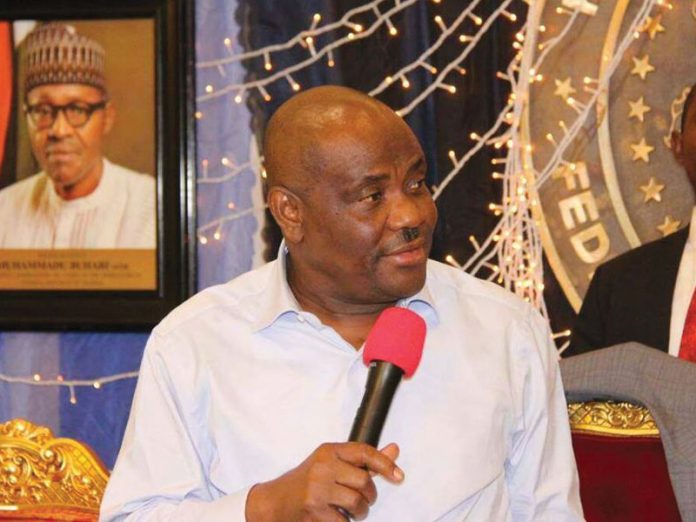 Ernest Chinwo in Port Harcourt
Rivers State Governor, Nyesom Wike, has declared the National Council for Arts and Culture (NAFEST) is a unifying force for the country.
The governor made the declaration yesterday evening at the opening ceremony of the 31st National Council for Arts and Culture, NAFEST Rivers 2018, at the Sharks Stadium, Port Harcourt.
Dressed in beautiful Rivers Traditional Attire with a walking stick to match, Wike stated that NAFEST 2018 would serve as a unifying force for the country .
With the theme: "Nigeria: Our Festivals, Our Heritage", NAFEST Rivers 2018, attracted 18 States of the Federation, Rivers State included.
The governor said culture empowers humanity by improving inter-personal relationships, noting that NAFEST is a platform for the states to make the most of the nation's culture.
He said: 'Whether we agree or not, our diversity is what defines and binds us as a nation under the glorious sun. Although our tribes and tongues may differ, we are a nation bound by a common destiny and firmly glued together by the spirit of brotherhood, cultural harmony, and inter-ethnic solidarity instead of discord, tribalism, nepotism and sectionalism.
"What is imperative therefore is for us to take full advantage of the innate strength in our diversity together with our incredible human and natural resource endowments to build a just, united and prosperous country for the present and future generations."
Wike added that the essence of the festival is to promote national peace, unity and cohesion.
He said: "Over the years, NAFEST has become the veritable platform for the 36 States and the Federal Capital Territory to meet, showcase and make the most of our cultures and diversity.
"In addition to celebrating the rich cultural tapestry of our country, NAFEST also provides the opportunity for cultural activism with the use of creative images and expressions to engage or take on our leaders on the politics of nation-building, human rights, regional integration, inter-ethnic harmony, national peace and development."
In his remarks, Director General of NAFEST, Otunba Olusegun Runsewe, commended the governor for making history for the people of Rivers State.
He said: "Almighty God will repay Governor Wike for his contributions to the peace that he is promoting ".
Runsewe said Rivers State is peaceful, that is why the state is hosting several international and national events. He said that outside Lagos and Abuja, Port Harcourt enjoys the highest air traffic and hotel patronage in the country.
Rivers State Commissioner of Culture and Tourism, Mrs Tonye Oniyide Briggs, said Rivers State is fully prepared to host the very best NAFEST since its inception.
Chairman of the events, Chief Ferdinand Alabrabra, said Rivers State is the choice of all major national events because of its strategic peaceful nature.
All the states that participated at the event displayed splendid cultures and dances as they paraded round the stadium.
The 23 Local Government Areas of the state also displayed their rich culture and tradition.
Youths spiced up the event with wonderful callisthenic displays that thrilled the thousands of spectators at NAFEST Rivers 2018