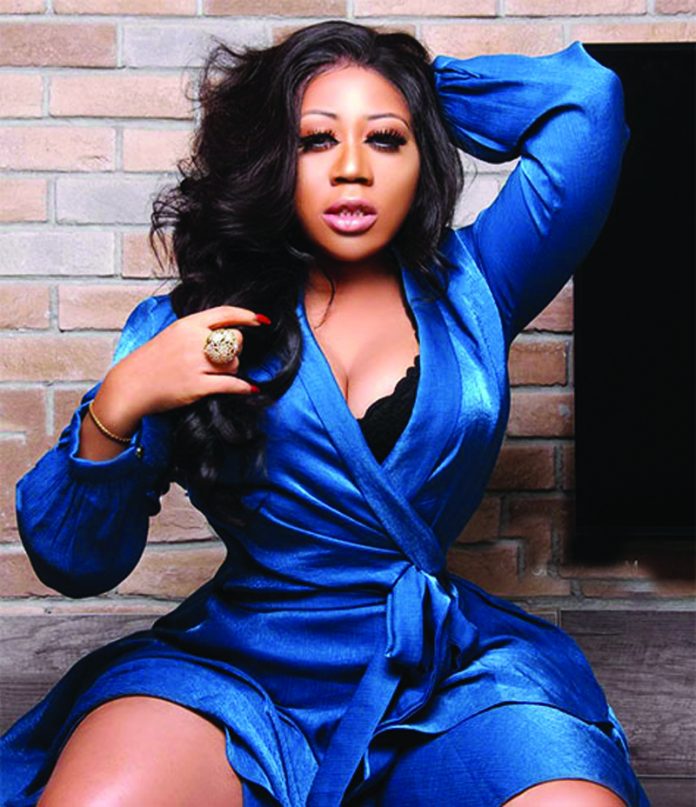 Nollywood "bad girl' Moyo Lawal is in need of a man. She is tired of sleeping alone. Moyo expects a man to show up this year and make her happy, reports Ferdinand Ekechukwu
Who doesn't know Moyo Lawal? The Nollywood celebrity who of recent, pulled a Kim K stunt with her picture from a makeup line photo-shoot perceived to be a nude shoot. The vixen who once assumed that many have quickly passed her off as a bad girl who loves to show off her body . . . The diva who loves sharing lewd contents on social media and often attract diverse reactions, criticisms and few praises.
Or let's say, the Barbie is fond of dropping suggestive photos for her fans online. The entertainer has had the most attacks on social media perhaps after Toke Makinwa and Cossy Orjiako. The Moyo who got her mojo putting up body part contest for her followers to mention the favourite part of her body they think she loves and win a prize in return. And lately, the single lady seems tired of sleeping alone and now expects a man to show up this year and make her happy. Well it all seems like her antics to be on the spotlight.
The Nollywood actress is at it again and this time, took to her Instagram page and gave a hint that she is ready for a serious relationship. The screen star who claims she hardly have much sex, says she is tired of sleeping alone. Expressing her feelings, she wrote: "Our society is so bad and corrupt that a single lady being tired of sleeping alone is weird . . . You people realise, you are supposed to be sleeping alone till you are married abi . . . But then what do I do now . . ." For quite some time now Moyo has not been linked to any man or to any romantic relationship.
The curvaceous actress is famous for her racy photos. Sometime in 2014, the 'Shallow Waters' entrant went off social media. According to her, she was beginning to question her career choice. "I went on a hiatus from social media because there were too many questions I was beginning to ask myself about my industry, career choices and public perception of my image", she wrote on her return.
Following her return, the actress has had it in all shades of controversy. Moyo has had to grapple with being seen as loose and promiscuous.
A product of "Next Movie Star" TV reality show, Moyo has featured in numerous movies and soaps. Among the many movies she acted in are Big Gals on Campus, Cloud of Pain, Mistresses, Never Love a Prince, Thanks For Coming, Judas Game and Now We Are Married . One of her prominent works is Tinsel, the soap opera where she played a role of Chinny. Apart from that, she appeared in the comedy series Jenifa's Diary. The actress is known for her role in the movie Holding Hope, and the family drama series Fuji House of Commotion, produced by the late Amaka Igwe.   
Sassy, famous, and controversial, Moyo has had her streak given her so many amazing challenging opportunities in not just acting but in dancing, music, fashion, hosting, etc. with her growing Instagram followers in the range of 490,000. Fans of Moyo were left to wonder if the notable actress really has a low self-esteem which she covers with confident photos and direct interviews or she is just speaking this way to get more compliments. Rotund Moyo was a regular girl who attended Tomobid Primary School.
She proceeded to Lagos State Model College and thereafter, she chose Theatre Arts in University where she successfully earned her Bachelor degree. Even if she has natural ability to act, her higher education institution shaped her professionally and as a person. Before developing her successful movie career and becoming popular, she kept receiving small roles in low-budget productions. She also once revealed that she does not understand why people call her hot when she considers herself really far from that.
The feisty Nollywood actress is never out of circulation when it comes to being in the eye of the social media storm. The Badagry-born has been reported to be so active on her Instagram page. Most of her focus has been about sex and relationship, to the extent that one of her followers had to remark that the actress is obsessed with sex. She has said it time and time again that she would pick good sex over money if both come knocking at her door when asked to pick one out of a variety of men with different endowment. "It would be really sensible picking a man with money, but I'd rather go for what I lack right now, which is good sex."
PIX:  Moyo.jpg