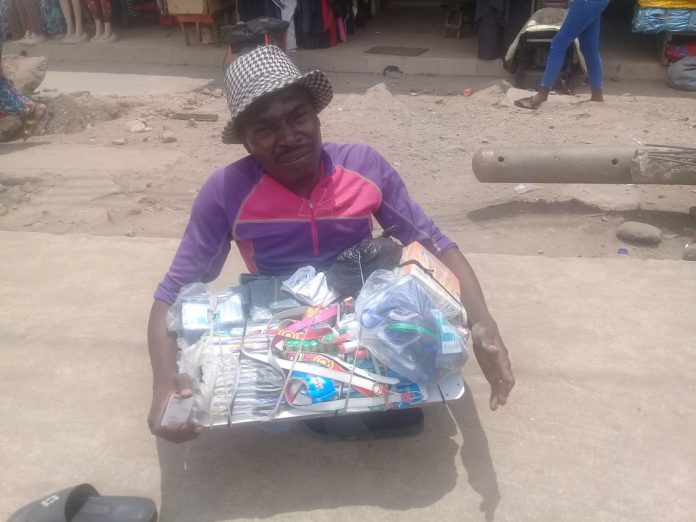 Sunday Ehigiator writes that the cliché ability in the disability was recently reinforced during a chance meeting with one Usman Musa, who despite being disabled, has vowed to shun begging and eke a living legitimately
Usman Musa might look unassuming to a first timer at the ever bustling Oshodi Market in Lagos, but his grasp of English language and positive outlook at life soon endears him to you. Born crippled coupled with a huge hunch on his back, he decided to make the best of the situation as against begging, which is one of the favourite past times of such disabled persons.
Armed with N5,000 given to him as a gift, he decided to turn his crippled legs to a table to display his wares, which ranges from identity card holders to belts, pens, handkerchiefs, complimentary card holders and others stationeries.
The 30-year-old man from Daura Local Government Area in Katsina was living with his parents in the village until he made up his mind to leave. According to him, his old parents were so poor they could barely take care of themselves talk more of an extra mouth with the little they make from subsistence farming.
Five years ago, after attaining the age of 30, he decided to take the bull by the horns and strike out. He left Katsina with his brother as a step of faith without knowing what the future held in store for them. After the initial troubles as strangers in another land, they were able to find a place to lay their heads in Agege.
Reminiscing he said: "We decided to leave Katsina for Lagos State to seek greener pastures so we don't die of hunger and sufferings. When I got to Lagos, I had issues getting work because of my condition. Although I can do most of the works physically abled men can do, but nobody gave me a chance because of my condition. People won't even consider me to work for them in some cases even though in some cases, I know I can give it a try.
"One of such times was when I went to a construction site and offered to break some stones for a pay. They chased me away. However, my brothers who work on such sites usually give me stipends from what they were paid. I appreciate their gestures but I hate being a burden to them."
With no immediate alternative in sight, Adamu said he was forced to resort to begging with his disabled brothers. He said: "At a point, I took to begging for alms like my other deformed brothers, since I hate to be a burden on them. I even tried to apply for a security job but landlords won't consider me at all for it."
On how he took to his present job he said: "I met a man in a hotel that I went to beg for alms three years ago, and I asked him to help me. He asked me what I really wanted him to do for me. I told him that I want to start a business, that he should provide me with capital. He asked me that how much I would need to start up, and I told him N5000.
"He asked me again to make sure I had my facts. When I replied in the affirmative. So, he gave me N5000, and told me to go and buy the goods I want to be selling and come and show him. I went to buy it and came to show them to him, afterwards. That was how I started this business. So I have been doing this business for three years now."
On how much he makes from the petty trade on a monthly basis he said: "It depends, but sometimes, I make between N10,000 profit and N20,000 profit on a monthly basis. Sometimes, I could make less because of low patronage, but at least, I am no longer begging and I even send money to my parents and help friends in need once in a while, when I have the capacity."
On his big dream about his business he said: "I wish to have a stocked up provision shop for my business. Selling around in streets, under the sun and rain is very stressful and limiting. I can only sell goods that water and sun cannot affect and that is why I am selling biros, pencil, pen, ink, and the likes. If I have a shop, I can add more stocks and sell other things and even help other people out of begging. But, I don't have money and I cannot afford more than this level I am now, except someone else comes to my aid."
Usman called on others of his ilk to shun street begging, especially if they can do better. He said: "A lot of them are not sincere and are lazy. Some of them would see help from people that even give them huge money that they could start a business with, but they will squander the money and go back to begging. And that is why, most people find it difficult to help us, because of the insincerity of some of my brothers.
" I see that as laziness. I want to advise them to be sincere and dream to have a better life off begging from the street. Let them learn not to eat with all fingers and save some for business. If people volunteer to help them and empower them, they should not be lazy. They should be very hard working so that the helpers would be encouraged and further help them."