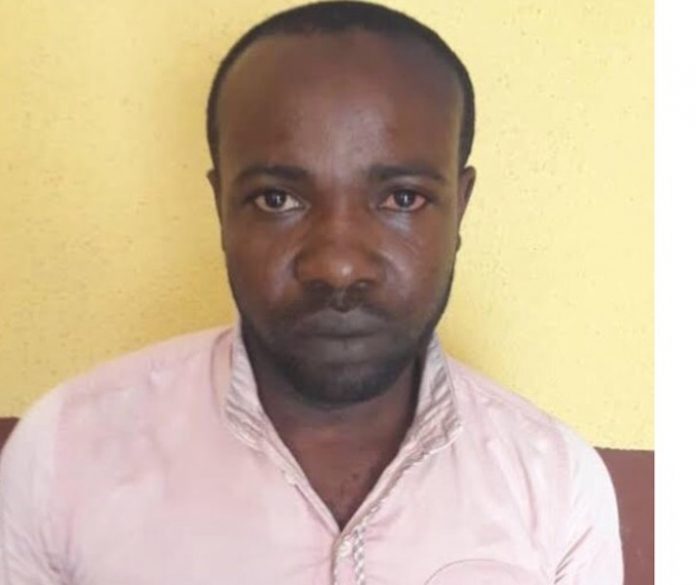 Rebecca Ejifoma
The Lagos State Police Command has arrested a landlord, Mr. Trust Ezekiel, 34, for allegedly defiling five of his tenant's sons at their Ijanikin residence, THISDAY can exclusively report.
The suspect has for years allegedly molested the children in his compound until the 10-year-old, who had endured the molestation for five years got fed up and opened up to another child.
The alleged paedophile and landlord of no 10 Paul Anyawu Street, Era Ijaniki Lagos, was arrested on Friday, October 11, after the 10-year-old let the cat out of the bag.
Accoring to the minor, since age five, the landlord had been sleeping with him through the anus.
Ezekiel, who is married and has two children, both girls, was said to have threatened the survivors that he would kill them if they spoke up.
One of the survivor's, who cried that he didn't want to die, said, "He always used olive oil to rub my anus then put his manhood inside. I always cry because it is painful."
According to a source in the neighborhood who spoke to THISDAY on anonymity, this abnormality had been going on for years without any suspicion.
However, the landlord got arrested after the little boy complained to his elder brother and another little neighbour, a boy, who all concurred and echoed that the landlord threatened to kill them if they ever say anything to anyone.
He said: "In the process of recounting his ordeal, one of the the boy's mother heard it and questioned them and they confessed.
"That was how the woman became enraged and involved people and the police into the matter."
The suspect, who is currently at the Gender Unit of the Lagos State Police Command for investigation, is currently undergoing interrogation.
Confirming the arrest to THISDAY, the state Police Public Relations Officer, CSP Chike Oti, said further investigation is ongoing.
Oti confirmed the little boy's testimony that the landlord had been penetrating him through the anus for years now, adding that "the little boy decided to let the cat out of the bag just on Friday after a long time".
Meanwhile, the state Commissioner of Police, Imohimi Edgal, has warned parents to watch over their sons with eagle's eyes.
He said: "You must watch over these children. They are vulnerable and easy to fall prey.
"Who is your neighbour? Who lives in your neighborhood. Who does your child move with?"
Edgal has, however, assured Lagosians that the man must face the full wrath of the law on completion of investigation.
Speaking to THISDAY, the Child Protection Network Coordinator for Oshodi-Isolo, Mr. Ebenezer Omejalile, said they would act swiftly to ensure the survivors (all boys) get medical and psychological help.
He said: "The trauma is what will affect them. They need urgent help. And we will not rest until the perpetrator is punished for his heinous crime against these children, their parents and the nation."