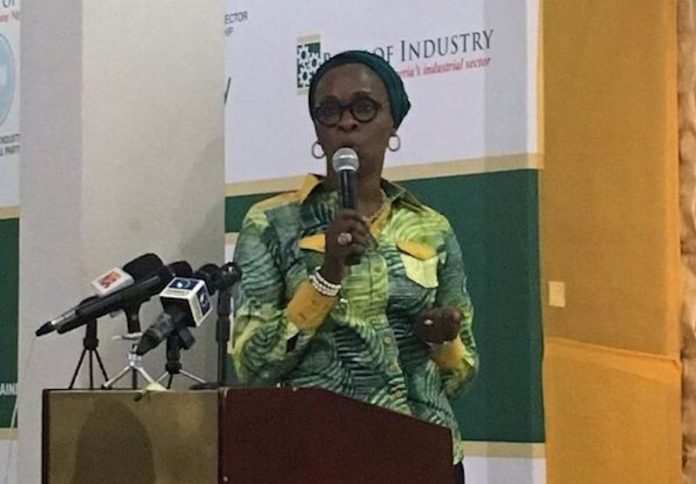 Jonathan Eze
Executive Director, Bank of Industry (BoI), Toyin Adeniji, has said the Trader Moni programme was part of government efforts aimed at reducing poverty at the grassroots level.
According to her, the programme would be activated in various markets nationwide and would support two million Nigerians to grow their businesses through access to collateral free loans irrespective of their status or level of education.
This was revealed yesterday as no fewer than 10,000 petty traders in Ogun State accessed the non- collateral free loan of the federal government to expand their business activities.
Speaking at the activation initiative at Sango Ota market in the state, Adeniji said the goal of the scheme was to take financial inclusion down to the grassroots whereby water seller, bread seller, food vendor, commercial motorcyclists among others can access micro credit to expand their business.
According to him, "Trader Moni initiative is a mobile phone-driven. After your details have been captured by agent and sent to BoI system for validation, within 48 hours, you will get cash notification in your mobile wallet account.
"You can either transfer the cash to your bank account or cash it out with any mobile money agent around."
The federal government had earlier unveiled the programme under the Government Enterprise and Empowerment Programme (GEEP) in partnership with the Bank of Industry (BoI).
Chief Operating Officer of GEEP, Uzoma Nwagba, said the initiative was targeted at 30,000 traders in the state.
He urged beneficiaries to do their best to repay the loans so that others can benefit from the opportunity of the programme.
A food seller, Mrs. Sarah Arisekola, commended the government for the initiative, adding that the money would assist her get more foodstuffs for her business.
Also, Mrs. Bunmi Olutobi, who deals on jewelry, said the economic situation of the country was harsh, but with the initiative from government, many traders would experience financial relief.