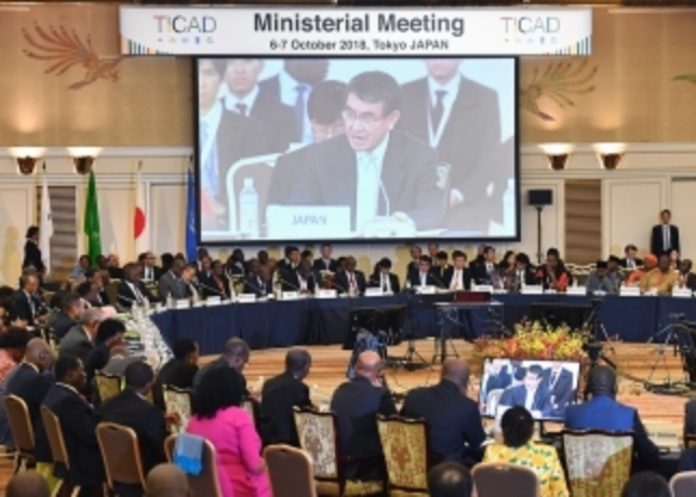 Over 2,100 participants made up of African countries, Nigeria inclusive, recently attended the Tokyo International Conference on Africa Development (TICAD) ministerial meeting in Tokyo. The event which was jointly hosted by the Japanese Government, the United Nations, the United Nations Development Program (UNDP), the World Bank and the African Union Commission (AUC), among other things, was to set an agenda for African development conference expected to hold next August in Yokohoma, Japan. Iyobosa Uwugiaren, who attended the meeting, reports
For two days – October 6 and 7, the beautiful city of Tokyo, witnessed a huge surge of visitors, mainly from Nigeria and other African countries.
With about 2100 participants (from 52 countries), including 24 foreign Affairs Ministers, development partners, international organizations, local authorities, representatives of civil societies, and private companies, who were in the city for Tokyo International Conference for Africa Development (TICAD) ministerial meeting, the participants reviewed issues affecting Africa: Africa's swelling debts, infrastructure deficit, environment, good governance and other development burning issues.
And at the end of the two-day meeting, they agreed on the urgent need to take policy actions to address the continent's vulnerabilities in other to achieve its sustainable economic growth.
The high-power delegations from 52 countries also acknowledged challenges, ranging from building infrastructure and better utilizing of human resources, particularly young people, to beefing up maritime security and boosting resilience against climate change.
From contentious issues around Africa countries, particularly in Nigeria, a demand for infrastructure building has been on the rise, while proper debt management for such projects has been more and more seen as necessary.
Declaring the meeting open, which also had representatives from the The World Bank, African Union, UNDP, UN and others, the Foreign Minister of Japan, Mr. Taro Kono, emphasised the issue of Africa's swelling debts, saying he and the other participants shared the importance of making sure that borrowing countries can pay back debts and sustain fiscal health. He said the basic principles of the TICAD process are transparency, consistency, and follow-ups
Apparently preparing the minds of participants — ahead of the 7th Tokyo International Conference on African Development (TICAD) summit scheduled for Yokohama next August, the Minister's remarks came amid growing concern about debt's defaults by some African countries, especially Nigerian; borrowing worryingly from other countries, particularly China.
Towards infrastructure development in Africa, records show that in 2016, Japan pledged $30 billion in development assistance from both the government and private sector for Africa over a three-year period. But Minister Kono recognised that progress made so far had not been sufficient, stating that the deterioration of debt sustainability in some African countries had prevented Japan from extending yen loans.
For instance, a debt statistics from the Debt Management Office (DMO) has shown that Nigeria's external debt rose from $10.32bn in June 30, 2015 to $22.08bn as of June 30 this year, a strong indication that the country's external debt commitment has grown by 114.05% in the last three years.
For the bilateral agencies alone, Nigeria is indebted to the Export-Import Bank of China with a portfolio of $1.91billion; the Agence Francaise de Development with a portfolio of $274.98million; the Japan International Cooperation Agency with a portfolio of $74.69million; the EXIM Bank of India with a portfolio of $4.76million; and Germany (KFW) with a portfolio of $132.24m.
It became obvious during the meeting that enhancing connectivity through quality infrastructure is important for Africa to engage in global trade and seek growth led by the continent, informing why the participants called for digital, institutional and people-to-people connectivity — as all of the domains are central to Africa's development.
Japanese government propelled the TICAD framework in 1993 to put high-pitched international focus on African development, a continent today many experts believe is facing more sundry and complex needs in the face of economic growth.
Under its strategy to realize a "free and open" Indo-Pacific region, Japan seeks to enhance connectivity from Asia all the way to Africa and also promoting healthcare coverage for all and share knowledge and expertise in disaster response and prevention. The promotion of quality infrastructure is one of the initiatives undertaken by Tokyo, not just in Africa but in Southeast Asia, Japanese government said.
As part of the side events during the ministerial meeting which took place at the expansive Tokyo Prince Hotel, the African Clean Cities Platform (ACCP) gave an overview of its activities in past few years.
ACCP is a platform created in April 2017 with the initiatives of the Ministry of the Environment of Japan, the Japan International Cooperation Agency (JICA), the United Nations Environment Program (UNEP) and the United Nations Human Settlement Plan (UN-Habitat) and City of Yokohama, and currently with 62 cities in 34 countries in Africa, including Nigeria participating, to share knowledge and promote the Sustainable Development Goals (SDGs) on waste management in Africa with the aim of African countries realising clean and healthy cities.
Making a presentation, a senior staff of the United Nations Environment Programme (UNEP), Dr. Shunichi Honda, said that in spite of several efforts made by African countries to address waste management issues, economic growth and urbanisation had continued to compound the problems of waste management, adding that it was becoming more and more serious due to insufficient collection services and inappropriate disposal.
He expressed concern over illegal dumping and burning of waste results, and said that adverse effects on the environment and human health were huge, saying it could impede economic activities and cause infectious and water-borne diseases, especially in slum areas.
Accusing African countries of not giving priority to the challenges, Dr. Honda said that the policy priority of waste management was still low, adding that local governments did not have enough financial and human resources, as well as equipment and facilities, and their O&M capacity to manage the waste.
He added that the urban population in Africa, was currently about 450 million people (40% of the total population), and was increasing, nothing that it is estimated to grow threefold by 2050, with a huge challenge for African countries to sustainably bear the cost of urban sanitation, since the average income was relatively low compared to urbanisation in Asia.
To respond to these issues, during TICAD VI in Kenya on August 28, 2016, the Japan International Cooperation Agency (JICA) organised a seminar on waste management in Africa titled "Capacity Development to Achieve the SDGs on Waste Management: Toward Clean and Healthy Cities in Africa," along with Nairobi City County (Kenya), the United Nations Environment Programme (UNEP), the United Nations Human Settlements Programme (UN-Habitat) and the Ministry of the Environment of Japan (MOEJ).
About 180 participants from governments, including Nigeria and private sectors from nine African countries, reaffirmed the importance of appropriate waste management in African cities, shared good practices and lessons learned, while proclaiming the promotion of further cooperation, such as establishing a platform among African countries and partner organisations for more knowledge sharing and networking.
As a follow-up of TICAD VI in consideration of the resolution, MOEJ and JICA established "African Clean Cities Platform (ACCP)," and organised its Preparatory Meeting and a Knowledge-Sharing Seminar on "the Project for Promotion of Sustainable 3R Activities in Maputo" along with Maputo Municipality (Mozambique), Ministry of Land, Environment and Rural Development of Mozambique, the UNEP and the UN-Habitat between 25 and 27 April, 2017 in Maputo, Mozambique.
Its mission is for African countries to realise clean and healthy cities and achieve the SDGs on waste management by 2020 and provide an open platform to support African countries and cities to find their own measures and solutions for appropriate waste management and the achievement of SDGs.
Strong call for African and Japanese businesses
Another side event also called for African and Japanese businesses to be deepen. Data recently presented to THISDAY from the Japanese embassy in Nigeria has showed that Japanese business presence in Africa, especially in Nigeria, has progressively improved in the past few years, with official figures estimate that in 2017, 795 Japanese corporations were doing profitable businesses in the continent, up 7.7% from 738 in 2016
At the high-level thematic side event at the TICAD ministerial meeting — organized by the Japanese Ministry of Foreign Affairs, the Japanese External Trade Organization (JETRO), and the United Nations Development Programme (UNDP), titled ''Leveraging Business Opportunities: A Call for Japanese Business Sector'', representatives of the African and Japanese private sector shared insights on how to better leverage business prospects in Africa. In attendance were Mr. Masahisa Sato, Japan's State Minister for Foreign Affairs; Ms. Ahunna Eziakonwa, UNDP Assistant Administrator and Regional Director for Africa; Mr. Estifanos Afeworki Ambassador of Eritrea, Dean of the African Diplomatic Corps in Japan; Dr. Kouassi N'guettia, Director of Economic Affairs, African Union Commission; Ms. Bajabulile Swazi Tshabalala Vice President of the African Development Bank; Toshitake Kurosawa Director of the World Bank, IFC Tokyo Office and Ayodele Odusola, Chief Economist UNDP Africa.
"Deepening strategic partnership between African and Japanese businesses to provide development solutions to the challenges pose by the SDGs will not only help achieve the objectives of TICAD but also help accelerate the achievement of the SDGs and Agenda 2063",UNDP Assistant Administrator and Regional Director for Africa Eziakonwa declared as she delivered the event's opening remarks.
In a panel moderated by UNDP Africa Chief Economist Ayodele Odusola, participants discussed the private sector's reticence to invest in one the fastest growing regions in the world and urged them to consider the potentially high level of returns. It is estimated that between 2006 and 2011, Africa had the highest rates of return on inflows of Foreign Direct Investment – 11.4% compared to 7.1% globally.
Panellists indicated that the key drivers of growth in Africa such as agriculture, infrastructure: electricity, rail, roads, irrigation facilities and logistics; ICT and banking and finance were those very sectors were Japanese business had a comparative edge.
They welcomed export processing zones, industrial clusters, merger and acquisitions, joint venture with local corporations and public private partnership (PPP) as average avenues for engagement, urging Japanese banking sector to take courageous steps to join the fray.
The side event is the part of discussion series on the private sector engagement tiled "Japan-Africa Business Dialogue: Looking Ahead to TICAD 7."
On her part, Toshitake Kurosawa, the Director of the World Bank, IFC Tokyo Office canvassed the need for innovations to implement the Sustainable Development Goals by expanding women's economic; professionalizing cross-sector collaboration to implement the SDGs; building sustainable financing architecture to achieve the SDGs; making rural areas places of opportunity and not just a rural agenda and other recommendations.
Emphasising the position of the Japanese foreign affairs minister during his presentation at the event, Mr. Kenji Yamada, Parliamentary Vice-Minister for Foreign Affairs of Japan said that Japan had been one of the first countries to advocate the concept of human security as a principle of its foreign policy, saying human security had also been the core element of TICAD, which will contribute to the achievement of Agenda 2063 and Sustainable Development Goals through building a healthy, sustainable and stable society.
For instance, he said Japan has long been the leading advocate of global health, as symbolized in Japan's initiative to introduce global health issues for the first time at the G8 KyushuOkinawa Summit in 2000.
He added that following the Ebola outbreak some African countries in 2014, Japan took up the concept of Universal Health Coverage as an important pillar of the G7 IseShima Summit agenda for the first time in 2016, and again at TICAD VI held in the same year, stating that since then, Japan had been putting strong emphasis on UHC in Africa, through health projects including the provision of policy-based program loans in Kenya and Senegal.
Yamada added, ''Building on these efforts, we held the UHC Forum 2017 in Tokyo. Japan is further determined to focus on capacity building and human resource development in the health sector in Africa, in close coordination with international organizations.''
He promised that Japanese government will continue its efforts to address new issues in Africa, such as sustainable health financing, including increased domestic resource mobilization, as well as the enhancement of the role played by the private sector.
Giving the summary of the outcome of the meeting, the Japanese Foreign Affairs Minister said participants for two days reviewed positive macroeconomic trends and commended recent achievements such as the signing of the Agreement Establishing the African Continental Free Trade Area (AfCFTA), as well as national and regional efforts to improve societal resilience in areas including health, education, and disaster risk reduction.
''We saw examples of improved governance such as peaceful power transitions and movements towards peace in some African countries. On the other hand, we recognized that challenges remain in every field, including the issue of debt sustainability'', he stated.
''I also reconfirmed the high expectations from Africa for increased private investment to the continent, especially towards Japanese companies. Japan is committed to enhancing public and private partnership with Africa.''
He said the meeting also reaffirmed that economic diversification and value addition are necessary for sustainable development, saying as potential drivers of economic and social transformation, saying, ''we identified areas including: modernization of the agricultural sector; fostering of Micro, Small and Medium Enterprises (MSMEs); and promotion.''
The meeting also reiterated the remarks by Minister for Foreign Affairs of Japan at the closing session of the TICAD Ministerial Meeting – the importance of enhancing the blue economy in tandem with promoting maritime security and the rule of law; recognizing the need to address some bottlenecks urgently, as unsustainable debts and insufficient business environments hinder public-private investment.
The meeting also identified progress made in the area of human security, affirming that the promotion of universal health coverage will be strategic to enhancing the resilience and productivity of societies.
Emphasizing the importance of disaster risk reduction (DRR) — as African countries could be the most vulnerable to climate change impacts, the meeting agreed that issues of rapid urbanization and demographic change were other important topics as well.
It also reaffirmed its determination to build a peaceful and stable region, placing importance on good governance, rule of law, and human rights in Africa, saying it goes without saying that to find African solutions, African voices should be duly heard and reflected.
The meeting took up the issue of "connectivity", developing thoughts on how to enhance connectivity in terms of physical connectivity through quality infrastructure, connectivity through digital infrastructure and institutional harmonization, and people-to-people connectivity through exchange of people including in tourism, culture, sport and academia.
It agreed that key infrastructure, including international ports, needs to be operated in a fair, open, and transparent manner, while fully reaffirming their commitment to working together towards the success of TICAD 7 and realization of Agenda 2063 and SDGs through the TICAD process.
The resolutions of the ministerial meeting will be placed before TICAD, scheduled for August next year at Yokohoma, Japan.