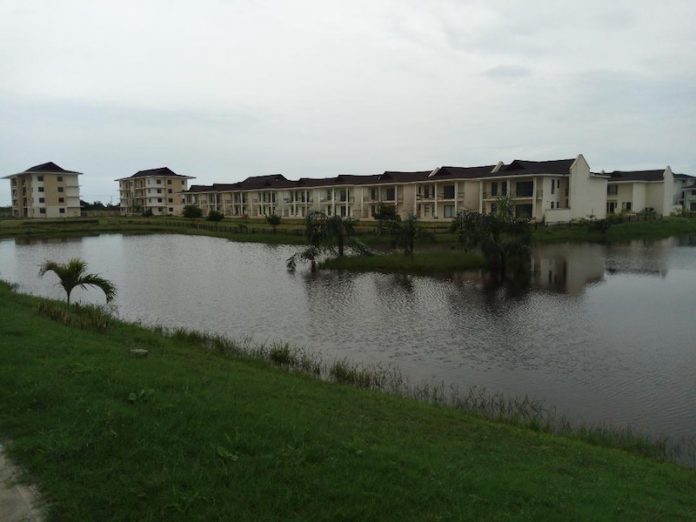 Bennett Oghifo
Mixta Africa, a subsidiary of ARM Limited, is developing affordable housing units in its Lakowe project of the Lagos-Epe road.
This is the second phase of one of its affordable homes project in the property market, and it is modeled after Residence de la paix (RDP).
The scheme is an affordable, well-planned, mixed-use estate in Lakowe town, along the Lekki-Epe expressway. Apart from the completed units, RDP is also available in two and three bedroom shell configurations and serviced plots. It comes with its own standard amenities including roads, power and water supply systems.
The first phase of the scheme of 96 housing units has been delivered while the second phase comprising 112 housing units of terraces and flats is set to commence. Under the project, about 416 flats, 110 serviced plots and 26 terraces will spring up at the expansive site.
The Managing Director, MixtaReal Estate (Nigeria) Plc. Mr. Kola Ashiru-Balogun said, "We have several projects for different group of people; We are focused on affordable housing. We have to look for ways to get people into houses. Making people to own homes makes the economy grow."
Mixta Africa is also the developer of the Lakowe Golf and Country Estate consisting of a 308 hectare exclusive, secure and serene gated community with an 18-hole world class golf course, guest cottages, corporate lodges, Spa facilities and hotel and a clubhouse with sports facilities.
The company has continued to expand its portfolio of properties in the estate, the latest addition being The Cove. "It's a community with a lifestyle like no other. Nestled in a quiet, manicured corner of the exclusive Lakowe Lakes Golf and Country Estate, the Cove is our best development yet.
Kola Ashiru- Balogun said, "We have designed it especially for a selected and discerning few. The architecture is simple yet elegant, distinctively making the best use of the landscape.
"There are a range of different home types you can choose from at The Cove, including one, two, and three bedroom apartments, and three bedroom terraces and maid's room. The homes come with fantastic views of the lake, the golf course greens and fairways, or excellent garden views according to your preference."
According to him, "Significant changes have been made in the estate on the completion of outstanding units, we're handing over about 200 units in the estate now. Everything is ready, we have a growing number of homeowners already living here.
"From last year till now, a lot have gone into the estate, all the infrastructure works have advanced, all the roads, water electricity have been completed. The estate is fully ready. We have now launched a new project, called The Cove.
"It is contemporary designs of homes on a piece of land that is over-looking the lake. It is a modern design of two, three bedroom apartments that we have seen that our buyers prefer. We're doing about 160 units. Our sales have been very strong already because people have seen what Lakowe has become – a real destination luxury living."
Ashiru-Balogun further said that the company has launched a project called The Cottages, a premium cottage apartments and spa resort for daily stay. "People are able to come in groups to experience a distinctive lifestyle in a serene and luxurious environment," he added.
The Head of Sales, Mixta Nigeria, Korede Lawrence-Salu said Lakowe Lakes Golf and Country Estate continues to offer the promise of an unrivalled lifestyle of luxurious living and security.
He noted that the estate has proven itself to be more than just a place for living and playing golf, it coexists with nature; a place for those who know how to define their personality.​​
The Managing Director, Mixta Hospitality and Retail, Mrs. Sade Hughes explained that the pilot phase has been completed while a test-run has begun in the cottage Spa Resort to promote wellness, relaxation and recreation.
According to her, the resort is on a dedicated and secluded platform within the estate and overlooks a lake, which enhances the serenity of the setting and offers a one of a kind experience. The adjacent Corporate Lodge that overlooks the golf course offering stunning views of the 18th hole and beyond will soon be completed to take care of meetings and retreats.
Hughes stated that the Spa Resort would include 63 upscale suites – in Balinese inspired timber villas – comprising studio, one bedroom and two bedroom units. It will also include a full service Spa and wellness facility, offering a wide variety of rejuvenating and therapeutic treatments.
She said, "Recreation will also be a primary offering of the facility leveraging on the natural setting of the resort and the larger estate."