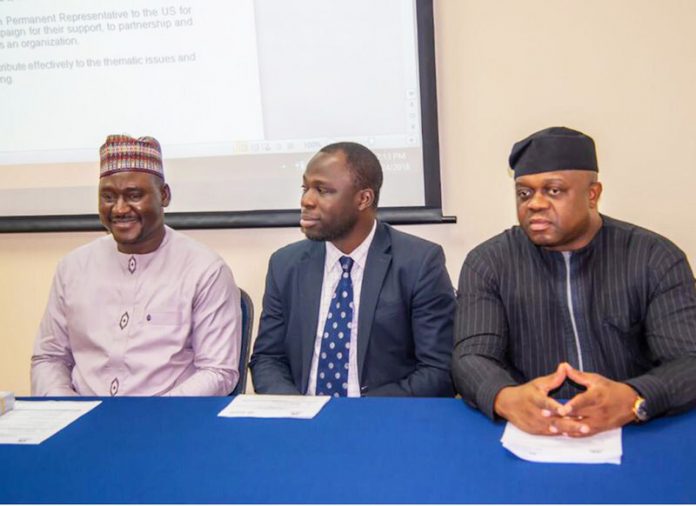 At the just-concluded United Nations General Assembly, the imagery of hunger and malnutrition of Nigerian children was painted as the Civil Society Legislative Advocacy Centre (CISLAC) led by Auwal Musa (Rafsanjani) and other experts provide panacea to the elusive actualisation of the SDGs, Bayo Akinloye reports
The statistics are often startling: nearly 1,000 Nigerian children die of malnutrition-related causes every day – a total of 361,000 annually. With an approximate 2.1 million Nigerian under five children affected by malnutrition, Nigeria is said to account for one tenth of the global total. The prevalence of chronic malnutrition among women of childbearing age in Nigeria was put at 11.6 per cent, with 14.2 per cent and 5.7 per cent overweight and obese, respectively.
At 4 West 43rd Street, New York, during a side event at the just-concluded 73rd Session of the United Nations General Assembly, the imagery of hunger and malnutrition of Nigerian children was painted, however, there was a positive mood about the group seated in the room as important discussions went on about the plight of Nigerian children regarding hunger and malnutrition.
The faces in the room were familiar: the Chairman Senate Committee on Health, Olanrewaju Tejuoso; Programme Specialist and Coordinator Africa and Middle East UN SDG Action Campaign, Hilary Ogbonna; the Nigeria Permanent Representative to United Nations, Prof. Tijjani Muhammad-Bande (represented by Muyiwa Onifade); and the Representative of UNICEF, Mrs. Chizoba Steve-Edemba. Others were civil society groups, development partners, the international community, players in the private sector, Nigerians in the Diaspora and the media.
To the Executive Director of the Civil Society Legislative Advocacy Centre (CISLAC), Auwal Musa (Rafsanjani), who led the discussion, the startling statistics is an indication of the emerging double burden of malnutrition in the country. It was apparent to all in the room that there is no other time than now to "interrogate the issue of poor nutrition and inadequate political will" to arrest severe cases of malnutrition among children under the age of 5 – especially as 45 per cent of all under-five deaths are attributable to under-nutrition.
According to Rafsanjani, there are surmountable situations stalling the fight against malnutrition.
He said, "While adequate and optimal health care delivery constitutes components of governance and national development, in Nigeria, adequate access to Health care services is hindered by quite a number of factors including inadequate financing for health, dearth of healthcare personnel, poor maintenance culture, and unethical attitude of health providers, ill-equipped and poor infrastructural services.
"All these lead to high maternal mortality and infant mortality rates, low life expectancy, lack of productivity and deepening of underdevelopment. As the health condition worsens we witness poor financial and political commitments and in cases where there have been pronouncements, they have been partially or entirely not implemented."
Known for its legislative advocacy in achieving developmental goals, CISLAC has often engaged national and state lawmakers especially on prioritising funding for health. Its conviction and that of Rafsanjani is that it is only through serious engagements with policy and legislations can this gory situation be overturned, hence the need to continuously engage all relevant stakeholders to draw political will necessary for prioritizing funding for health and specifically nutrition which impacts women and children.
The CISLAC boss further lamented the slow implementation of the Sustainable Development Goals (SDGs) and the high level of corruption stalling the implementation of the SDGs.
He noted that while the country's SDGs implementing body – Office of the Senior Special Assistant to the President on the SDGs is bothered about paucity of funds in executing the SDGs, the country on the other hand is bleeding from corruption, illicit financial flows and lack of transparency and accountability.
In this regard, Rafsanjani called on all relevant financial institutions and governmental bodies to exhibit high level of seriousness in the fight against corruption and steer the ship of sustainable development in the right direction
Similarly, Prof. Muhammad-Bande observed that promoting government's anti-corruption efforts is the panacea towards solving Nigeria's developmental issues including health, arguing that health is vital to the SDGs.
To shore up funding, Muhammad-Bande noted that asset recovery and repatriation of funds to Nigeria would help in implementing the SDGs. According to him, the President Muhammadu Buhari is making great efforts in that direction particularly in revitalising the over 10,000 primary healthcare centres (PHCs) across the country.
The Nigerian envoy stated that what CISLAC is doing "is paramount to Nigeria as well as Africa", adding that Nigeria's permanent mission counts on CISLAC "as champions against corruption". He, therefore, called for more stringent measures to tackle illicit financial and arms flows in the country and urged civil society groups to the crusade which he said will lead to achieving universal health coverage and sustainable development.
Tejuoso in his presentation, "The Role of Parliament in Improving Domestic Investment in Nutrition", said malnutrition is responsible for impaired brain development and lower intelligence quotient (IQ), low productivity, increased health care cost, weakened immune system, high risk of diabetes, cancer, and stroke.
The lawmaker claimed that Nigeria has many nutrition policies but lacks the will to implement them. According to him, for every dollar spent on nutrition, there is $16 dividend. He, however, lamented the poor budgetary allocation to nutrition which he tied to the 'Nutrition Global Report 2017' that recommended four per cent of the national budget to nutrition – with Nigeria investing just 0.02 per cent.
Senator Tejuoso added that it was for the purpose of active involvement of legislators that the Legislative Network for Universal Health Coverage and Nutrition was adopted. Since its adoption the network has made some achievements among which are increased budget for nutrition in 2018, inclusion of nutrition services in the Basic Health Care Provision Funds, development of legislative monitoring frameworks to oversight healthcare facilities, among others.
For Ogbonna, achieving the SDG agenda is transformative and people-driven, noting that the SDGs is about transparency and accountability. If the SDGs are properly implemented, he argued, the results will lift millions of Nigerians out of poverty.
Speaking on the challenges of implementing the SDGs, CISLAC's Programme Manager on Democratic Governance, Okeke Anya, there is a strong correlation between financial wastes by the government and the failure to effectively meet the SDG target. He, however, noted that money laundry is a major setback.
Recommendations were made following the conclusion of the panel, which include among other things that advocacy from the perspective of political and investment case for nutrition needs to be intensified; more coordinated and deliberate efforts are needed to mobilise and apply technical and financial resources; partnership with the legislature and executives to institute transparency and accountability; and that all arms of government, CSOs and media must work together to ensure implementation and proper coordination of the SDGs, among others.