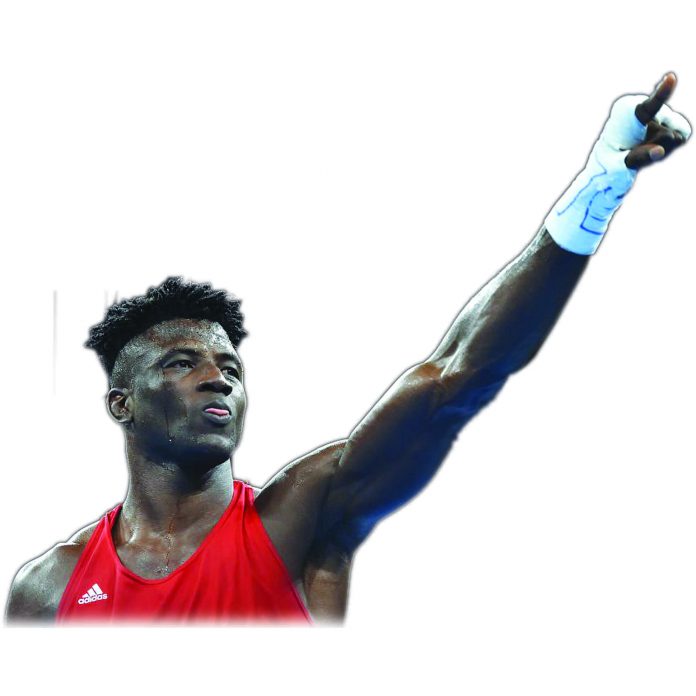 After trying to make ends meet as a baker in a local bakery, Efe Ajagba tried playing football with little success before taking to boxing in 2011 after which he won a bronze medal at the 2014 Commonwealth Games in Scotland and was a quarterfinalist at the 2016 Olympic Games. Since turning professional he has won all his seven fights. Kunle Adewale asks if Nigeria is set to produce a heavyweight boxing champion
No matter what Anthony Joshua could achieve as a boxer, the credit would always go to England- the country of his birth. The best his name could be attributed to his fatherland is being of Nigerian descent.
However, another Nigerian boxer, Efe Ajagba (a full-fledged Nigerian) is on the verge of having a shot at the heavyweight title.
According to the Ughelli-born boxer, "in the next two years, I should be having a shot at the heavyweight boxing title."
Ajagba took up the sport of boxing in 2011 after previously playing football for a club in Ughelli since 2005, under the tutelage of coach Anthony Konyegwachie.
Ajagba was selected to compete for the Nigerian team at the 2014 Commonwealth Games held in Glasgow. Competing in the super heavyweight division, he defeated Junior Fa of Tonga in the round of 16 and Paul Schafer of South Africa in the quarterfinals. He advanced to the semifinals where he was defeated by Joseph Goodall of Australia, meaning Ajagba won a bronze medal.
At the 2015 African Games held in Brazzaville, Republic of the Congo, Ajagba was selected as the Nigerian entrant in the men's super heavyweight event. He won the gold medal, beating Keddy Angnes of the Seychelles by a score 3–0 in the final.
In 2016 he won the gold medal in the super heavyweight event at the African Boxing Olympic Qualification Tournament held in Yaoundé, Cameroon. By doing so, Ajagba qualified to represent Nigeria at the2016 Summer Olympics in Rio de Janeiro, Brazil. In the first round, Ajagba beat Ugandan Michael Sekamembe on points, he defeated Tunisian boxer Aymen Trabelsi in the semifinal to secure his qualification and then in the final he beat Mohamed Arjaoui of Morocco.
Ajagba's silent rise did not go unnoticed and in 2017, Toronto businessman Les Woods flew to Nigeria to recruit the former baker.
Ajagba doesn't take a national television appearance lightly. Since childhood, he's dreamed of becoming a star athlete. In elementary school, Ajagba competed in high and long jumps with kids several years older. At 11, he became the youngest member of the local soccer team in his hometown of Ughelli, in the Delta State. Three years later, he had little to show for it aside from a pair of worn soccer shoes and blistered feet. As he made the two-mile walk home from the pitch, he decided there had to be another way.
"Boxing?" screamed Samuel Ajagba, his agbada nearly slipping off as he rose in anger. "I told you about that! My son, why not just concentrate on your job?"
Ajagba worked part-time at a bread factory. The family needed every last naira. Samuel, his father, was once a boxer himself. After birthing five boys — Ajagba was the fifth and then two girls, he gave it up and found work at a local bottling company, a job he kept till retirement.
"My father's experience with boxing is why he didn't want me to fight," Ajagba says. "He didn't make much money. He wanted to support my dreams, but he didn't want me to waste my time."
Much of Samuel's retirement fund was swallowed up by medical bills following a stroke. Ajagba's earnings helped keep the house afloat, but he had bigger dreams.
"Training and then working in the bread factory wasn't easy," he says. "I would be so tired that I wasn't doing any one of the jobs as well as I should have. So, I decided to quit my job and concentrate on boxing full time."
Samuel was furious. At one point, he marched down to the boxing gym and threatened to have Ajagba's coaches arrested for training his teen son against his wishes.
"They had to beg him," Ajagba smiles. "They convinced him that I had the talent, that Nigeria didn't have a tall heavyweight and that I could go far."
Thankfully, they were right. Ajagba grew into a chiseled 6-5 standout. Three years after taking up boxing, he won bronze in his first international tournament, the 2014 Commonwealth Games in Glasgow. Ajagba became the only boxer to represent Nigeria at the 2016 Olympics, advancing to the quarterfinals. His performance caught the eye of then-boxing agent Mirko Wolf.
"He was there scouting with Floyd Mayweather," Ajagba says. "But Mayweather wanted guys in the smaller weight classes."
Wolf, on the other hand, was intrigued. He passed Ajagba's reel around. The person most interested was Shelley Finkel. Finkel managed heavyweights Mike Tyson, Evander Holyfield and currently manages WBC world heavyweight champion Deontay Wilder.
"He wasn't the only one," Ajagba says. "Lennox Lewis wanted to sign me too. He was my favorite boxer when I was growing up. I could watch him every blessed day if I could. But Lennox wanted me to train in Canada. I spoke to my father and we agreed the U.S. was best. I had my lawyers look over the agreement Shelley sent me and that was it."
Ajagba moved to Houston, Texas, where there is a strong Nigerian community. In Houston, he connected with trainer Ronnie Shields. Shields has worked with Tyson, Holyfield, and Pernell Whitaker, among others. Along with Ajagba, he currently trains Jermall Charlo and Erislandy Lara.
"He's the best," Ajagba exclaims. "He's like a father to me. He makes people laugh, he's a great teacher and he treats everyone equally. He's taught me so many things about boxing."
Ajagba's right hand is scary, but Shields wants Ajagba to master setting up that shot by utilising his 88-inch reach.
"Lennox Lewis used the jab a lot and he's my favorite," Ajagba points out. "If I want to get better as a fighter I have to improve every part of myself."
Ajagba's stopped every opponent, but Harper didn't give him the pleasure. News of that debacle, and Ajagba's other exploits reached Nigeria.
"They all keep up with me," says Ajagba. "I miss them so much. They are amazed at everything that's happening." Samuel, who once pleaded with him to quit boxing, is now his biggest fan. "I'm in America for business. Boxing is now my job and that is something my dad respects," Ajagba says. "He knows I can become the heavyweight champion of the world. My mission here will not be complete until that has happened."
On August 24, Ajaba scored the fastest victory in boxing history in a match against Curtis Harper, winning via a 1-second disqualification after Harper walked out of the ring in protest over a pay dispute.
Normally, boxing matches end in one of three ways: a knockout, a technical knockout or a judges' decision, but Harper decided to end the match before it ever really began.
Harper was scheduled to fight Ajagba in Minnesota. But before anybody threw a punch, he climbed through the ropes and back to his locker room. The boxer did not return to the ring, and Ajagba was awarded a victory due to disqualification.
According to PBC commentator, Jordan Hardy, who spoke to Harper after the bout, the boxer walked out in protest because he believed he was not getting paid enough for the fight. "He's not getting paid enough and he wants respect," said Hardy.
In an interview with BBC Sport, Leon Margules, the promoter for the fight, said Harper made no money at all as a result of the disqualification. "He signed a contract and agreed to the fight," Margules told the BBC. "First time we heard about money issues was after he left the ring. He weighed in and showed up on time and even touched gloves before the bell. It is strange."
Ajagba, however, is of the opinion that Harper got scared along the line, saying that his wife (Harper's wife) met with him minutes before the scheduled bout appealing to him to thread gently with her husband.
Minutes before the weigh-in, his opponent, chatted with a woman who kept looking in Ajagba's direction. Then, she walked over.
"I didn't know if she was his wife, his girlfriend or what," Ajagba recalls. "She said, 'You are so talented. I watched your videos and you have real power. Please … take it easy on Curtis. Don't hurt him.'"
"I was caught off-guard," says Ajagba. "But when me and Harper came face to face, I saw he was scared. It was in his eyes.
 "I was shocked," Ajagba told Sporting News. "We all were: Coach Ronnie Shields, me, the whole team. We couldn't believe it. I was upset and then I was angry."
Harper's walkout went viral. Some say his actions prove just how fearsome Ajagba is, but these weren't the kind of headlines Ajagba, (6-0, 5 KOs), wanted.
 "I was so upset about what Harper did," Ajagba says. "But I've moved on. I'm thankful because more people know me now and will watch my fight with Jones. I have more to do, but I'm working hard to get here."
Ajagba's promoter, Richard Schaefer, feels Harper simply feared the Olympian.
"We waited a long time to have another heavyweight who instills fear in his opponents by just being in the ring and looking at them," Richard Schaefer said. "The last time a fighter instilled that kind of fear in an opponent was Mike Tyson. The heavyweight division has a new star, and his name is Efe. No doubt that he is the biggest puncher in the sport. "He defined what the most feared man in boxing means — no punch necessary. A look and the opponent runs, runs out of the ring."
Harper's trainer Nate Campbell has denied the allegation that the boxer walked out of his heavyweight fight with Nigeria's Efe Ajagba in protest over pay.
But Campbell wrote on Facebook, "This man disrespected himself, his wife, the fans and me. They didn't change his purse, he made that up. He is pulling those lies out to cover up."
He said Harper's action cost him money because he was not paid from the event.
He wrote, "It's sad that a guy with no integrity is trying to say anything about me. He cost me money and didn't want to pay me for my time. This guy cost me money and now he's trying to make me out to be the bad guy! I invested tens of thousands in him."