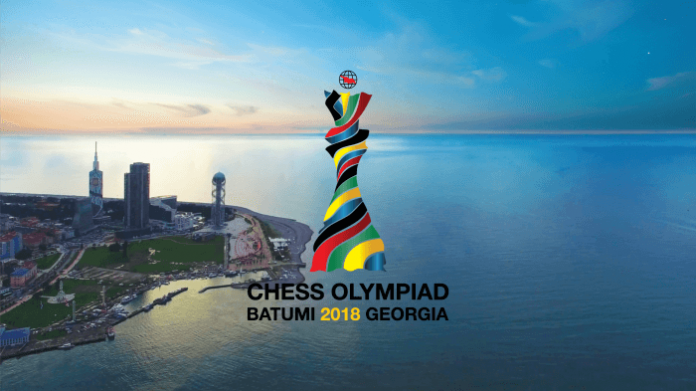 WORLD CHESS OLYMPIAD
By Femi Solaja
It was celebration galore in Nigeria camp yesterday at the ongoing World Chess Olympiad following the emergence of Nigeria Chess Federation (NCF) President, Mr. Lekan Adeyemi, as Vice President of world chess body, FIDE.
The elevation was the fall out from the election at the General Assembly of FIDE held yesterday in Batumi, Georgia.
Adeyemi's election was a follow up from the Elective Congress  which led to the emergence of 
Arkardy Dvorkovich; the former Deputy Prime Minister of Russia and the President Local Organising Committee (LOC) for the 2018 FIFA World Cup in Russia.
As a Vice President of FIDE, Mr. Adeyemi becomes a member of the Presidential Board, the highest decision making organ  on all chess-related matters globally.
He is the highest ranked Nigerian into any elective position in global chess. 
Over two decades ago, Mr. Emmanuel Omuku was Deputy President of the body. He replaced Dr. Sylvanus Ebigwei in a high wired politicking in 1990. Ebigwe was later elected as African Chess  Federation President as well as  later appointed an Executive Director of FIDE, a position he held till 2003. 
Adeyemi is the second African to attain the Vice President status after Lakhdar Mazous from Algeria.
Other members elected on the same platform include; Bachar Kouatly as Deputy President; Sewa Enyonam Fumey as General Secretary; Julio Granda Zuniga as one of the Vice Presidents and Zhu Chen as the Treasurer of the body.
Stakeholders and followers of the game see the result of FIDE's elective congress as a new order in chess as  first,  it marked a total wipe out of foot prints of Kirzan Ilyumzhinov (former President of Kalmykia Republic) who held sway from 1994 to 2018.
In his post election interview last night, Adeyemi promised to bring to the body his vast experience in sports administration and to help the development of the game in Africa.
"The election is not about Adeyemi but what can we do that will ensure an all-inclusive progress of the sport. I was very prominent in the campaign against the immediate past board and it's going to be a big burden on me if I fail to fulfill my campaign promises," he said.
Before he became the NCF boss, he was coach of University of Ibadan chess team and later that of the Oyo State team. He brought his wealth of experience to the national team before he rose to become the  Head of Technical and Vice President of NCF. 
He was the coach of the team that came top in Category E at the World Chess Olympiad in Istanbul in 2012.