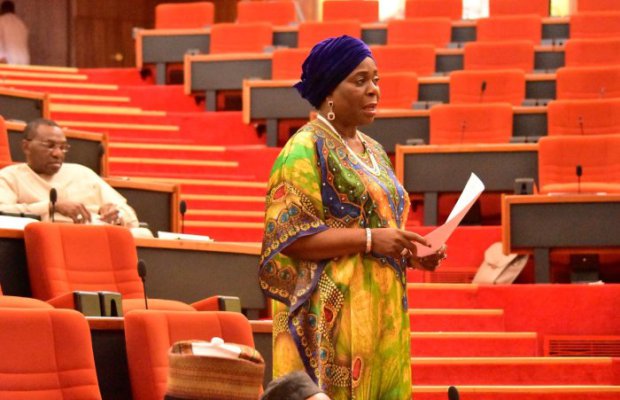 Victor Ogunje in Ado Ekiti
The Senate Minority Leader, Senator Biodun Olujimi, has secured the Peoples Democratic Party (PDP) return ticket to contest the 2019 senatorial election in Ekiti State.
Olujimi is presently representing Ekiti South Senatorial District at the Upper Chambers of the National Assembly.
She was given the return ticket by affirmation through the party delegates that assembled at the district headquarters in Ikere Ekiti yesterday.
The National Working Committee of the party, which was busy conducting elections in the central and North senatorial districts were represented at the primary by the party's State Woman Leader, Mrs.
Yemisi Afolabi.
The Minority Leader was given the nod to re-contest through voice votes by over 1,500 drawn from Ikere, Ekiti East , Gbonyin, Ise/Orun, Emure and Ekiti South West Local Governments Areas, which were components of the zone.
With his emergence, Olujimi will now square up with the candidate of the All Progressives Congress (APC) and former Minister of Works, Prince Dayo Adeyeye.
Adeyeye had been unanimously adopted by the party leaders across the district to fly the party's flag without opposition.
In his acceptance speech, Olujimi promised that she would represent the district better if given the opportunity to return to the Senate in 2019.
Olujimi added that the victory and the confidence reposed in her ability would make her redouble her efforts to serve the people better in the most productive and dignifying manner.
The PDP leader stated that she was confident that she would trounce her main challenger, Prince Adeyeye, on account of the strong and convincing competence she had exhibited through her contributions on the floor of the Senate and what she has been able to bring to her people as dividends of democracy.
"I am elated by this show of love. While others were being challenged at the primary, my people decided to adopt me by affirmation. With this, I will redouble my efforts in order not to disappoint them.
"I know his election will be tough, but we shall go by our records. I have done well for my people and I am running on that good name I have built for myself.
"I am confident that we are going to win. Go home and start mobilizing for our people. They rigged us during the July1 4 governorship election, but this time it will be impossible.
"But let me tell you, we are going to reclaim our stolen mandate for Ikere Ekiti people. For us not to be rigged, I want you to stand firm for PDP on the day of election.
"I know that with your support and firm belief in the PDP, we are going to overcome and regain all we have lost in our party", she said.
On the Osun State governorship election won by APC, Olujimi said the alleged shoddy way the election was conducted had given indication that the 2019 elections may not be credible.
"The way the election was conducted had taken us 12 years back. But the INEC, security agencies and other stakeholders shouldn't be part of the people that will demolish this democracy. They must be true arbiters for our democracy to stand firm", she advised